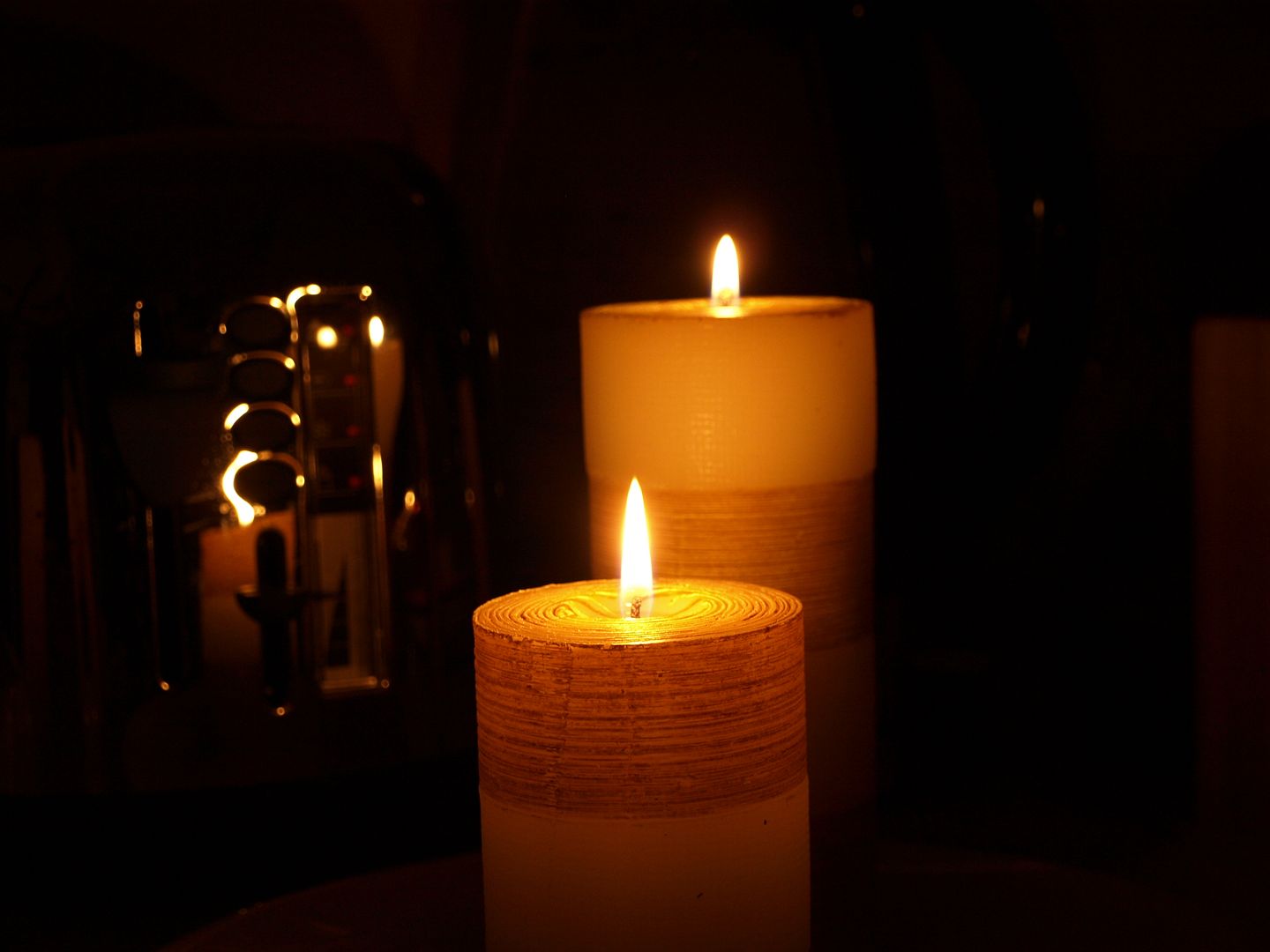 Doesn't that sound romantic?
Sadly, it's not how it seems. Yesterday morning our electrics blew up and made the house smell incredible. Incredibly bad that is, eurgh. I think the word "acrid" was invented for smells like this. Anyway we didn't realise quite how bad it was in the morning, and still used the kettle a couple of times, and then I had a light on in the evening, until that started flickering on and off. Sooo we turned all the electricity off completely and waited in the dark for the electricity board engineer. You see, it's the part between the supply box and our meter which blew, and is thus the responsibility of the electricity board to fix. Fortunately, as it means there is a free 24 hour emergency service and they'll come and fix it for you.
You should see the part that broke, it's properly completely majorly totally MELTED into a black, cratery lump. And could have started a fire, but thankfully didn't.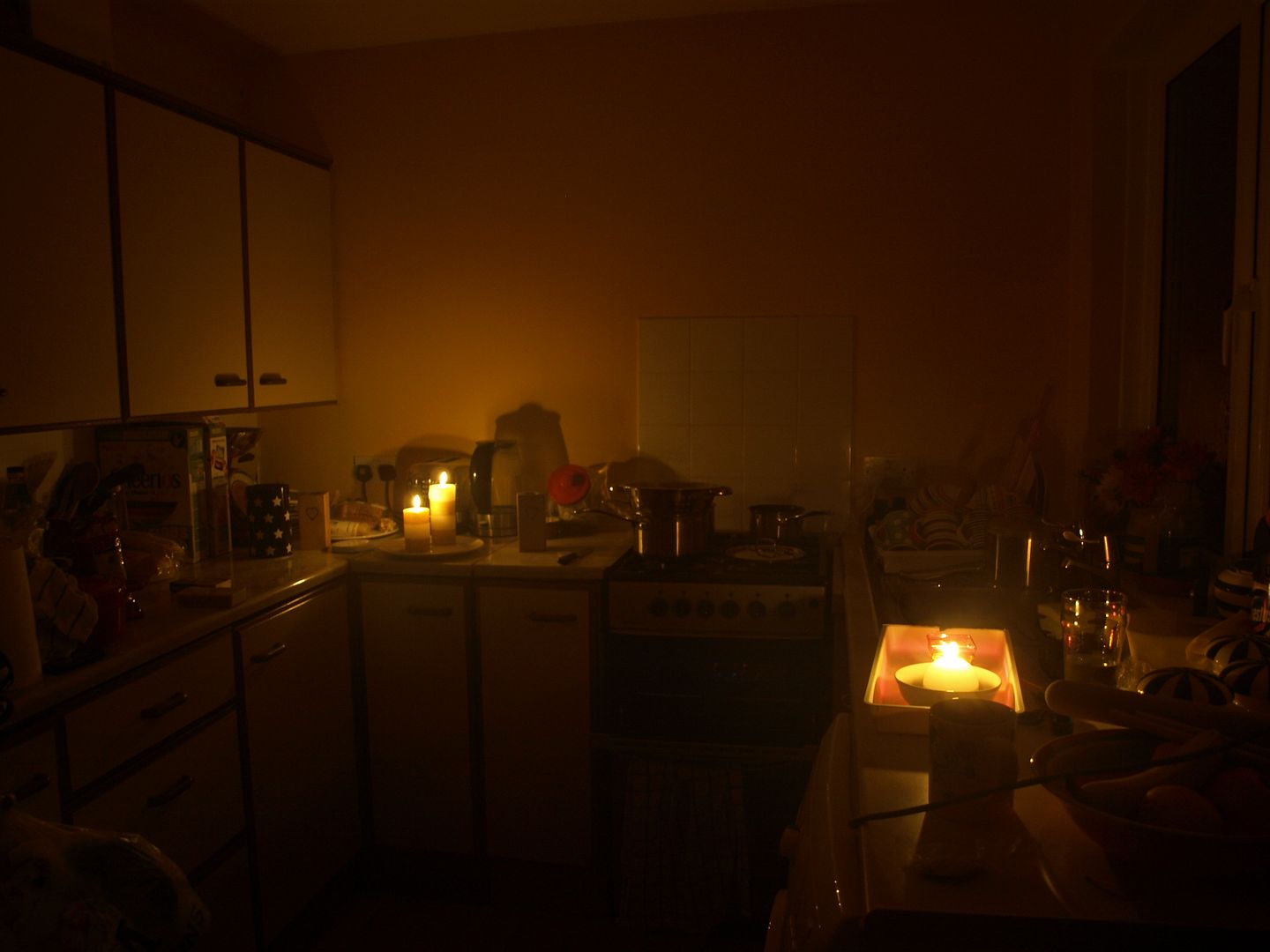 Thank goodness for gas cookers though, as I was able to cook sausage and mash with beans (and gravy!) by candle light all on the hob. It was an experience. We've had quite a lot of experiences so far in this house and it's really teaching me to be prepared for stuff.
Take the candles, for example. The only torch I have accessible (my hefty one is in some box somewhere) is my little ladybird windup torch that lives in my bag. So I had that, and Andy had a small one from the car. The candles are from a box of outdoor candles that we were given as a wedding gift and were packed in the very back, bottom box in the spare bedroom underneath 15 other boxes and four bags of yarn. I managed to get them though and I'm so glad. But now, we have bought a lantern that you can wind up, or put batteries in, or charge from the mains. We're working on an "Emergencies Cupboard" and this will contain lanterns, candles, matches, first aid kit (something I had to buy last week after Andy cut himself while demolishing stuff in the living room) etc.
Do any of you have an "Emergencies Cupboard"? I know my parents do, I distinctly remember the one we had in our first house way back when I was little, it was in an old one of those 2 litre ice cream tubs and had a drawing of a candle on it (drawn by my mum) in one of those silver craft pens. We couldn't afford cupboards back then. I had a margerine tub for a lunchbox and on more than one occasion ended up at school WITH the margerine, instead of my lunch. True story.
Anyway, what do you keep in your emergency cupboard? Do you keep a torch upstairs and downstairs in a place where you can find it easily? Did you know that the part of the electricity supply the other side of your meter is the responsibility of the electricity board? Well, I didn't know that and it really makes me appreciate just how paranoid Andy is about stuff – but in a Highly Useful Way. He IS Mr Emergency. He always knows who you should call!
Three cheers for you Andy, well done :-) and thank you for buying me the ladybird torch, it is really useful. Also useful at work for un-jamming the photocopier.
Oh and in answer to my own blog post from Saturday, NO I didn't get my cushion cover finished. Not close. I had to frog the second side of it twice and still haven't finished it. I'm coming down with a cold and feel reeeeeally grotty and miserable so didn't make it to knitting tonight either, bah. I hate colds!
Anyway, somewhat random blog post tonight but I suppose it documents the house process a bit. and highlights the fact that you should keep torches and lanterns in accessible places, know the phone number of the electricity board and remember to check your utilities supply now and again to make sure it's not damaged.
Because by gaw you'll miss your electricity when it's gone!
xxxxxxxxxxxxxxxxxx
p.s on a separate electricity note, we have to have the consumer unit replaced (along with having extractor fans installed in the kitchen and bathroom) to the tune of £700. I like electricity but it seems to be all I think about right now! Go away, electricity filled mind and fill up with yarny thoughts again instead. thank you.