"Where to start?" is a phrase that is often heard in our house of late.
"Where to start … with the work on the house?"
"Where to start … with all the washing up?" (this is a problem caused by "every day" washing up along with trying to wash all the crockery and glassware that we keep unpacking and have nowhere to put)
"Where to start … looking through our messy messy dining room for the bin bags?"
and today I am wondering "where to start" with this blog entry. I hope you are in a picture-y mood this evening!
First off is the squash fiasco. Well not so much of a fiasco as a slight disappointment. I bought all these squashes because they looked SO GOOD, good enough to eat in fact. However, it turns out that I Do Not Like Squash. And I thought I liked all vegetables except for mushrooms and aubergine. Andy enjoyed my squash risotto, I did not. AND I still have three of the things left! I think I shall just leave them in the kitchen in the bowl, looking pretty. Added bonus because it means I don't have to try and find a cupboardy home for the bowl. Excellent.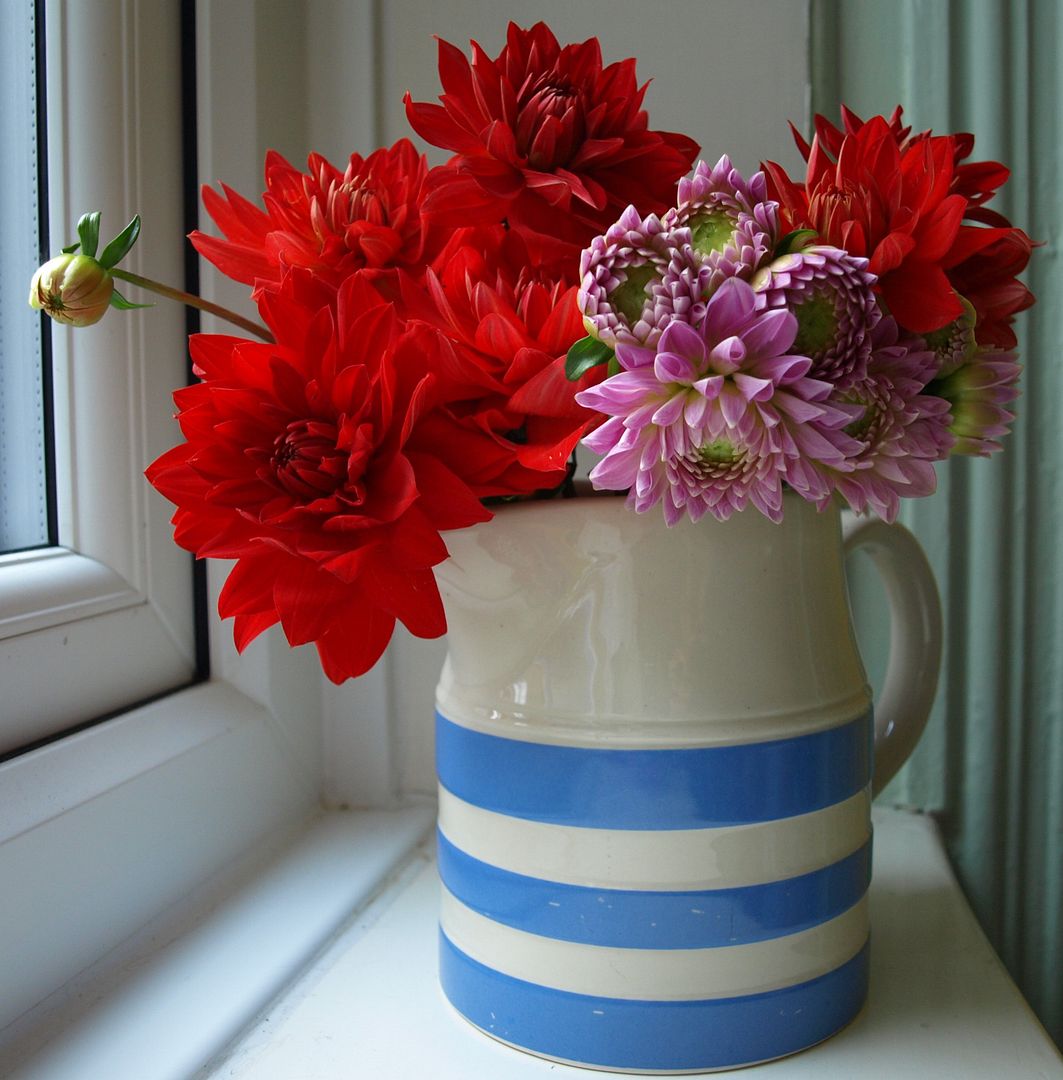 This is my third bunch of Dahlias (the red ones) and the leftovers of the second bunch (the pink ones). I still can't get over how much I L-O-V-E having fresh flowers in my house, and relishing how homely they make it feel. Alive, you know?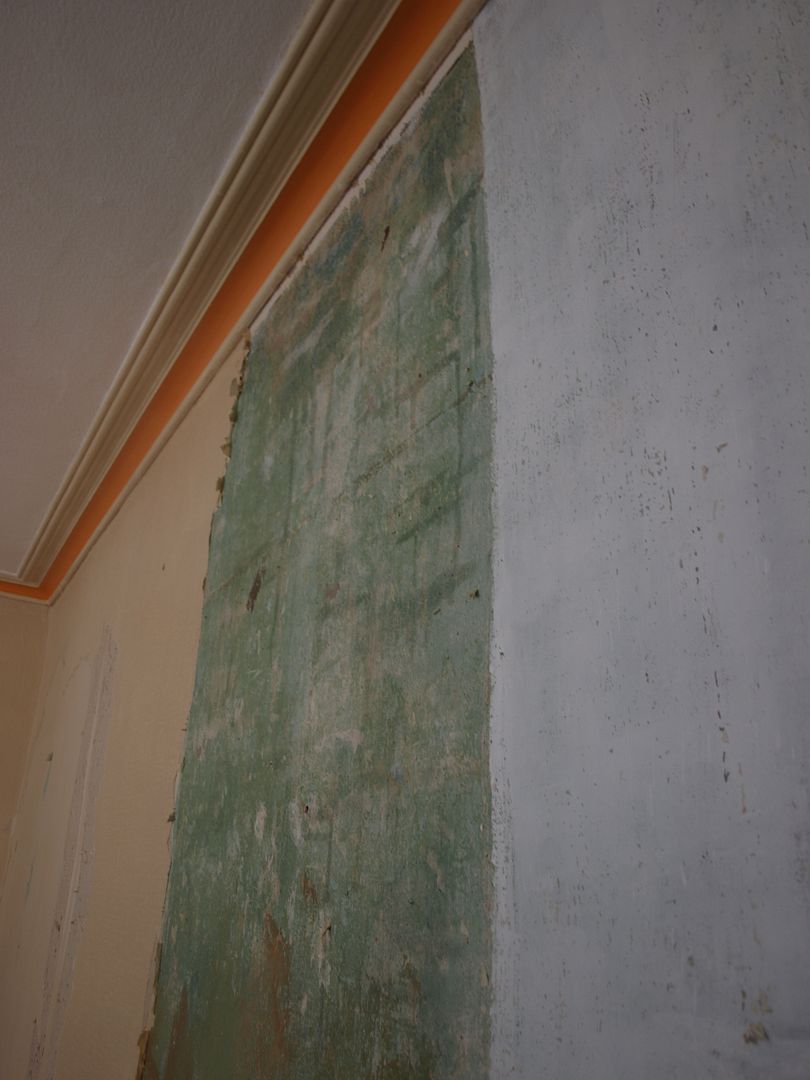 As for where to start with the house-work (not to be confused with housework), Andy stripped the wallpaper off of the living room walls. Layers of the stuff, dating back to the age where wallpaper was made from vinyl. Who knew plaster could be green eh?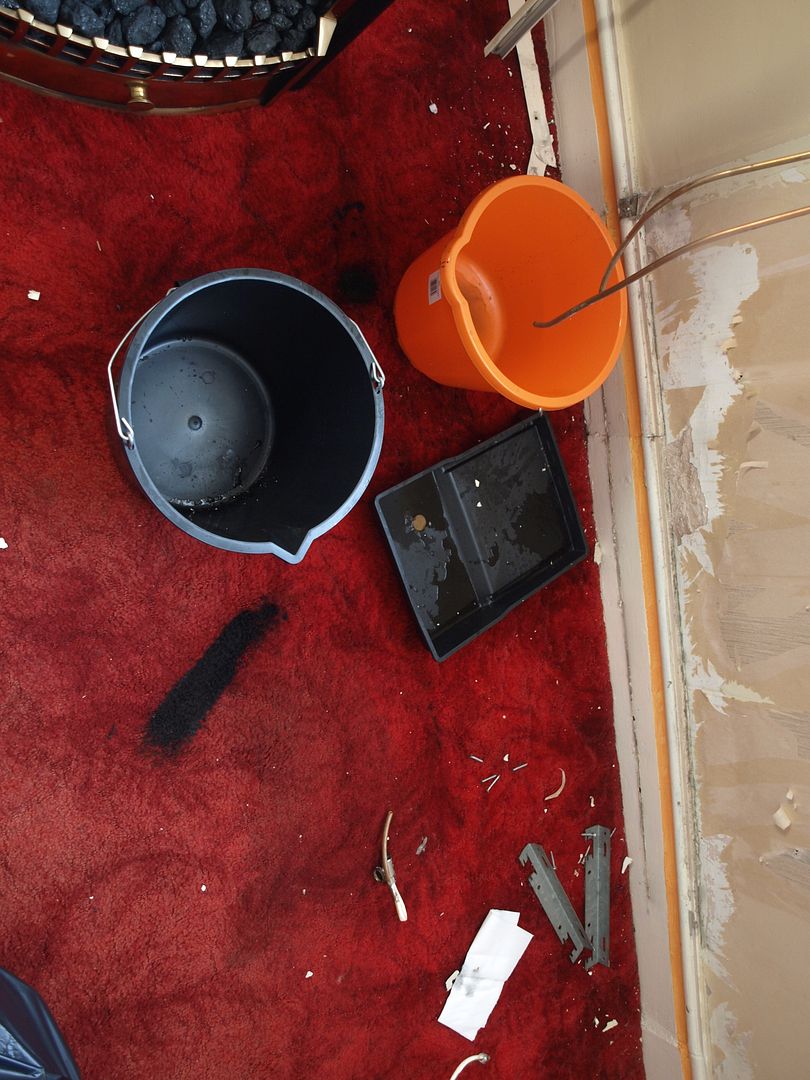 Andy has also drained the (broken) central heating system, and removed the radiator from the living room wall. He is very proud of this. Just so's you know. Who knew that central heating water would be so black? And would stain a carpet so impressively? (that's the black stuff that looks like boot polish. Don't worry, the carpet will most definitely be replaced when the work is all done!)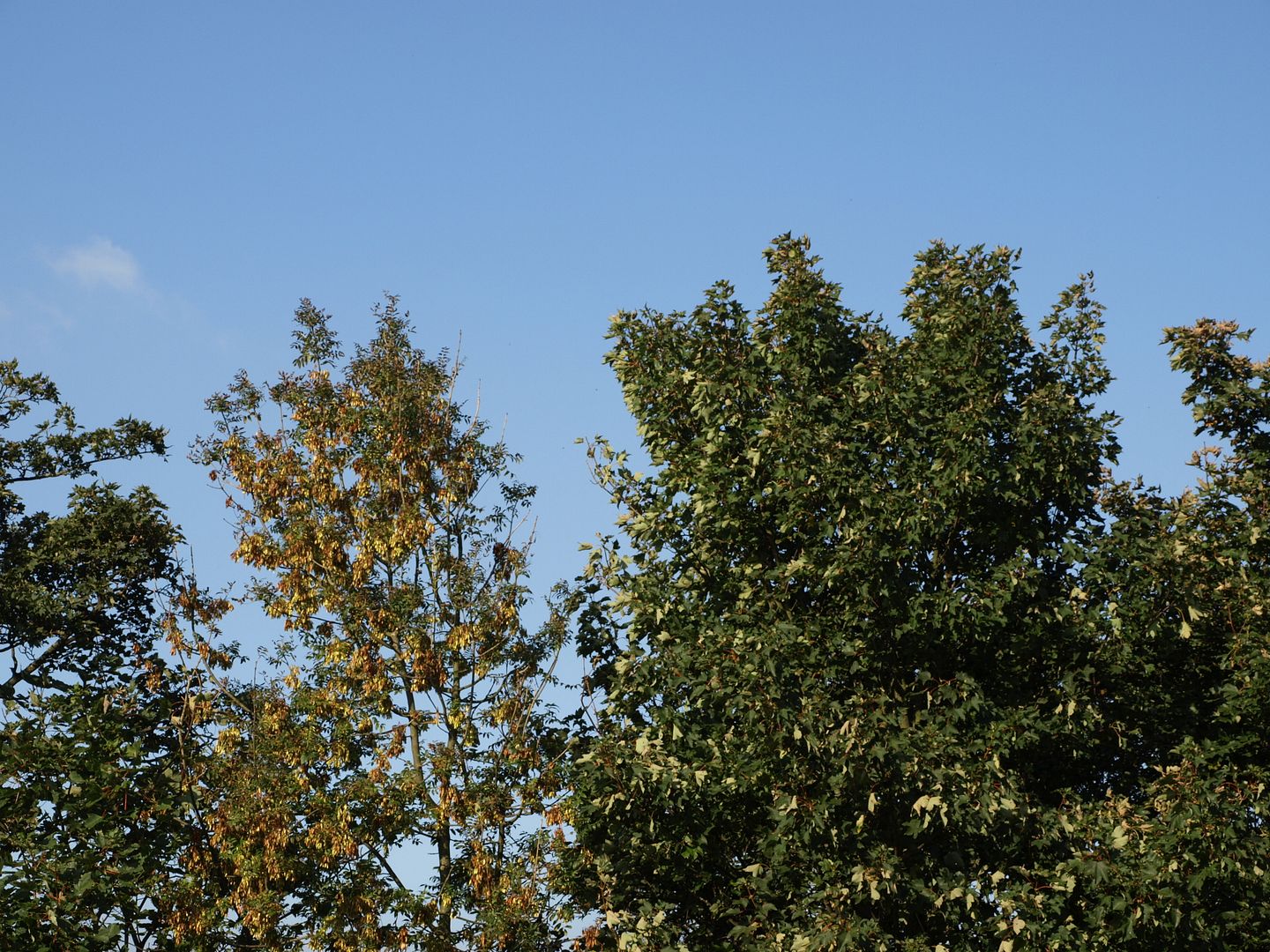 On Sunday I enjoyed the mild weather, and the beautiful delicate blue of the sky. It's definitely an Autumn sky though, isn't it? The trees are beginning to turn as well. A few more weeks and they will be leafless.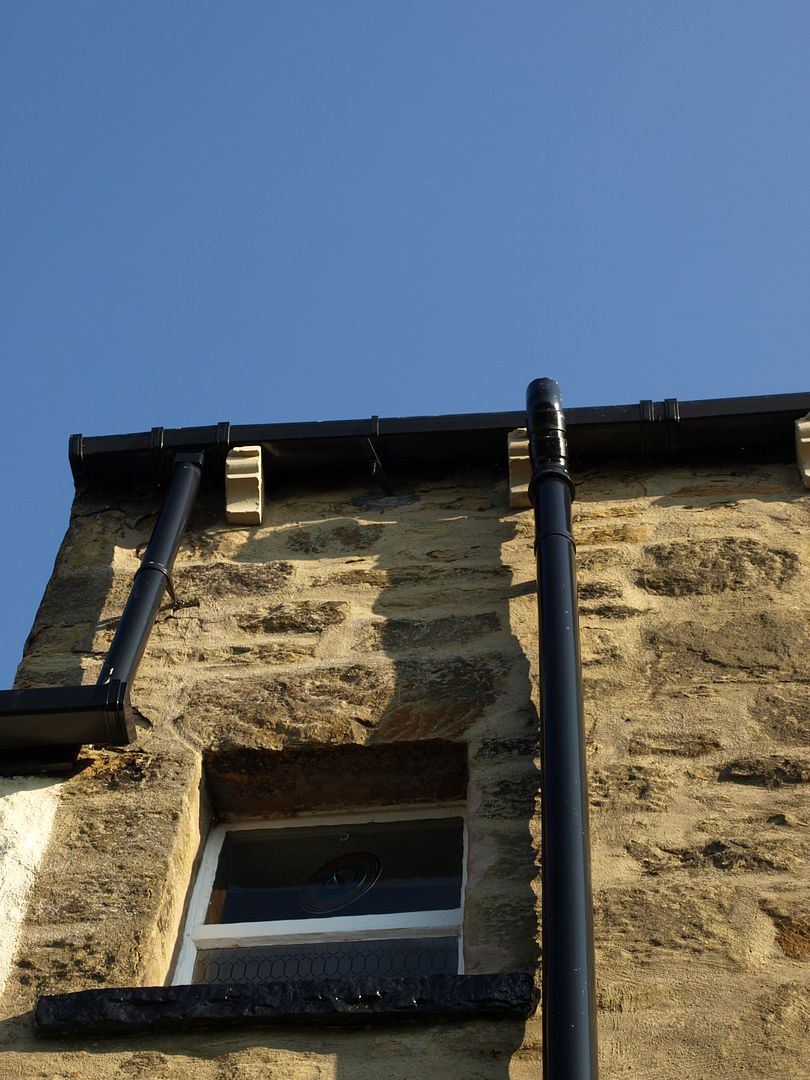 I'm making the most of every blue-sky moment, capturing it and squirrelling it away for when the weather is grey and miserable.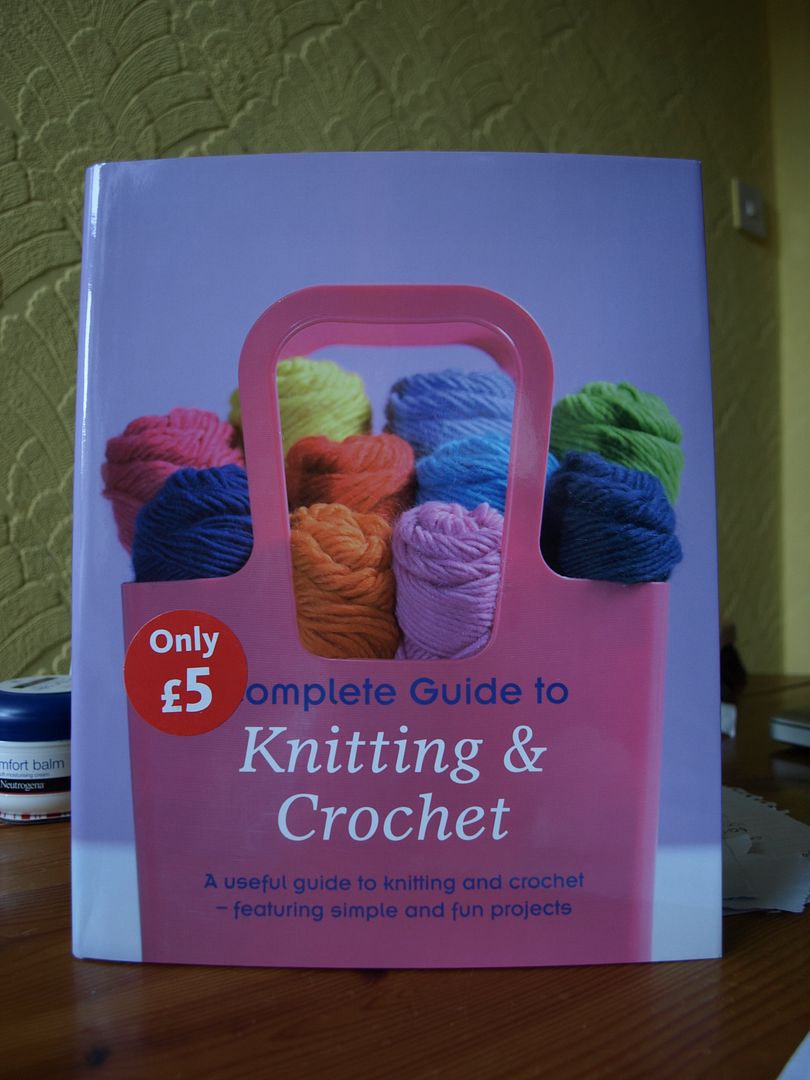 Oh and look what I found in Morrisons! For a fiver as well. It's written by the person who has the Laughing Hens website and is a really nice book. I am tempted to email her and ask her what the yarn on the cover is as I would like me some of that!
Just LOOK at this page …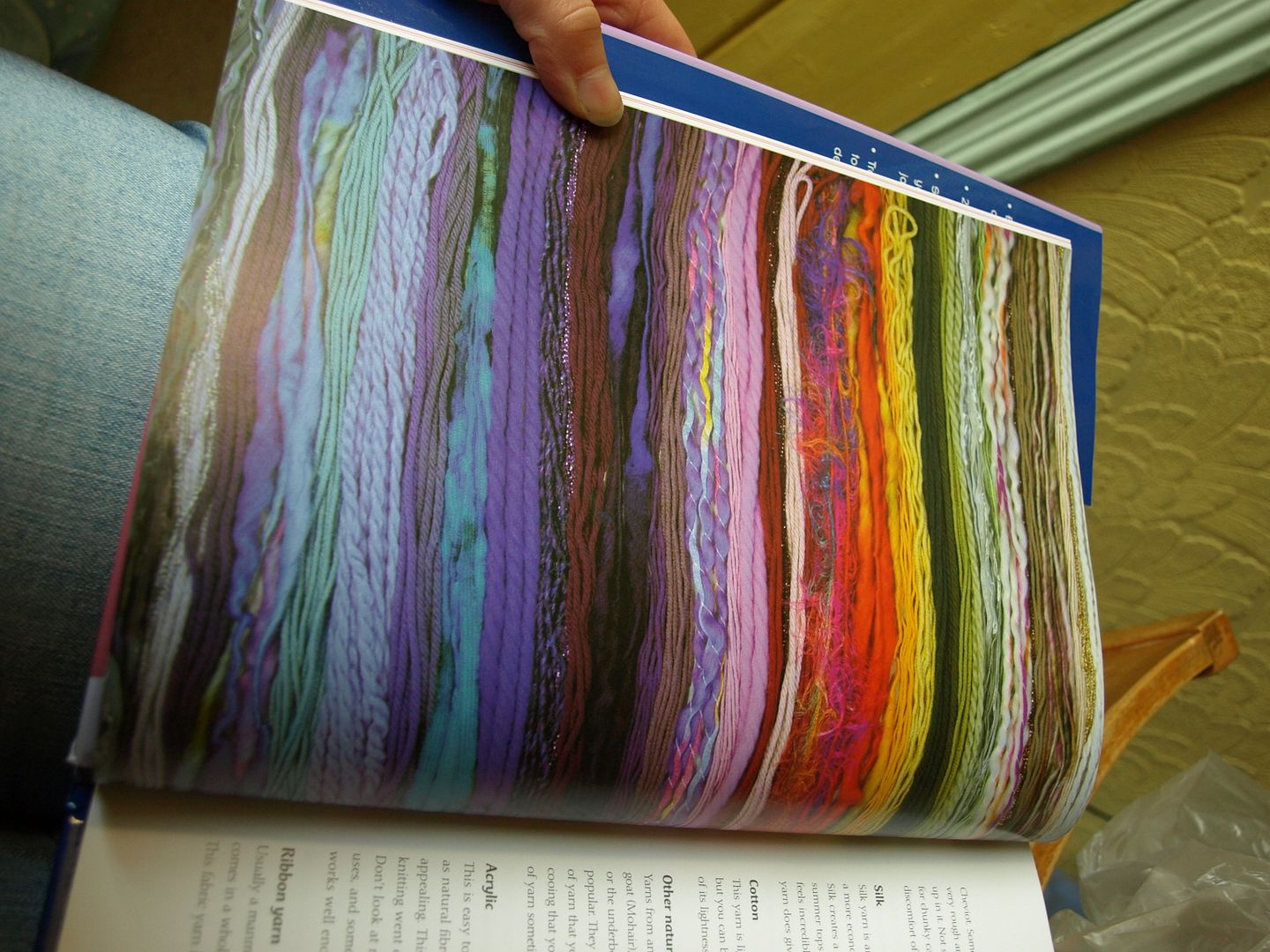 Oh wow.
Looks lovely with my new project: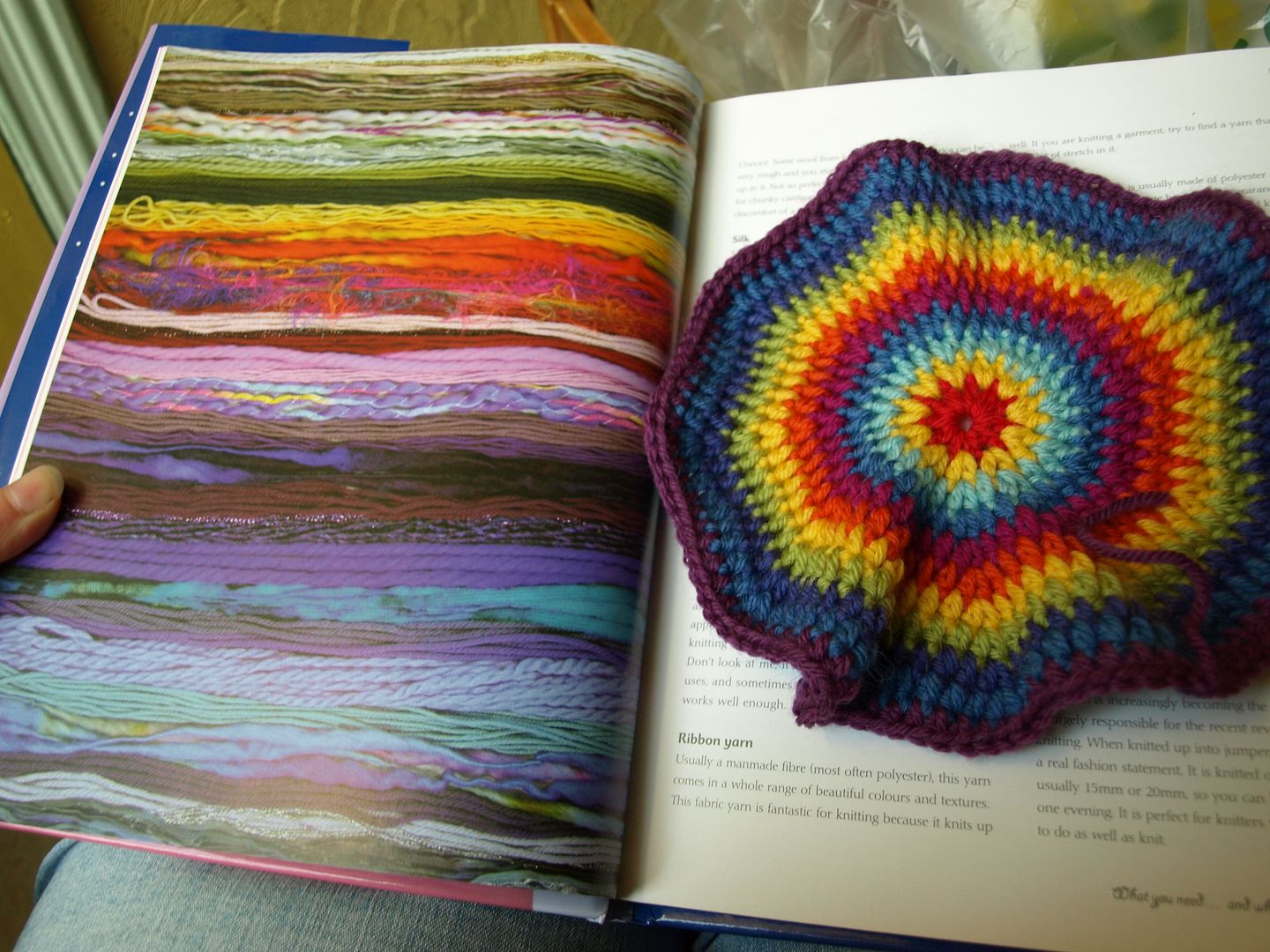 I am making a Flat Circle a la Lucy in order to make a stripy round cushion. As you can see, it is not very flat. I should tell you that I've since frogged the whole thing *weep* at Knit Night which was a little traumatic. HOWEVER I have reassembled it using 9 initial stitches rather than 11, and the whole thing is working out much better for me – I think my tension is … well a bit rubbish and more suited to the 9 rather than the 11.
It's lush though isn't it?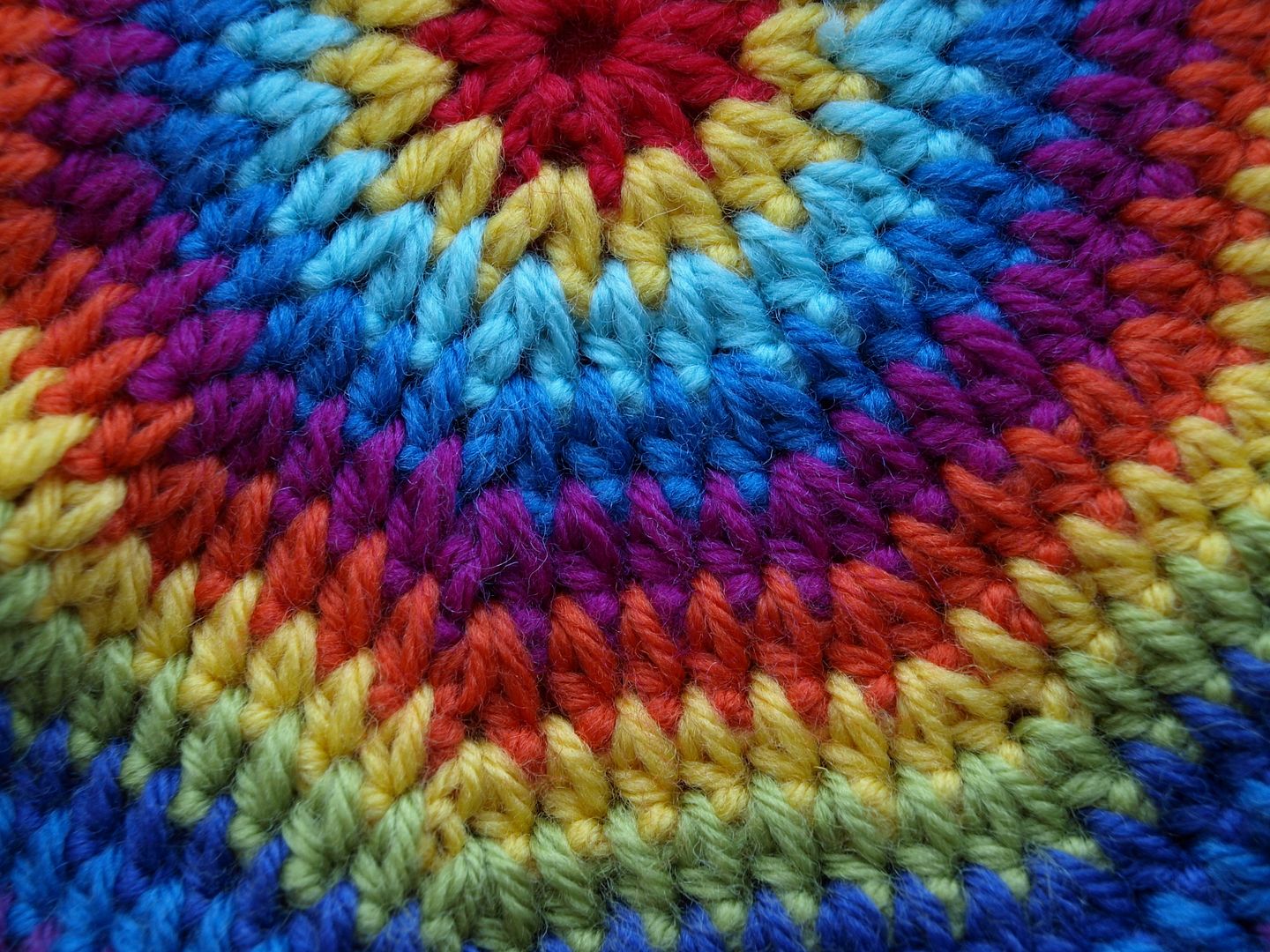 Go on, make it full size. You know you want to!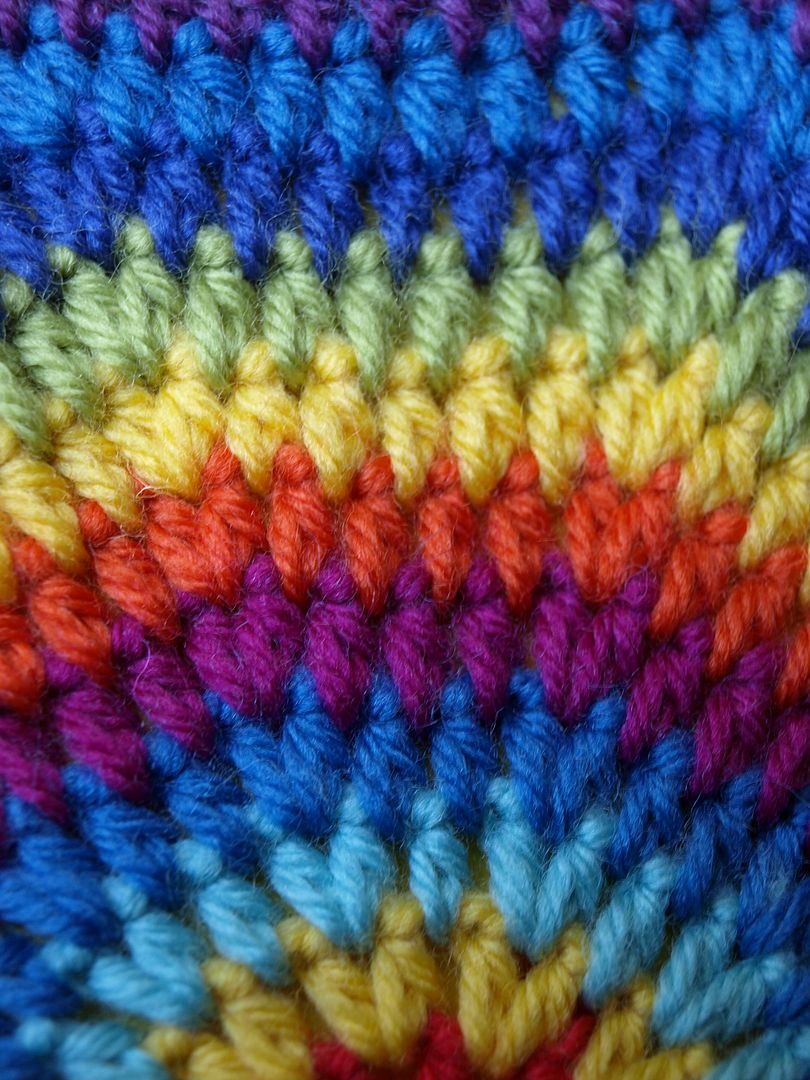 Just MmmmmMMmMMMMmmmmmmmmmmmmmm! This is the first time in a long time that I've felt EXCITED and hAPPY and Oooohhh about my crochet. House-stress just flattened my enthusiasm for anything for a long time. But, hurrah for excited about crochet again! I am BURSTING with ideas of things to make at the moment. Absolutely full to the brim. Now I just need some time in between all the washing up and going-to-work fun to be able to make some of the things I'm thinking about during the washing up and going-to-work fun.
First on my list is little bunting made in those exact stripes of the flat circle. Reckon it would work? Bit fiddly and a lot of ends but I'm tempted to try anyway.
xxxxxxxxxxxxxxxxxxxxxxxxxxxxxxxxxxxx