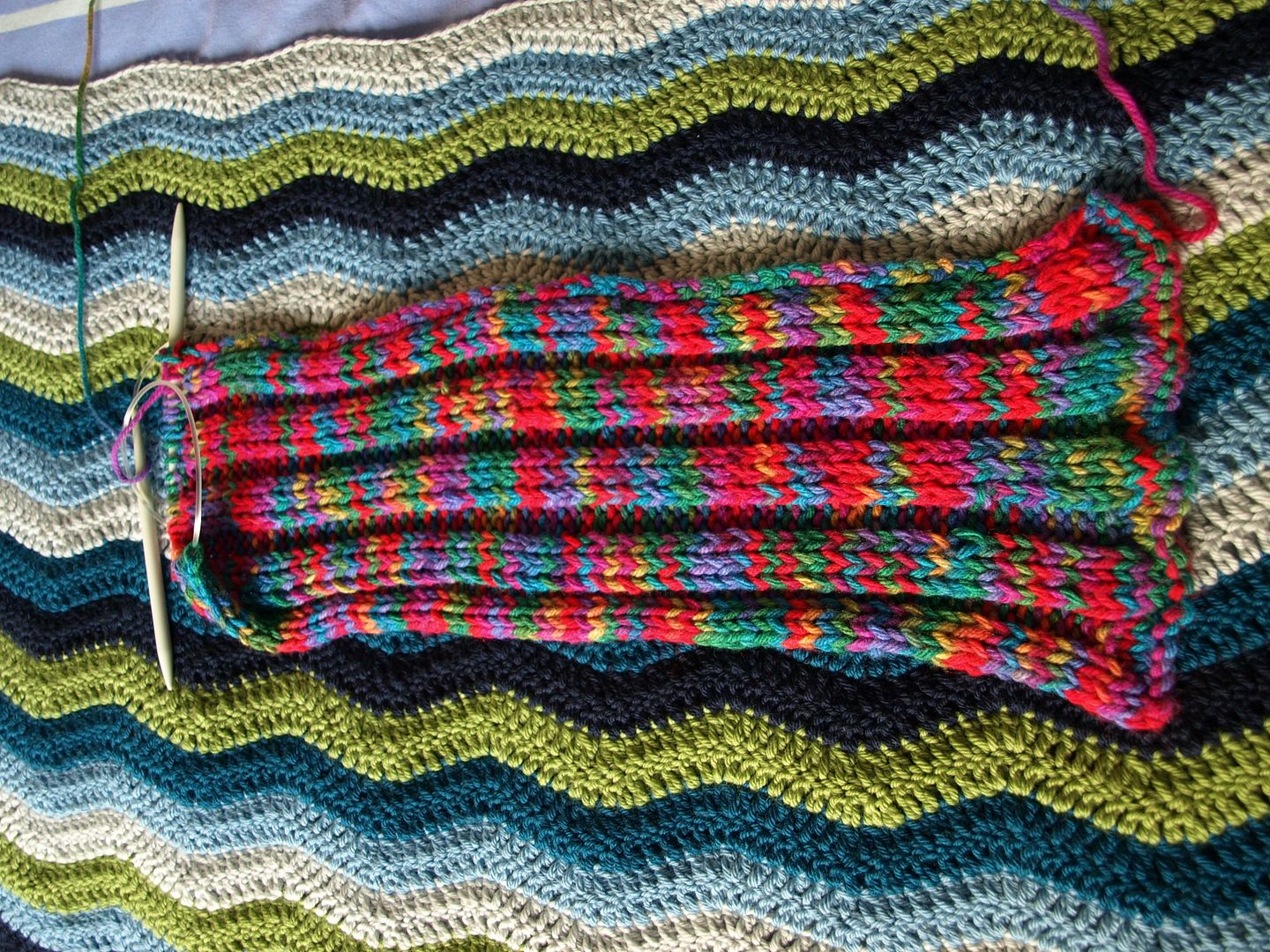 So my ripple isn't the only growing yarny project … my technicolour dream scarf is coming along nicely too. But soooooo slooooowly! I am not a quick knitter. I may be in the future, but for now, I am a plodder. One thing I am enjoying about this scarf it that I only need to take one ball of yarn with me, and I don't need to carry around a pair of scissors. I'm just going to knit until there is No More Yarn, and then Stop. Justlikethat.
But do you know what I am missing?
Having a bigbigbig blanket on the go. Yeah, I have my ripple, and I LOVE rippling back and forth along those rows, but I miss having loads of colours, the excitement of trying out different colour combinations, taking lots of photos of it and being able to put those photos on my blog and on Flickr.
I can't really start an crazybig blanket at the moment, although I really want to. I can't even finish a flipping cushion at the moment. I have unfinished-itis.
So it's going to have to be a special blanket when I start to make it. This is going to require some planning. I do like planning. Planning usually involves window-yarn shopping too (ie, fill up internet shopping baskets full of lovely yarn and then bottle it at the last minute and close the web page down.).
Oooh speaking of window shopping, the cookshop in Leeds (Peter Maturi on Vicar Lane) has a new window display up – one side is full of Cornishware and the otherside has polka dotty things which I THINK is Spode Baking Days range. And do you know what? Two items that I have been given "Andy Sanction" to buy when we have bought a house (or for Christmas, probably a better bet…) come from those ranges! A Dreadnaught Cornishware jug, and a Spode Baking Days red and white canister. Ooooh, happy days!
xxxxxxxxxxxxxxxxx
P.S I feel like the most boring blogger in the world at the moment. I'm not feeling wonderfully happy, which has a LOT to do with it. It'll pass I'm sure. But please excuse the boring "one photo" blog posts in the mean time. I'll be ok soon I reckon :-)