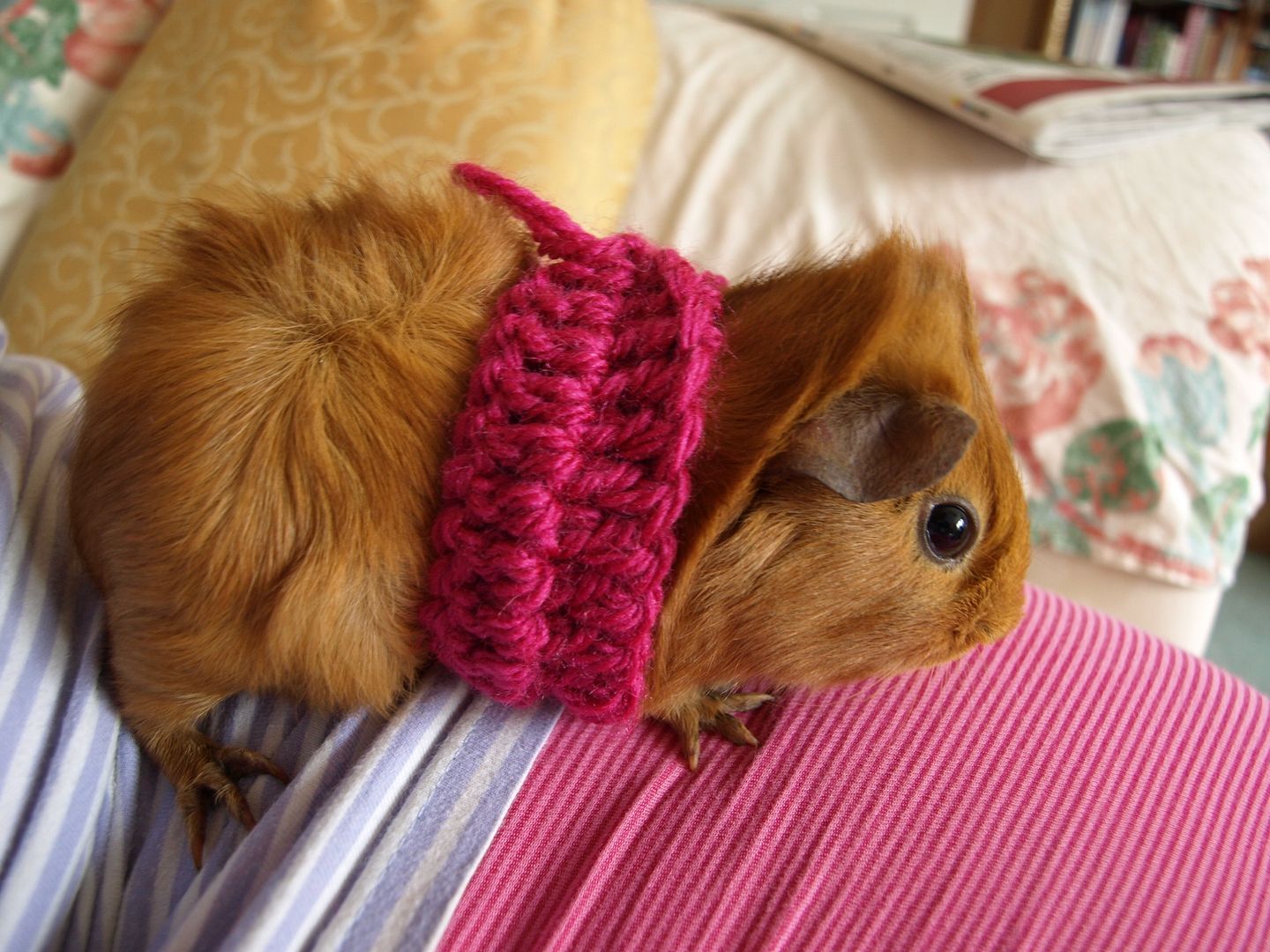 A baby guinea pig wearing a little crocheted jacket? (or other miscellaneous item of clothing that does not need leg/arm holes).
This is Betty. At first she wasn't sure about her new snazzy clothes and made herself really long and thin and walked straight out of it (and then ran up me and hid in my hair.) But we tried it on her later that evening and she didn't bat an eyelid and wore it for about half an hour. She's such a cheeky pig, she learnt how to drink from my cup of tea and seemed to quite enjoy a few sips. I have a ton of photos of them all playing, we made little houses for them on the living room floor out of advert leaflets for Saga Holidays – they ran through them, sat on them, and of course ate them. I'll sort them out for you tomorrow :-)
Obviously this means I was at home this weekend – I arrived back today (two buses, two trains, big rucksack = urgh). My great Uncle passed away last weekend and his funeral was yesterday. I don't want to say any more on here (and I don't really want anyone to comment on it if that's ok?) because such things are a private matter. Needless to say, this was one of the biggest contributors of my unhappiness over the past week.
But let's move on from unhappy things, I resolve from here on to cheer up and stop being such a glumbumble :-) I forsee happier times ahead.
:-)
:-)
:-)
Love Heather xxxxxxxxxxxxxxxx
p.s – Bloglines is closing! That's so frustrating, I really don't like Google Reader – are there any alternative RSS aggregators other than Google Reader?