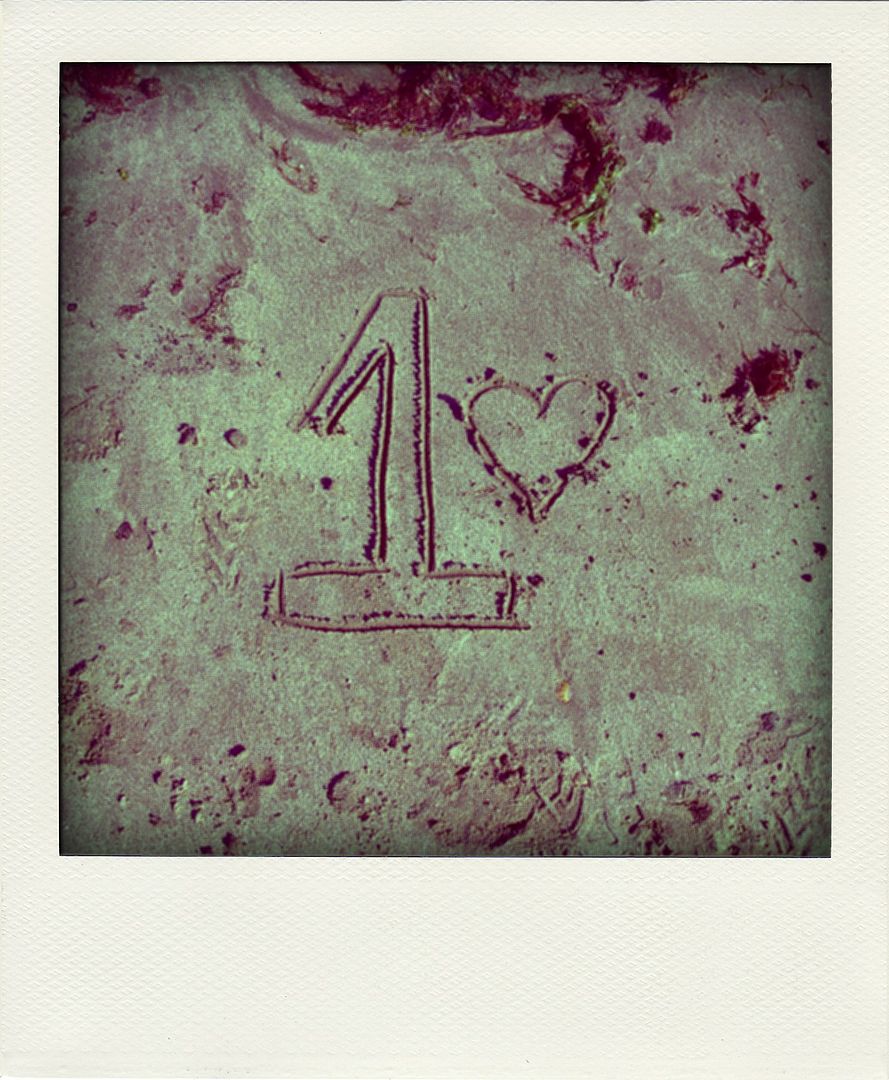 First Anniversary: "Beach and Books" and for me, that's a pretty perfect way to spend a day. We drove for two and a half hours to the Northumberland town of Alnwick so that we could spend some time at the rather fabulous Barter Books.
I've wanted to visit for a number of years but other things always got in the way – university, working during the weekends, having no money, moving back home – but this weekend we made it. Oh my, I'm so glad we did and I can't wait to go back again.
(I wasn't sure if photos were allowed so I just sneaked one!)
The bookshop is housed in the old Alnwick Station and it was fascinating seeing so many old and interesting books – especially books from my childhood. I was a bit surprised to see Topsy and Tim books in the glass fronted (read: pricier books) cabinets, we have a lot of those at home so I will have to make sure they don't get thrown away.
As "paper" is the gift for the first year of marriage, we each bought the other a book. Mine is from 1944 and is called "White Bell Heather". I bought Andy a Ladybird book about honeybees (he likes bees). We didn't get them to read as such, rather to keep in our wedding box of special things as a memento of our day.
We lunched at Barter Books and read the little story on the back of the menus about the hidden room that became the buffet. I contemplated the red walls and pondered the possibility of a red painted living room. Maybe this only works with high ceilings? hmm.
Instead of exploring Alnwick further (couldn't find a parking space, and didn't have enough money to visit the Castle or the Gardens), we made a spur of the moment decision to go to the beach at Alnmouth. I love the seaside with every fibre of my being and truly wish I could live at the seaside, ahhh I could have stayed there all day.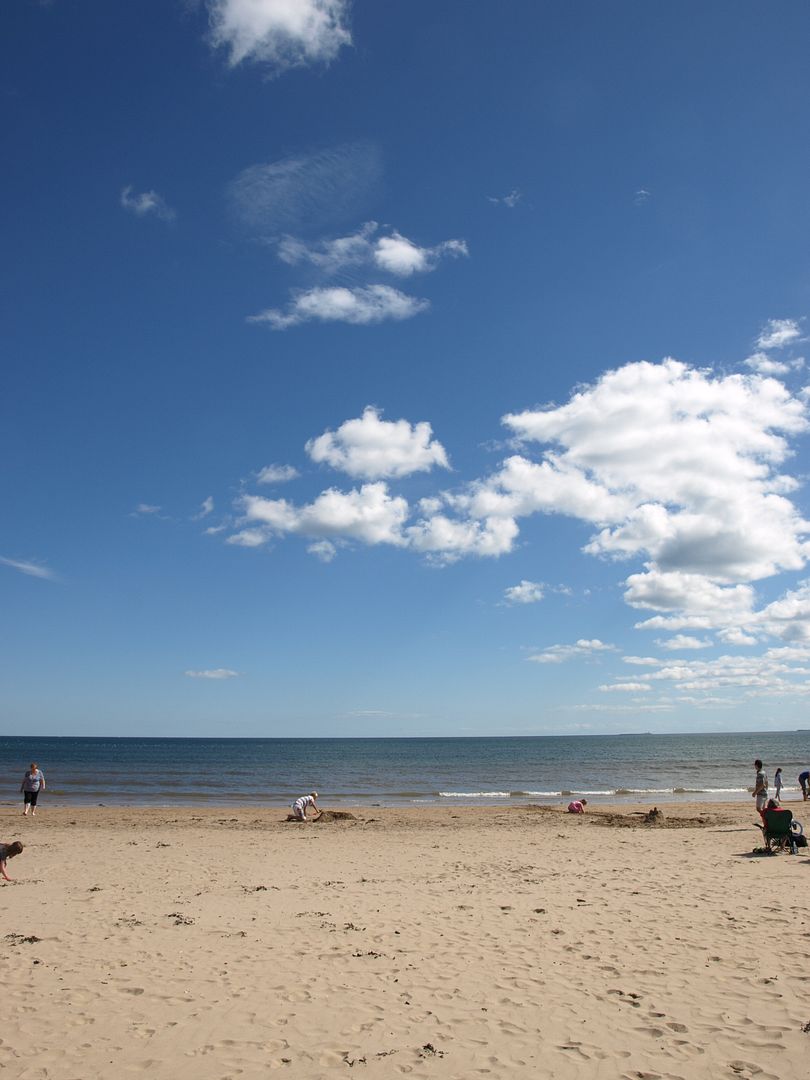 We pottered along (ok that's a lie. We tiptoed along the more compacted sand at the water's edge because we were unprepared for beaching and were wearing jeans and trainers. The car is full of sand. I am instructed that I have to make the car not full of sand at some point in the near future. Oh and Andy stepped on a dead jellyfish which nearly caused a comedy banana skin style moment.)
Anyway we proceeded along the sand, breathing in lungsfull of the sea air and marvelling at the deep blue colour of the water. Collecting little stripy stones, and battered sea glass.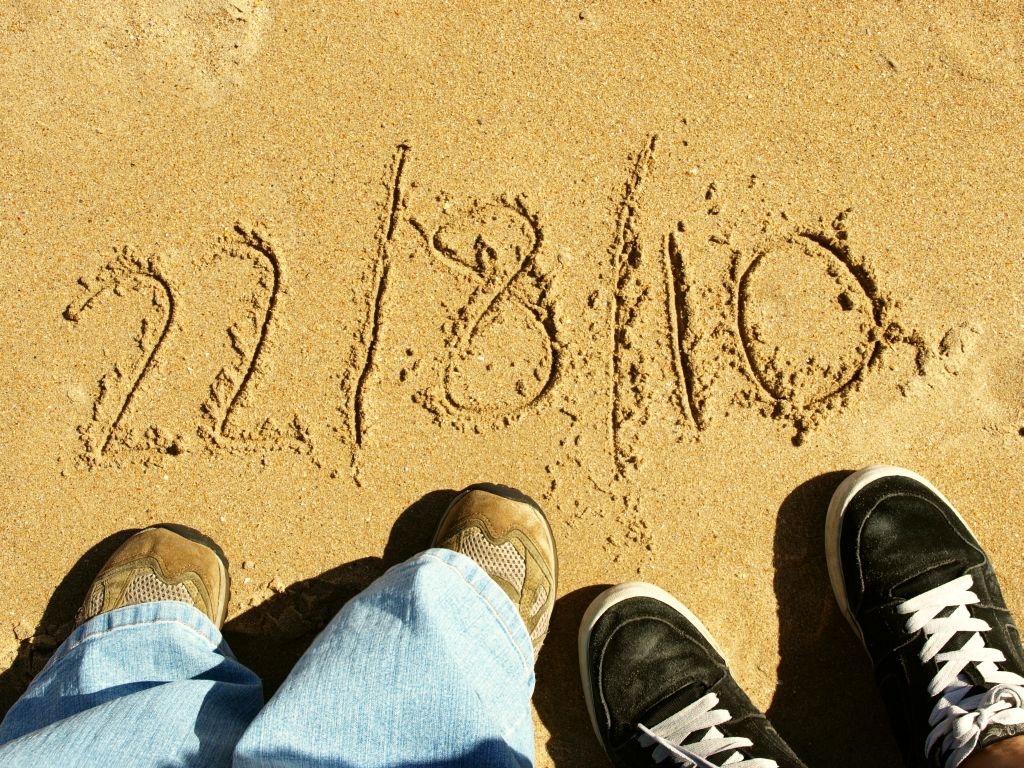 We took soppy daft mushy photos of our feet ;-) and generally just enjoyed being at the seaside and being with each other. Revelling at how un-stressed we felt on the beach compared to being at home!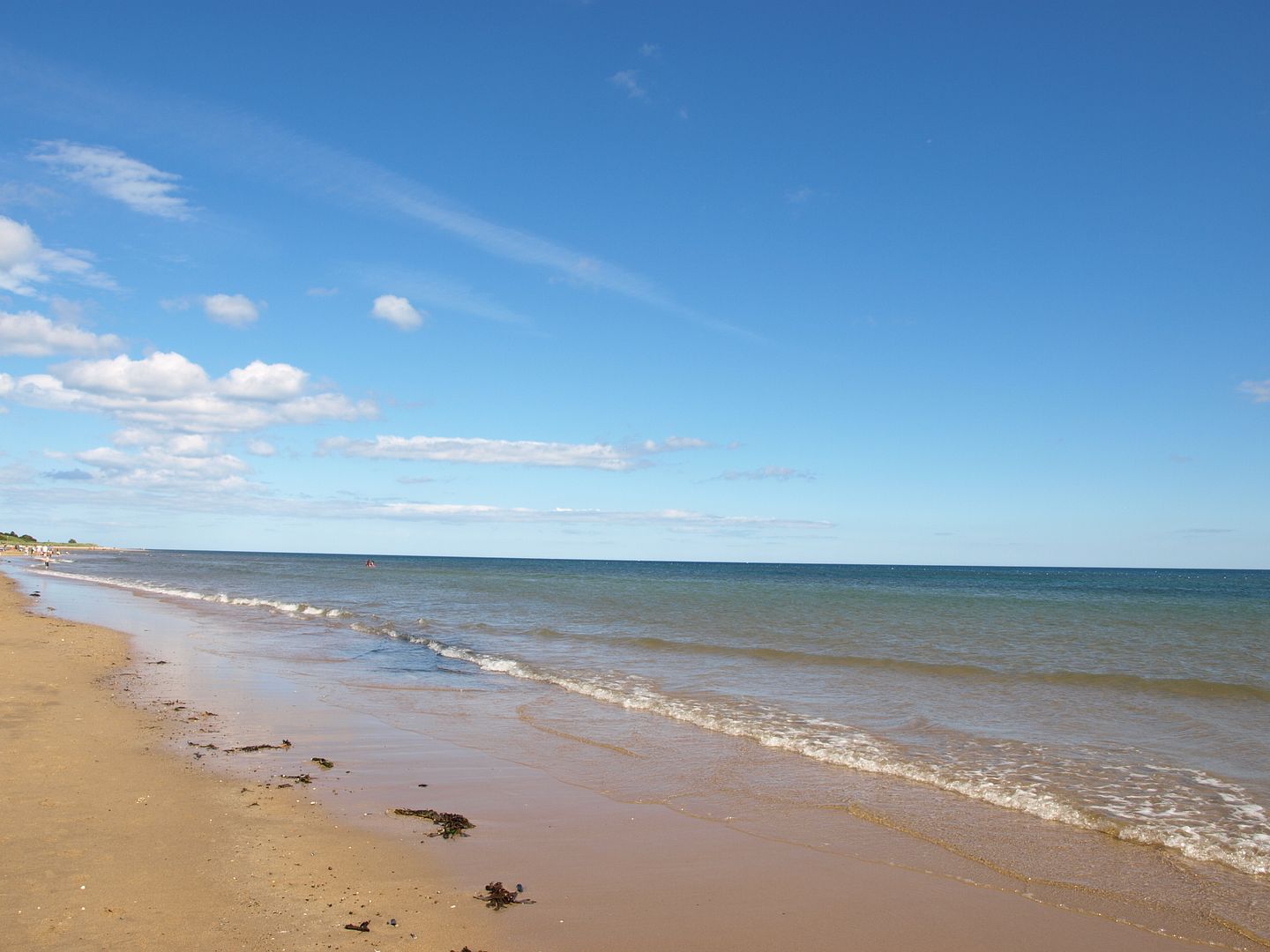 Then, noticing that Boulmer beach was only three miles away, we thought "Why the hell not!" and nipped up there for a while too.
We were waved at by a man in a helicopter!
and then at half past three (Wedding O'Clock) we giggled a bit and congratulated ourselves on One Whole Year, and took a soppy photograph. Andy is blog-shy (fair enough) but here is me and my "just for the camera" smile: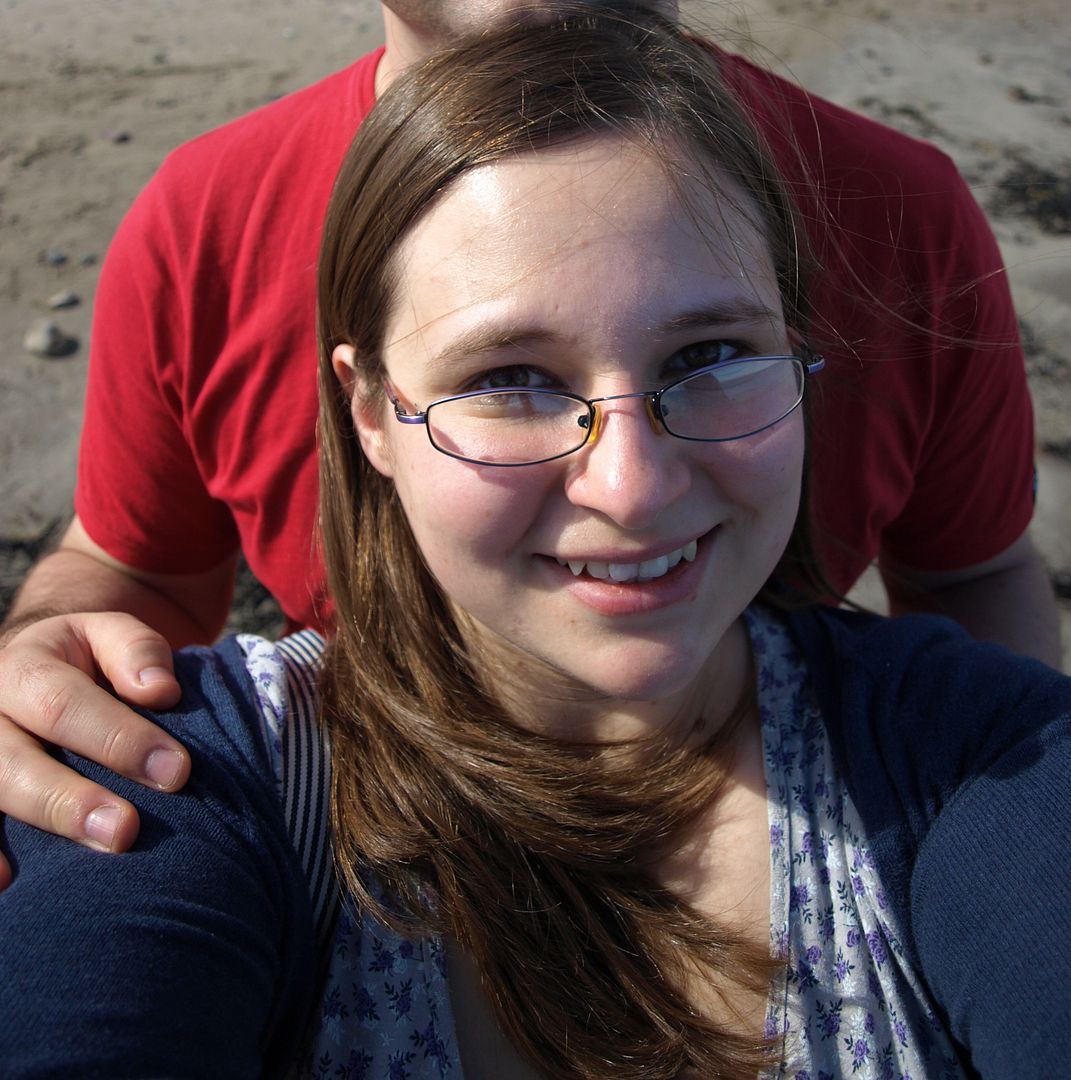 Ah yes and I forgot to tell you how windy it was.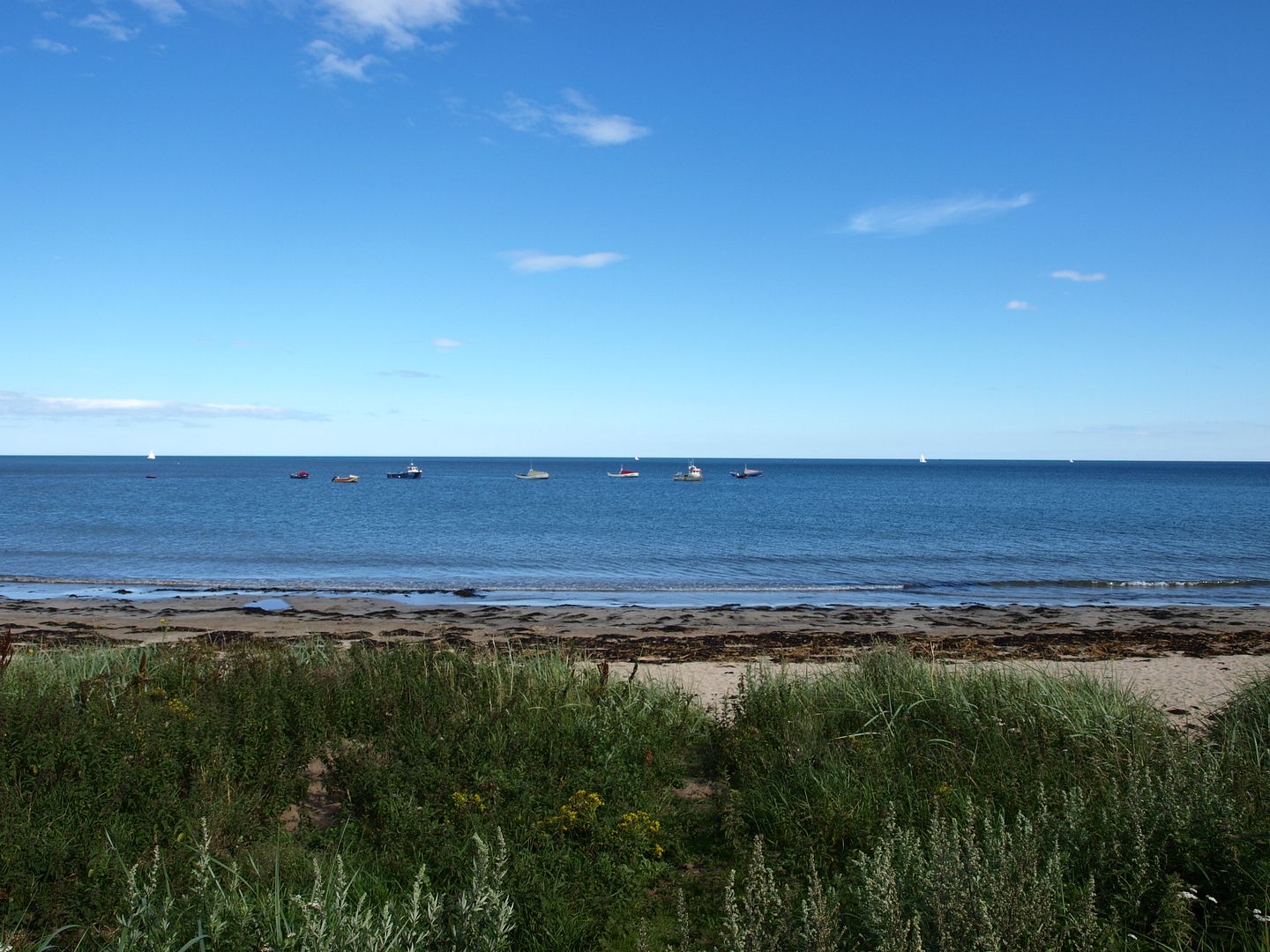 … and then with one final photograph and gaze out to sea, we started our epically long journey home (damn metrocentre and 50 limits). But goodness me, what a wonderful day. Here's to hopefully many more ♥