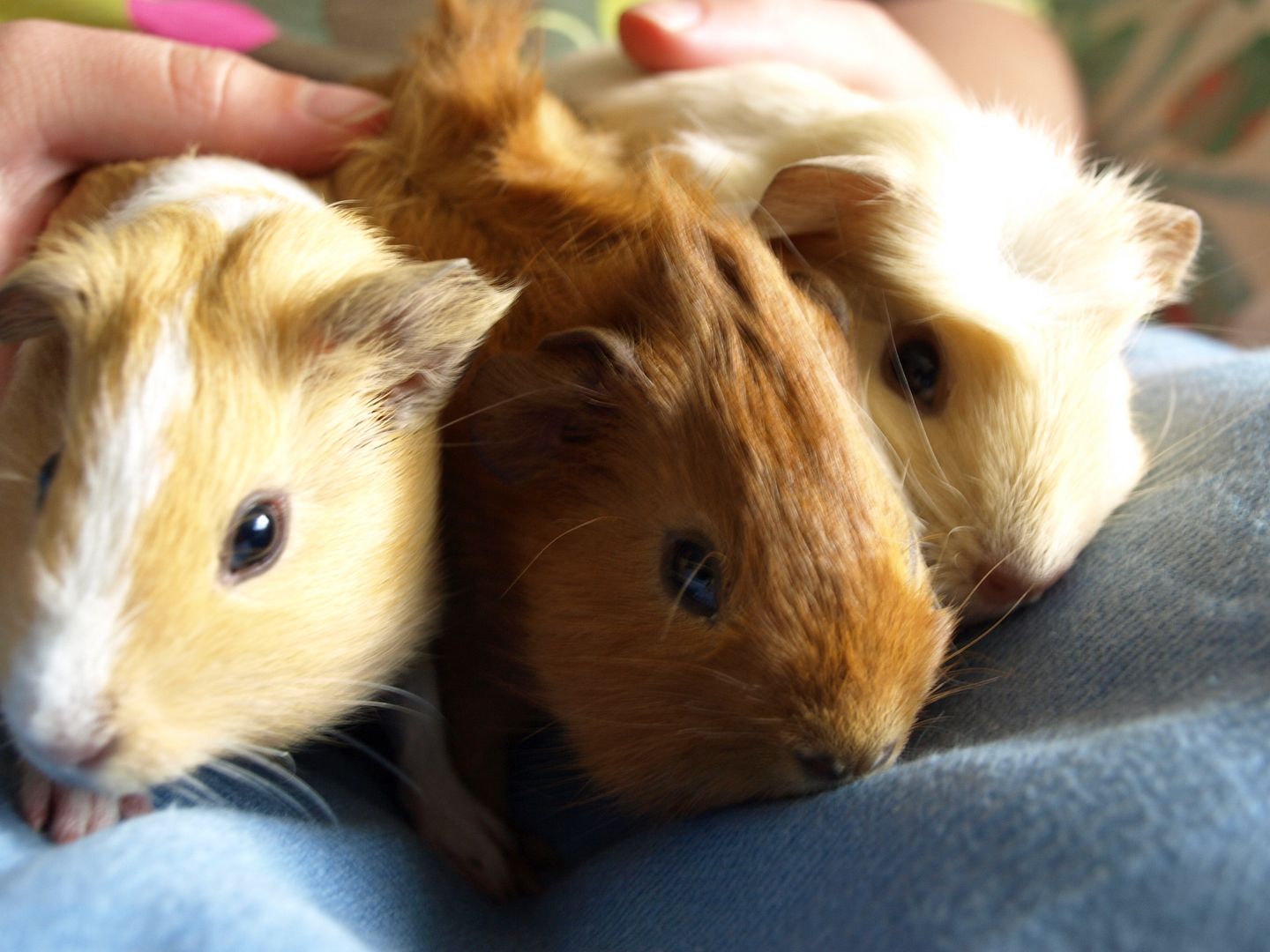 Rather sadly, and very soon after Whiskey, Rocket the guinea pig passed away last week :-( He was my sister Rachel's piggy and was about 5 years old which I think is the usual life span for a guinea pig. Usually we don't "replace" pets so soon(I hate to use that term because you never replace an animal that you love, but I hope you know what I mean.), but with Rachel returning to uni in a few weeks time she wanted to get to know her new furry friend before she left. It's also getting a little late in the year to introduce new outdoor pets, it's just not fair to put them outside as the weather gets colder.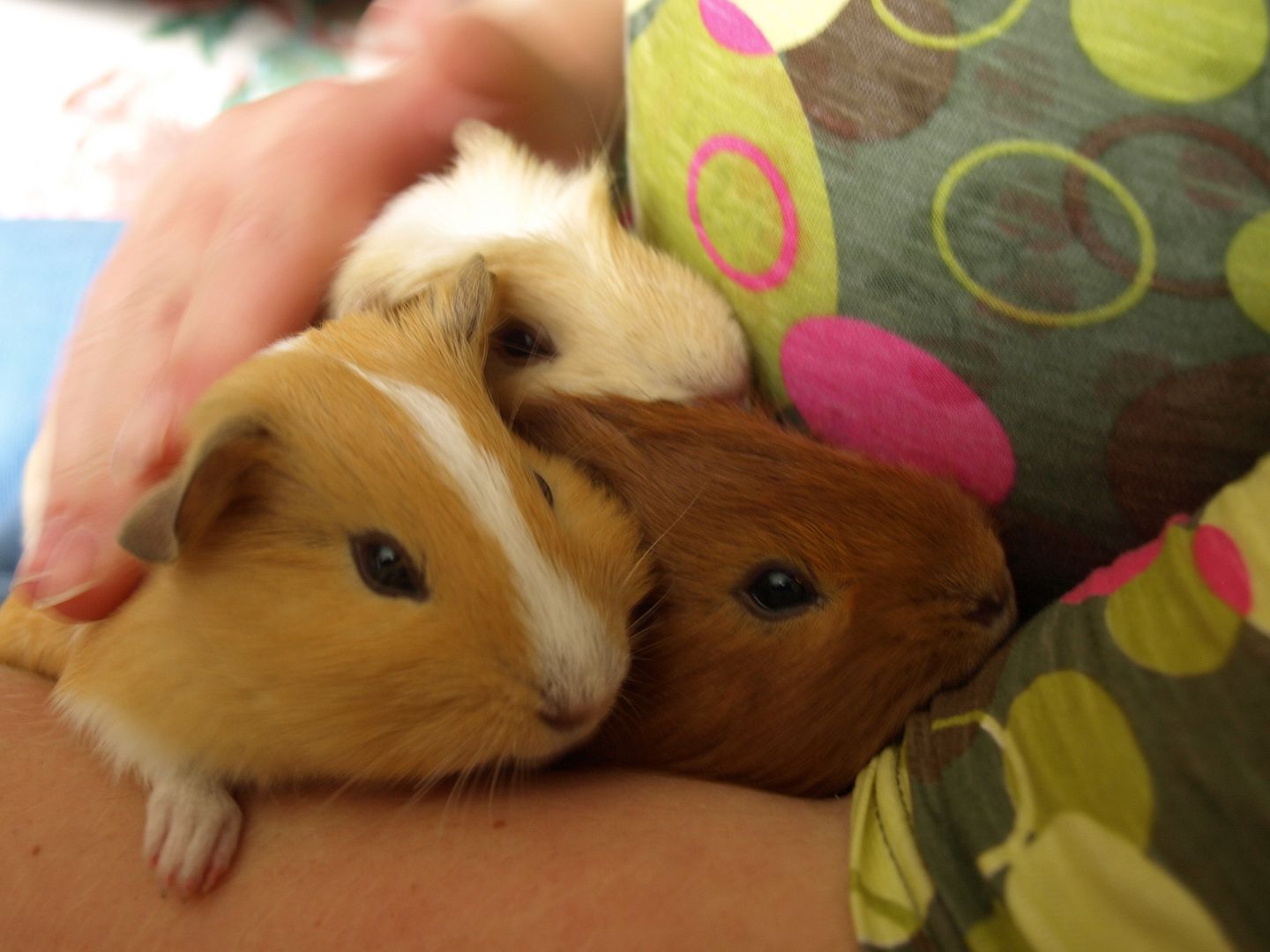 On Saturday, Toffee and Betty (sandy and white, and ginger) came home with us. One piggy for Rachel, and one for my brother Patch (Whiskey was his bunny.) Aww. So cute. So incredibly cute. They love to snuggle and as soon as you sit down with them on your lap they run and bury themselves in the crook of your elbow, or run up your arms and sit on the back of your neck. Preferably in your hair.
On Monday morning I was sat on the sofa with all three of them … wait? Three?
Yep, all three of them. On Sunday morning (whilst my sister Alice was racing at Marlow) my mum and me nipped down to town and bought the pale piggy in the middle of the photo. She is from the same litter and was a surprise for Alice, who was a bit upset that she didn't have a guinea pig. She was with us when we bought Toffee and Betty, but didn't think that she could have one. But she can! Guinea pigs like to live in groups, and fortunately as these three had only been separated for about 15 hours they took to each other fine. Alice called her pig Clover.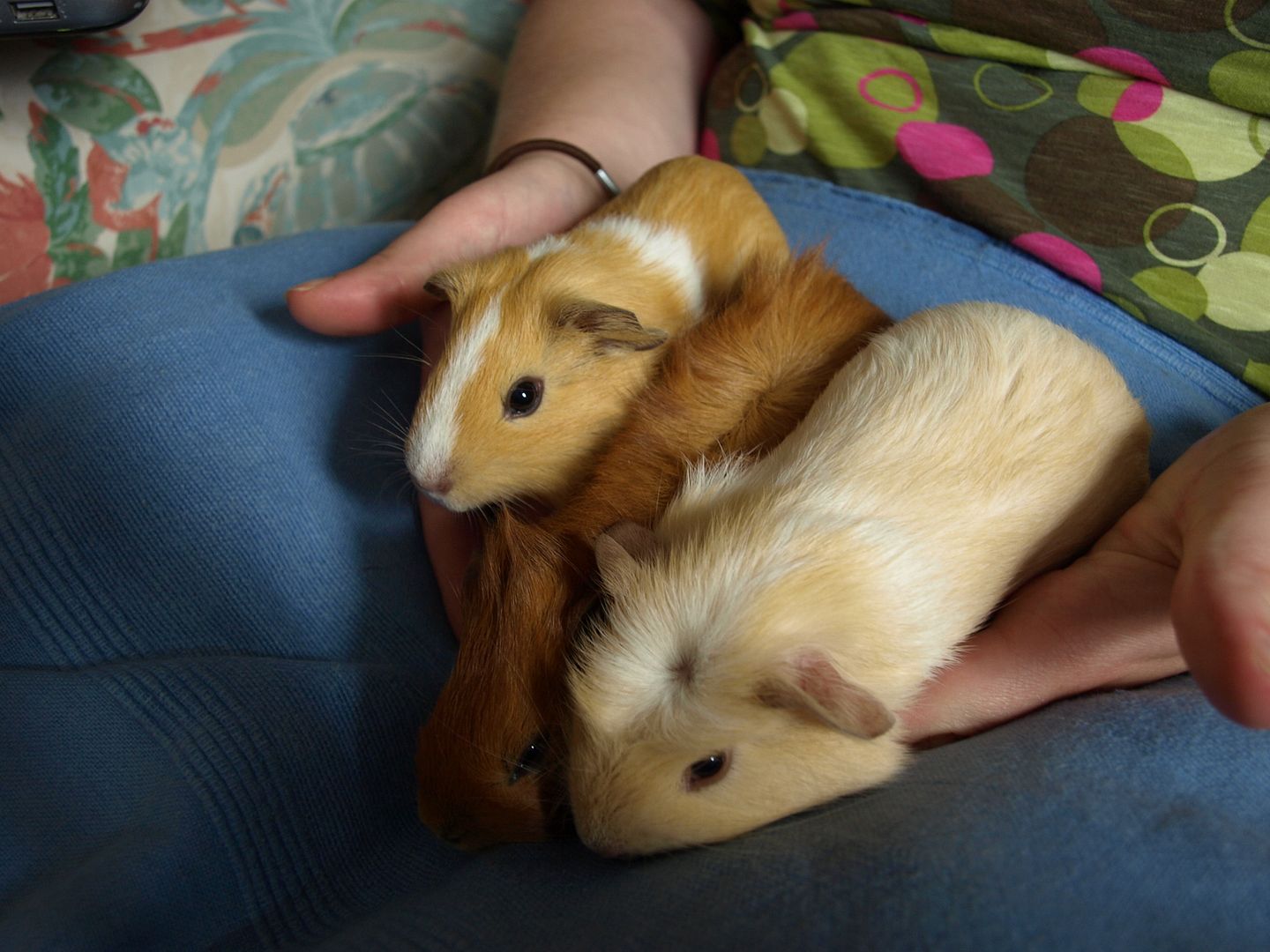 They are quite content to sit still SOMETIMES, but they are mostly just squigglepigs who like to run away and climb into your hair. It's a bit difficult to get a good photo!
Toffee in particular is having none of it.
and once one of them goes …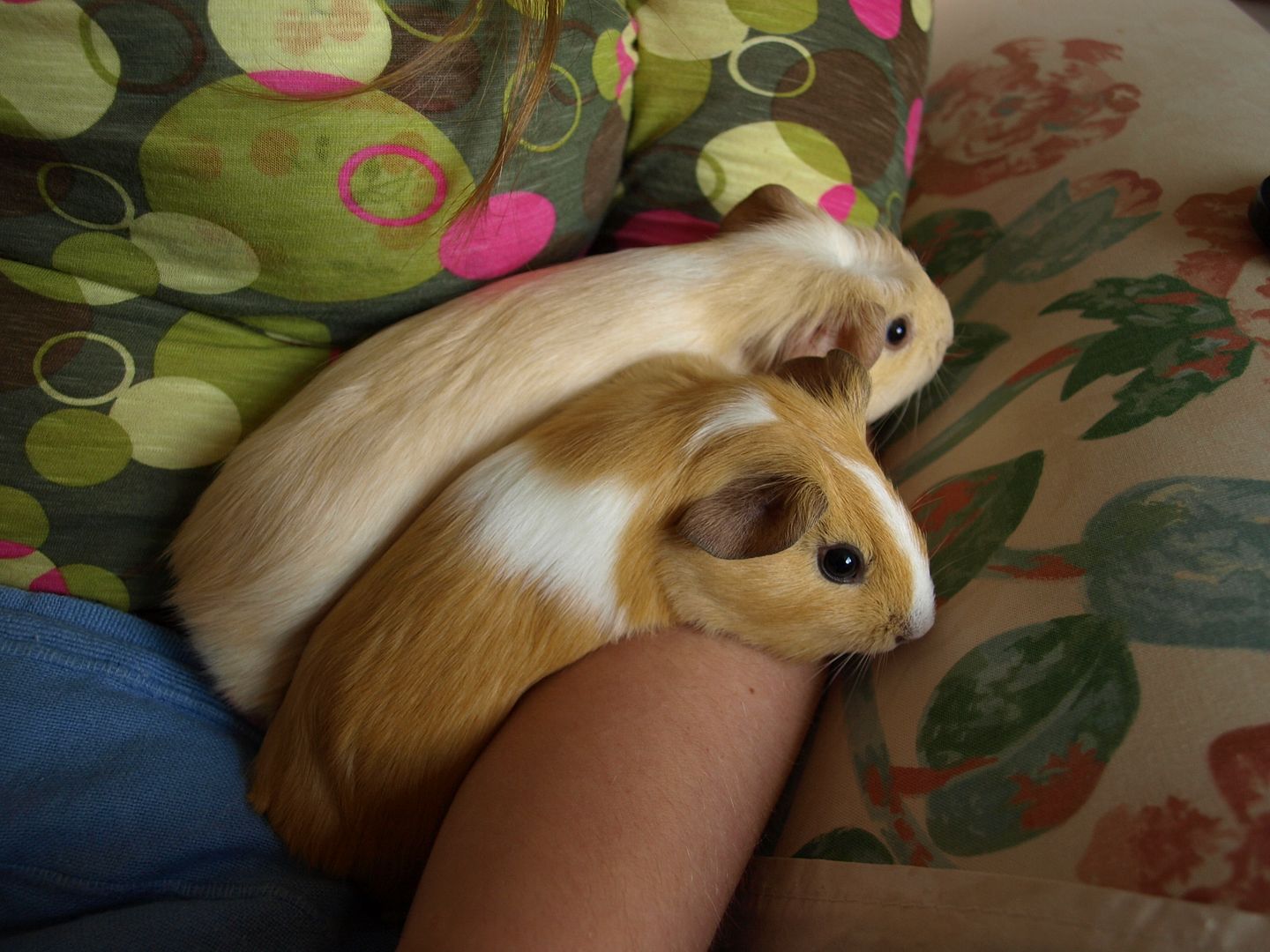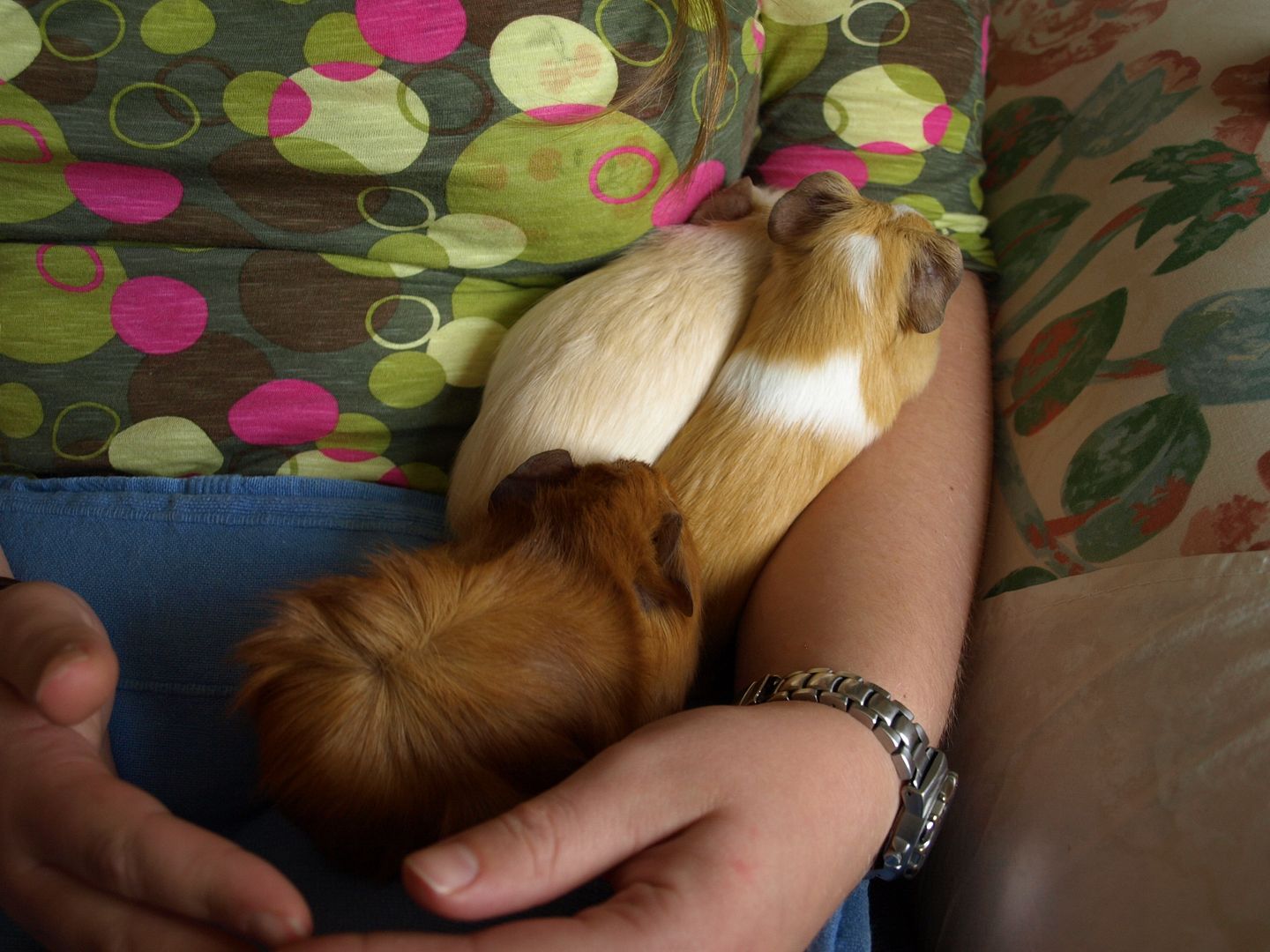 They all go!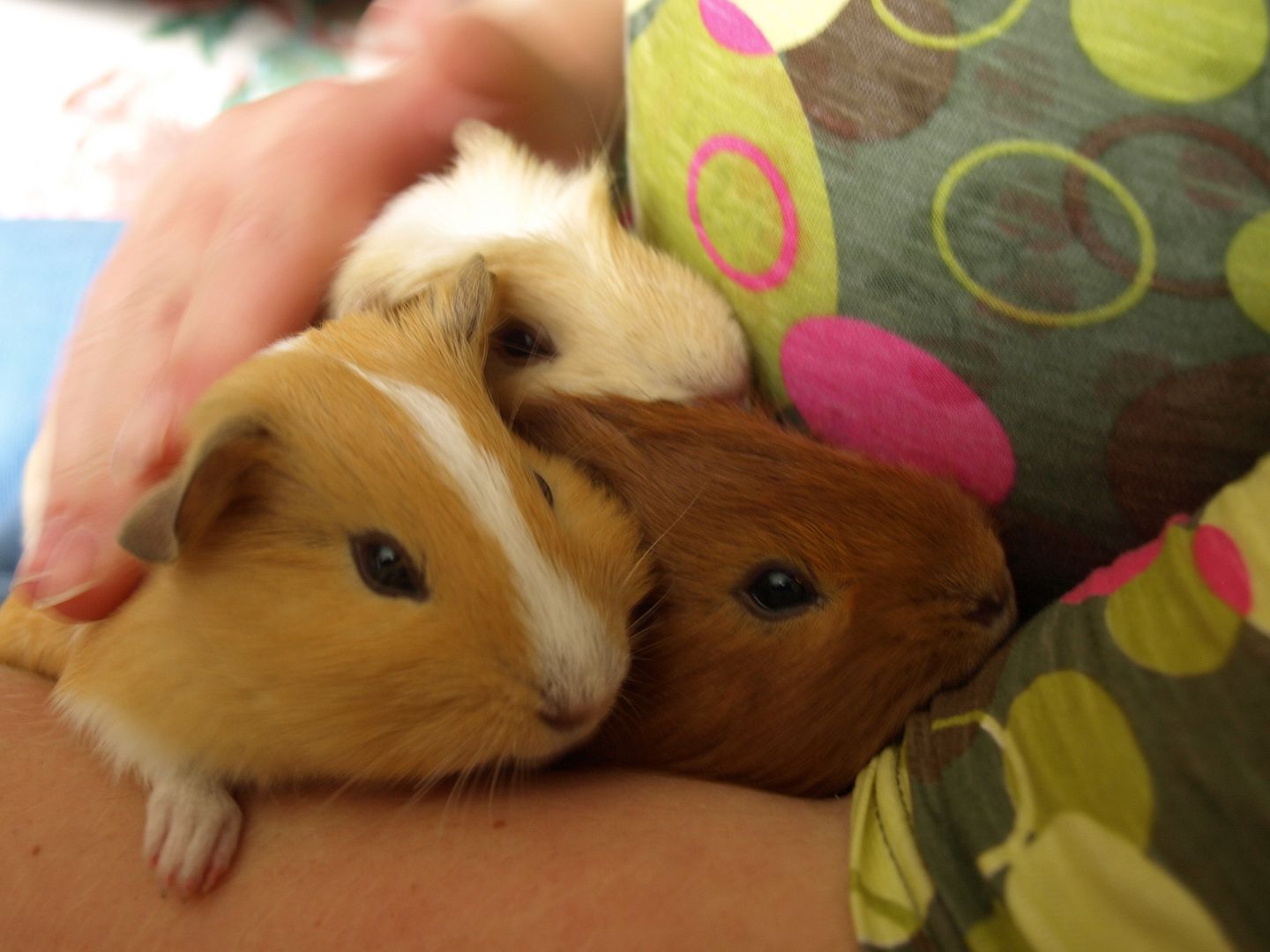 As I was saying earlier, yesterday morning I was sat on the sofa with all three of them. I'd just washed my hair and it was wrapped up in a towel. They all scurried up to sit on my neck as usual, and there was a bit of a scuffle and the ALL climbed into my hair-towel. Yikes. So I called all siblings to the sofa (calling all siblings! calling all siblings to the sofa!) to retrieve their pigs. Only Rachel didn't come, but I didn't realise. So when I tried to unwrap the hair-towel, Betty was still in there! eeeek.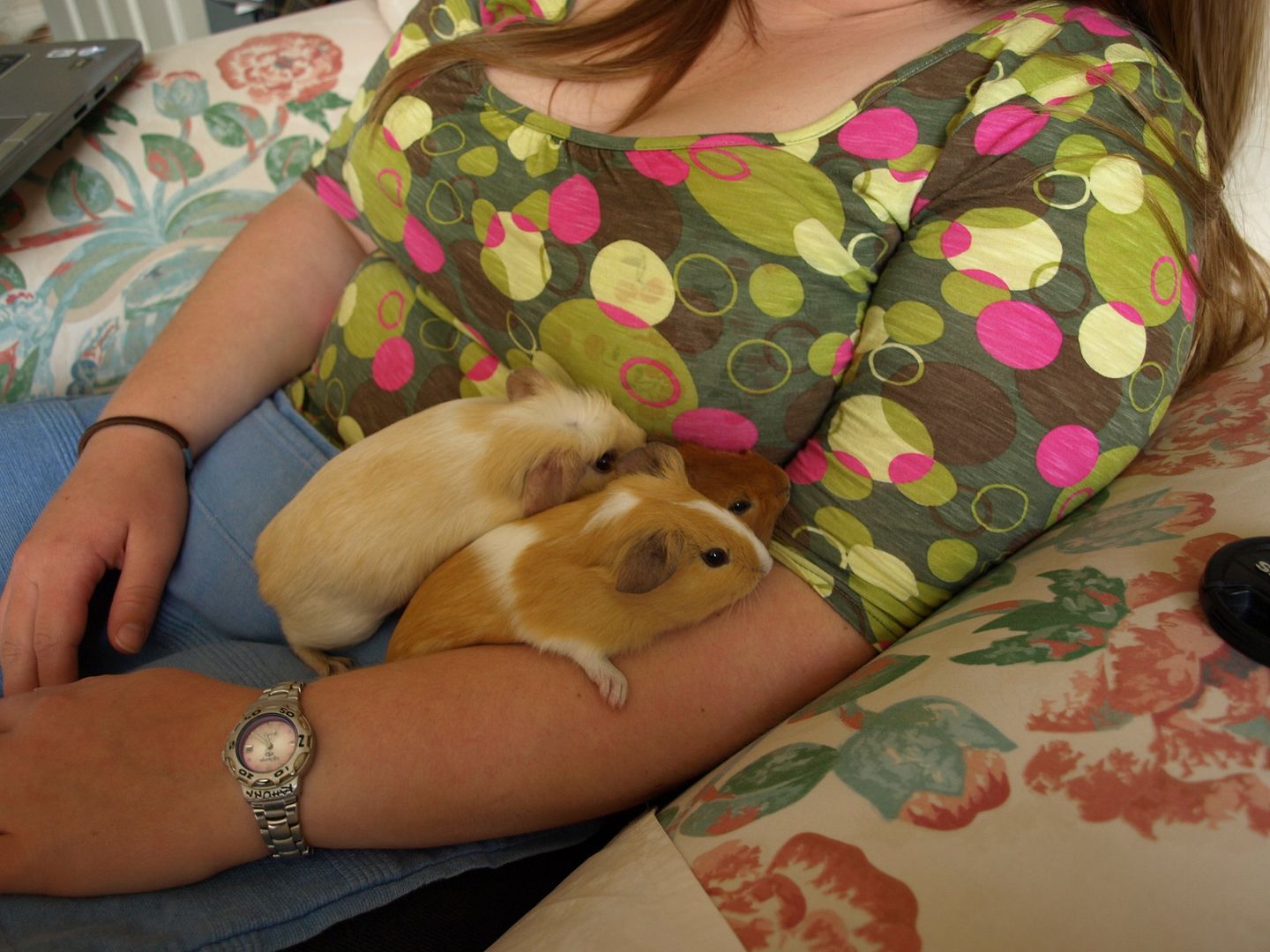 Tell you what though, not much beats having a cuddle with three baby guinea pigs :-)
We are back in Leeds now and I miss them already!
(I can't believe I was blog absent for so long by the way, I like to think that I'll update every day but in reality at the moment I'm just going to work and coming home again – very boring and totally un-blogworthy. But leaving it for a week is a bit embarrassing. My technicolour dreamscarf is coming along a treat though, I will have to take a photo and show you all.)
xxxxxxxxxxxxxxxxxxxxx