Weeeeell we sorted out all my yarn yesterday and instead of distracting me from babies all it really did was reveal to Andy just how much yarn I have. In my defence, it is the Stylecraft that makes it look so bad. And that is designated for the Granny Stripe, which I am deliberately not starting yet because I've got other bits and bobs I need to be making. oh and 4 balls of it are leftover from that blanket that I made my sister recently, they aren't for the granny stripe.
What's that? It's not just the Stylecraft making it look bad? hmm. Well the 5 balls of Rowan Cashsoft chunky are left over from making my Grandma her blanket at Christmas. And the Patons cotton is to finish off the Vintage Stripe blanket (I learned an important lesson with this blanket. don't use cotton with a 3mm hook and try to make a blanket. Also, follow the pattern and don't add in mysterious increases.)
What else do we have then? Well the Kool Kotton is for some baby blankets that I'm making, so that's clearly ok. Ditto the Rico Baby Classic, as I'm working on that right now. The Rowan/Sienna 4ply cotton in the middle there was a mistake, I'll admit that, but it was a fairly cheap mistake really. I'm sure I'll find a project for it one day. Perhaps.
Oh YES, and the Rowan Pure Wool? I am making new cushions with that, and I had to buy all the Lavender and Tangerine I could find because it's discontinued and I need my cushions to match my 400 squares blanket. They'd look odd missing two colours like that.
The Jarol Heritage was an impulse buy back in April when visiting Katherine because the teal shade was AWESOME, and then another little teeny tiny impulse buy the other day. The teal was lonely, I bought it some friends.
The American yarn is from my swap, and the cotton ease is awaiting the perfect project. Plus I really like to stroke it.
Debbie Bliss Cathay? Yeah that was a mistake and shows that you shouldn't be tempted by sale signs. I think it will end up as a scarf for my grandma.
So really, it's not that bad at all!
Oh yes, I also have a big box full of quite sizeable oddments of mostly acrylic (as well as some almost full balls) that I was going to make into SIBOL squares. I still haven't got round to this and quite honestly, I don't think that I'm going to have time to do this in the forseeable future. Therefore, would anyone who is already making SIBOL squares like any of this yarn? To make the SIBOL squares with I mean. I'm happy to post for free in the UK, just leave me a comment and then I'll email you for your posting address etc.
So have you been wondering what I've been making lately?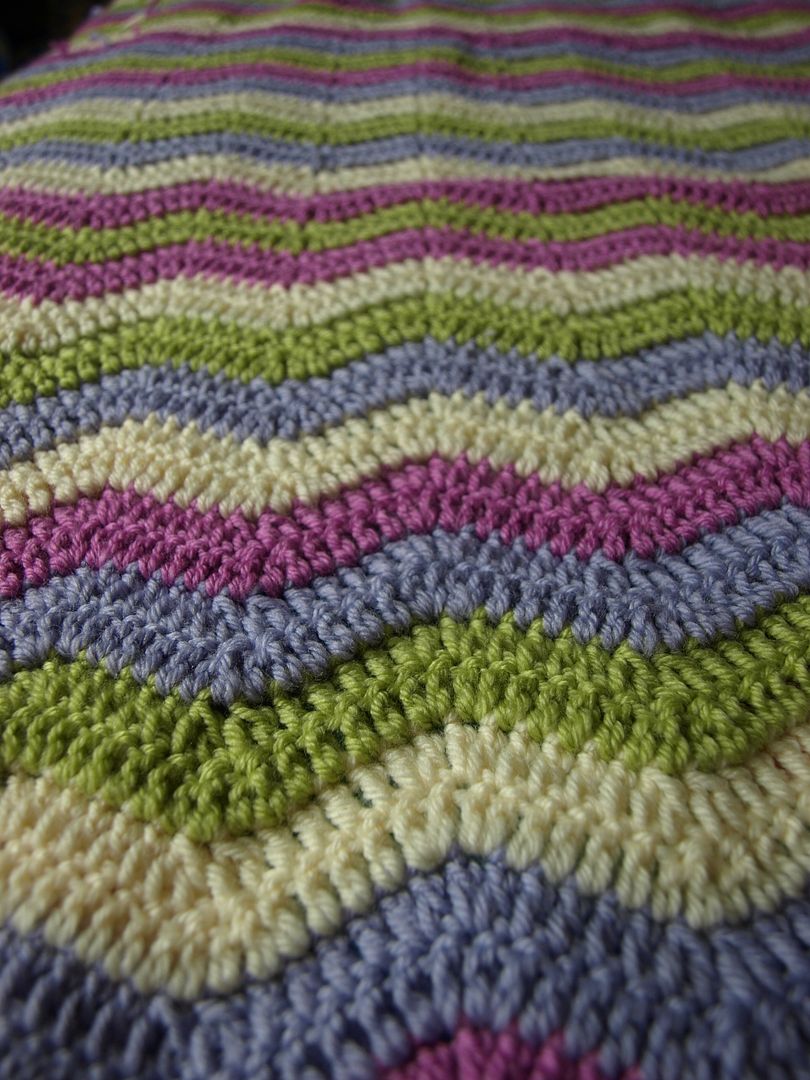 Well I finished the Sweet Pea Ripple, save for tying in a couple of ends. This is a total of three baby ripples completed now, the Sweet Pea Ripple, the Circus Ripple and one same as the ripple that I made for baby Katrin (I can't think of a name for it!)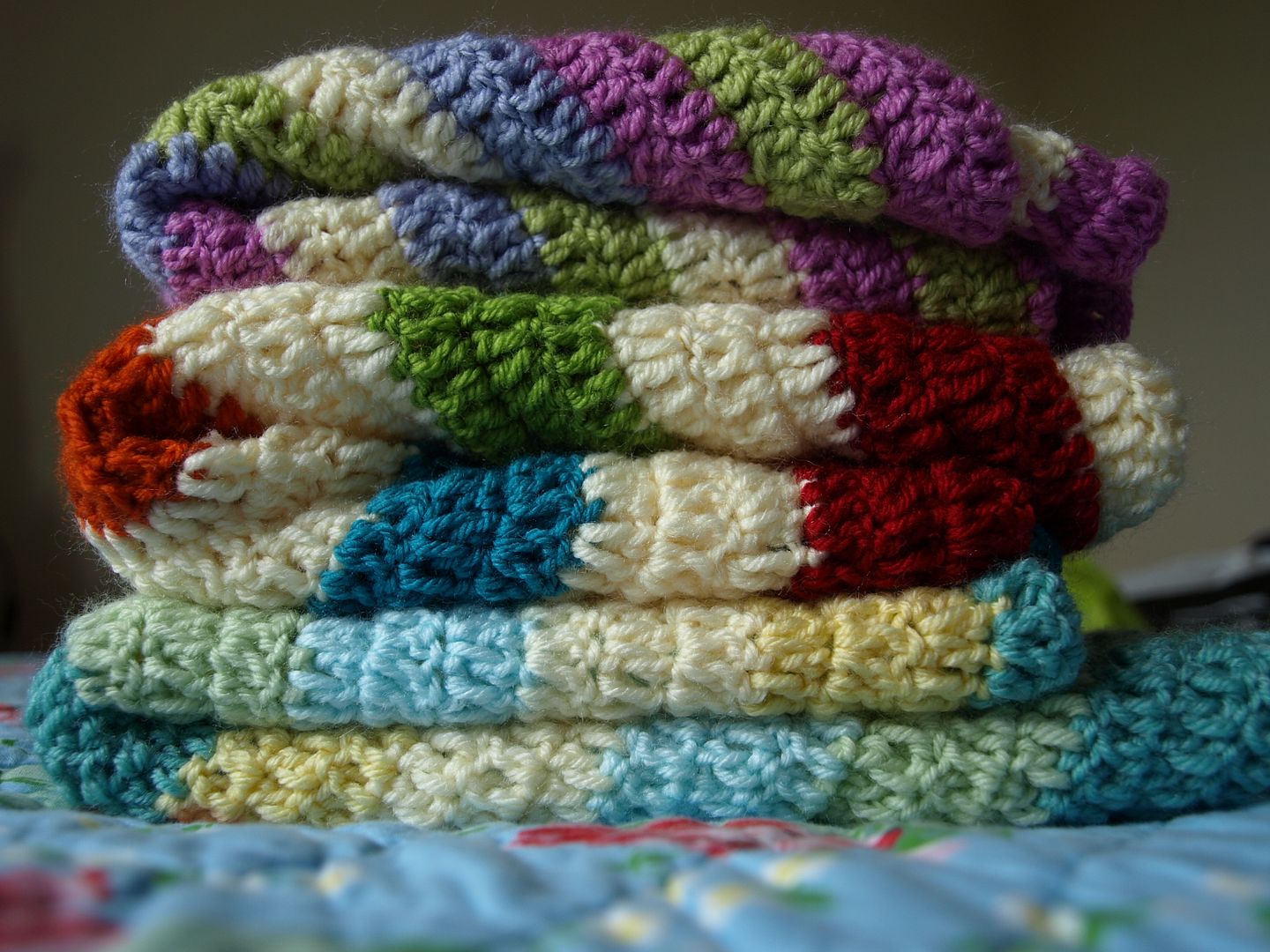 aaaaand I'm extremely nervous about saying this, but I've actually made them to sell. I have started to make a Folksy shop (I'm sure you've noticed that I keep talking about it but never doing it) but honestly, I haven't put them in there because I am not graphically talented enough to make a banner image for it, or a cute logo, or make it all pretty.
Is it incredibly cheeky to offer them on here first? If it is not cheeky, then I will offer them on here, and try to take some half decent photos of them (the light is terrible here at the moment, really overcast and yucky). If it is mega cheeky then PLEAse tell me and I will re-attempt the Folksy thing.
aaaand now I'm going to go and hide!
ETA perhaps some prices would be good here?
It's hard to think of how to price these, as obviously if I was working it out based on how long it took to make them then nobody would ever be able to afford to buy them. The price that I've been mulling over in my head as I make them though is £45 a blanket, including UK postage. I'm happy to ship to the rest of the world, but I'd have to add £7 on for International posting.
The Sweet Pea Ripple is 70 x 61 cm (sale pending! OMG)
The Circus Ripple is 77 x 61 cm
The blueygreenyyellowy ripple is 83 x 61 cm