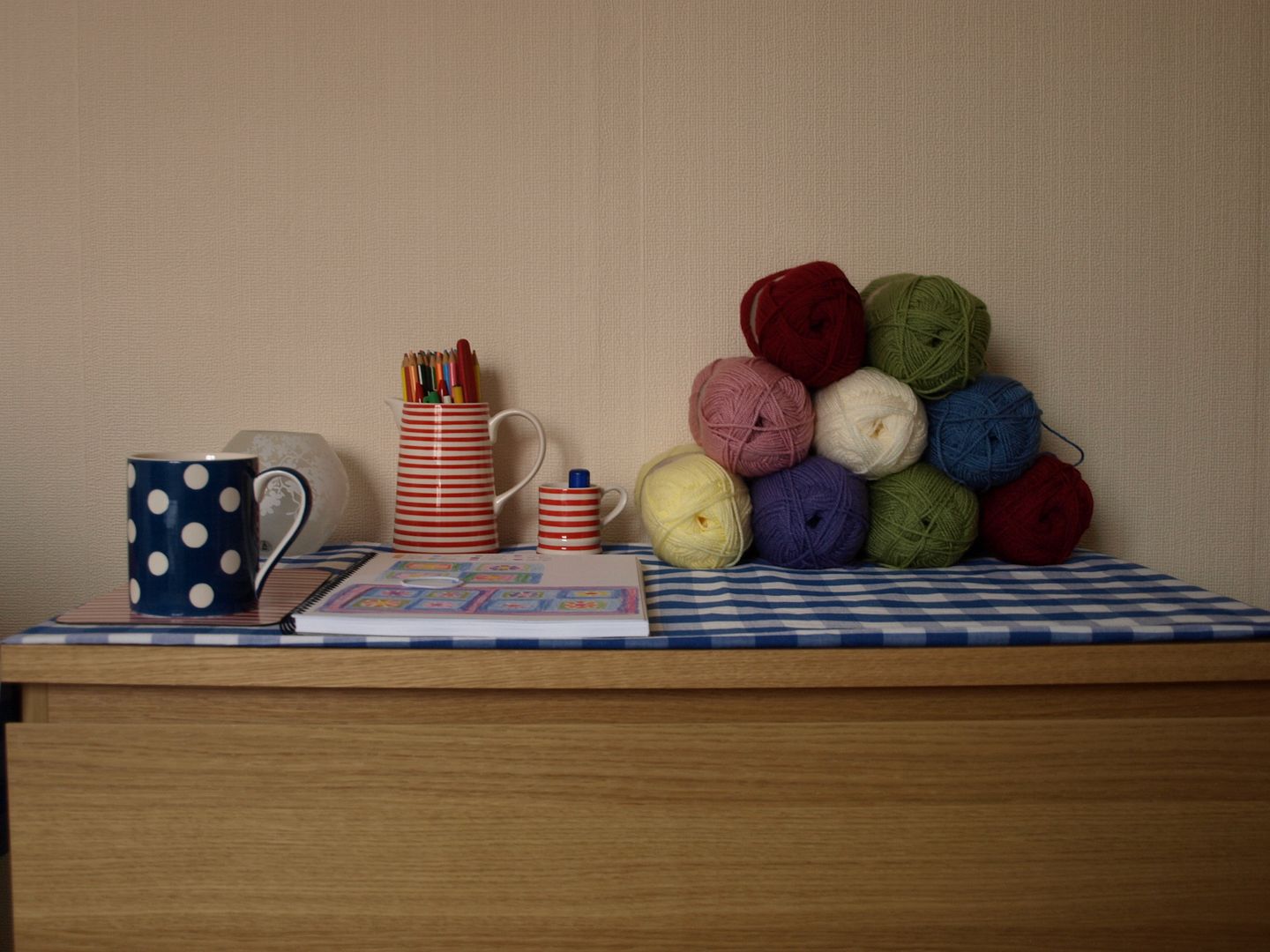 Do you remember back in May when I went on my Epic Yarn Hunt and returned with 9 balls of Stylecraft Special DK?
It's been a while but I am finally ready to reveal to you the SECRET PROJECT! It was a necessary secret because it was in fact a birthday present granny square blanket for my sister Rachel's 20th birthday – and she reads my blog! So I'm sorry for all the secrecy but I think it would have spoiled it for her if I'd posted it on here before I gave it to her.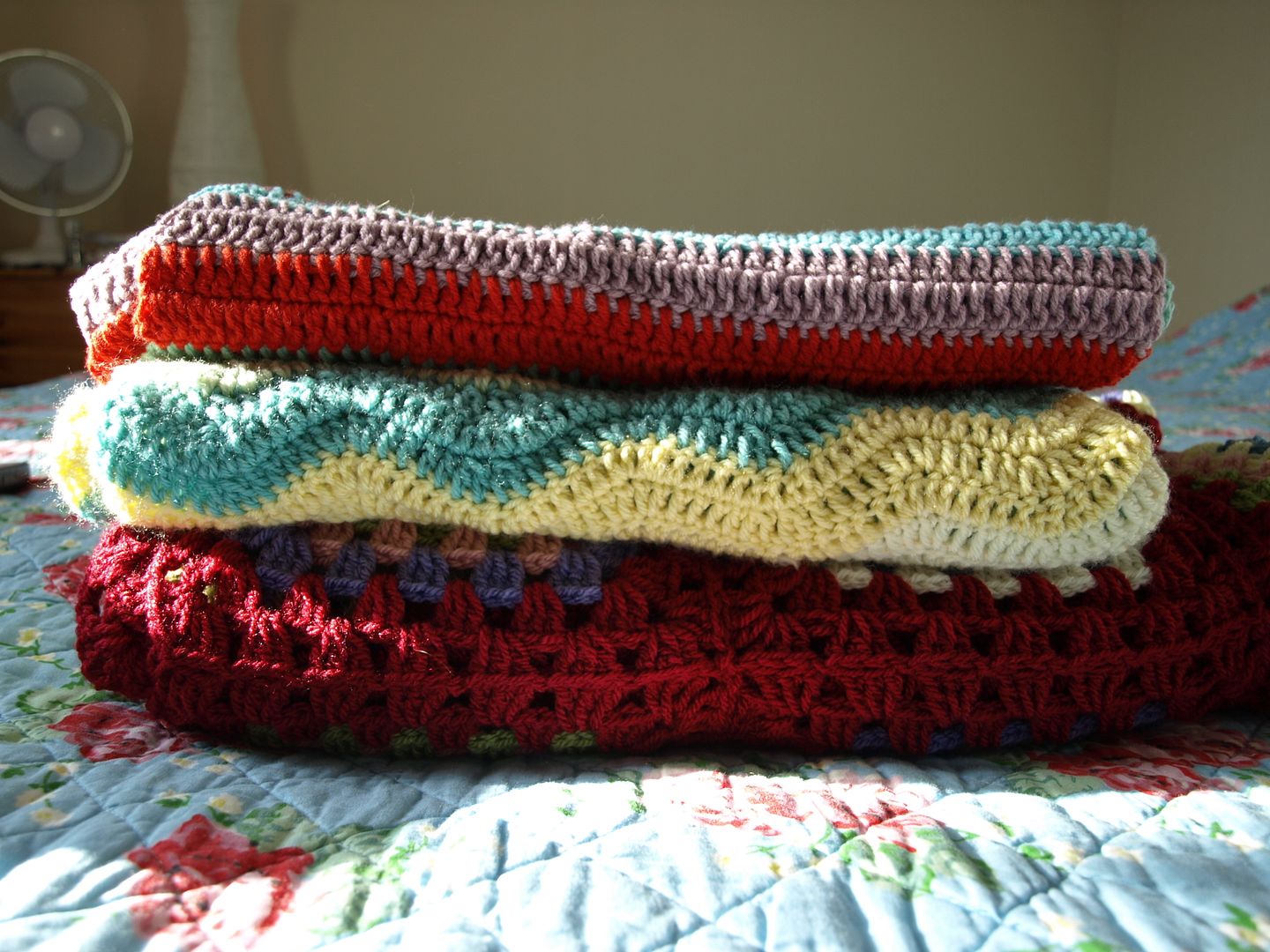 I used seven different colours of yarn; I used less than a whole ball of the white, yellow, purple, blue and green and almost three balls of the red. Not bad going really.
It was a bit of a rush to get it finished in the end, despite the fact that I wasn't due to see her until a week after her birthday I still had to get up early to finish the border before work and then I took it with me to work and trimmed all the ends at my desk. (When we go visiting family we travel straight after work you see.)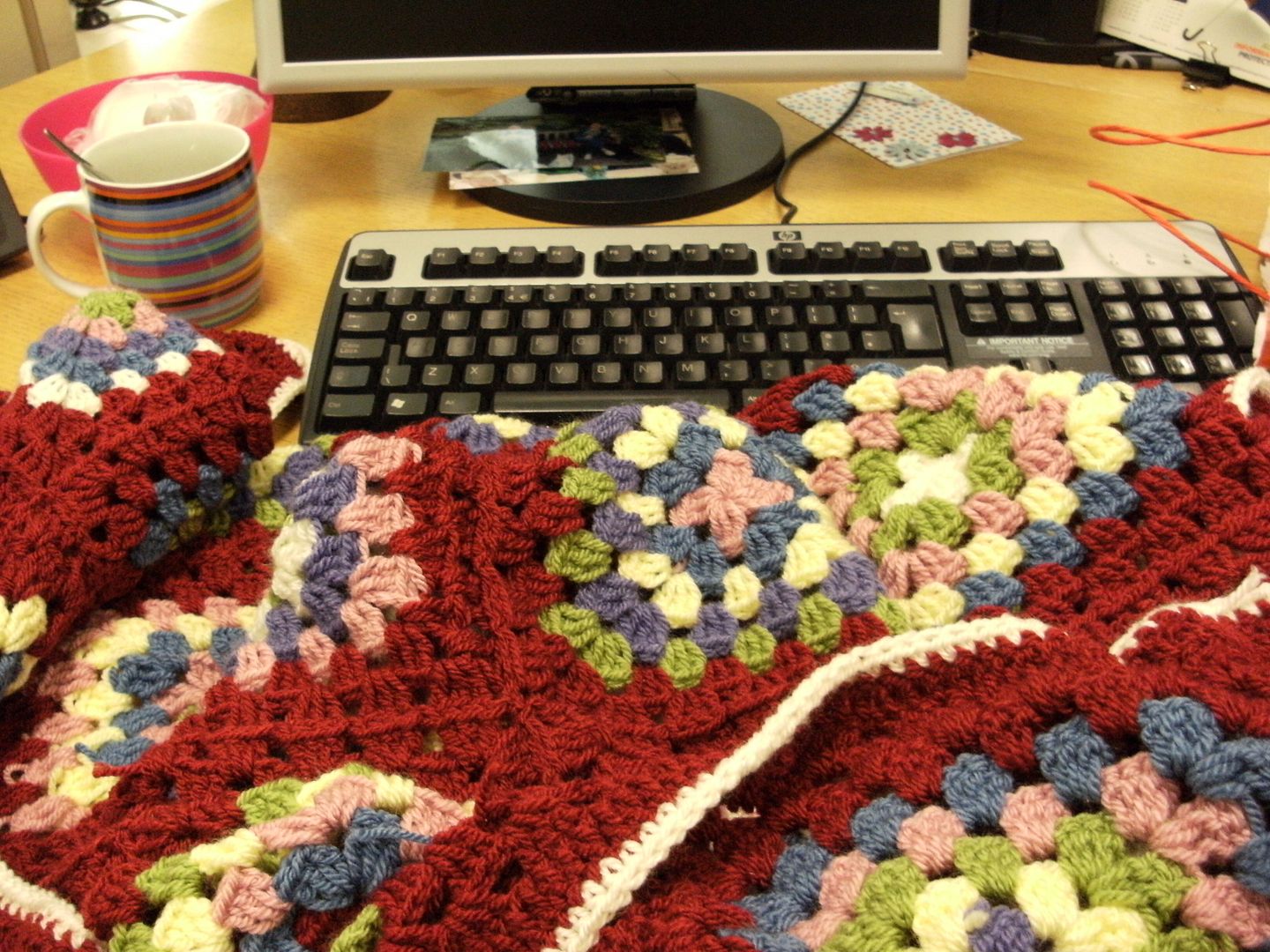 This is my desk at work, complete with blanket.
I chose to do one round of granny edging, followed by one round of UK treble stitches into every stitch (these were both in red as you can see) and then to finish it off I used the white yarn and did one round of half treble crochet into each stitch. It didn't look finished at all until I put the white on it and once again I was absolutely amazed at how one round of edging can completely transform a blanket.
Then of course I had to work all day, but I kept the blanket on my work windowsill and sneaked some sneaky squooshes of the blanket throughout the day.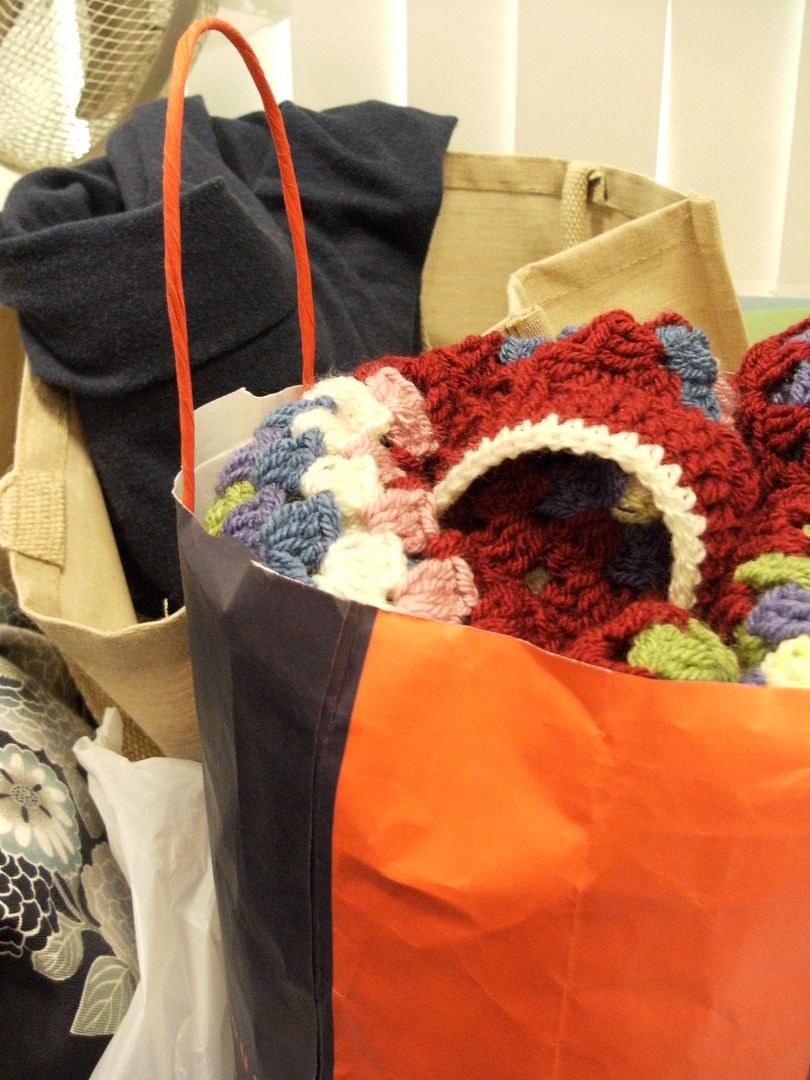 … and again on the train to meet Andy:
Then, after a loooooong motorway drive we arrived home and I was able to give the blanket to Rachel, FINALLY. I've loved working on it but boy, sometimes when working on a project that is not for me I find it hard to make it to the end!
Anyway enough chatter, how about some blanket photos eh?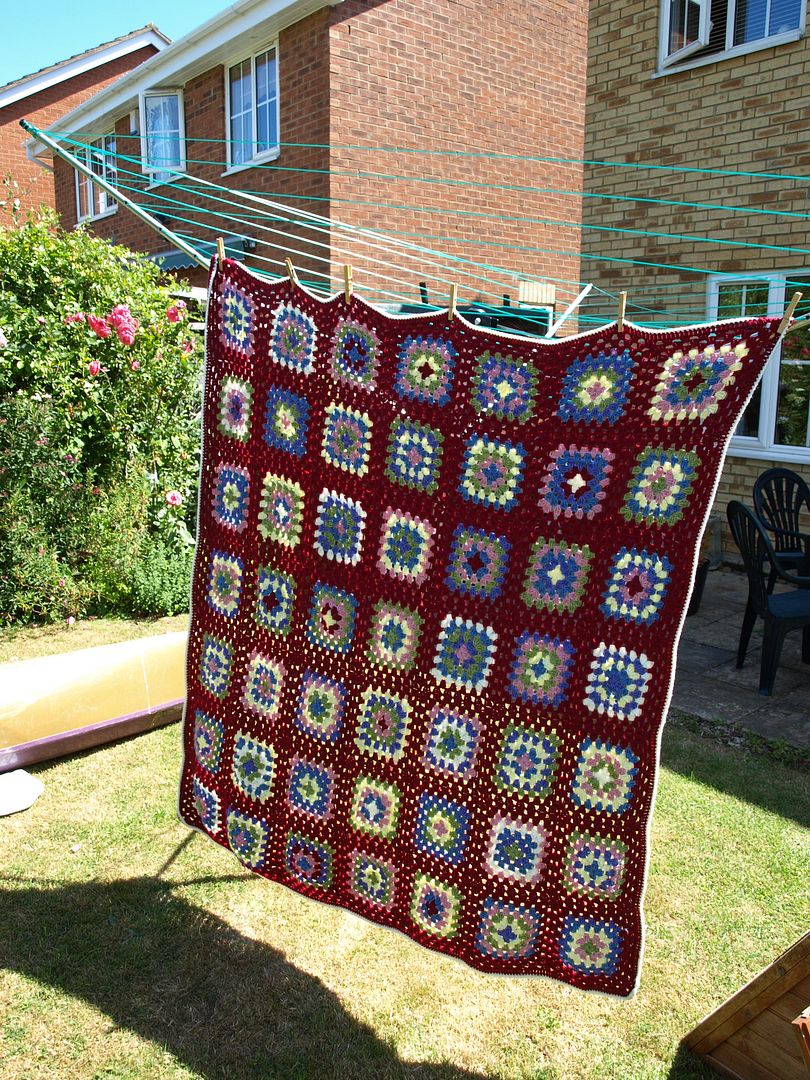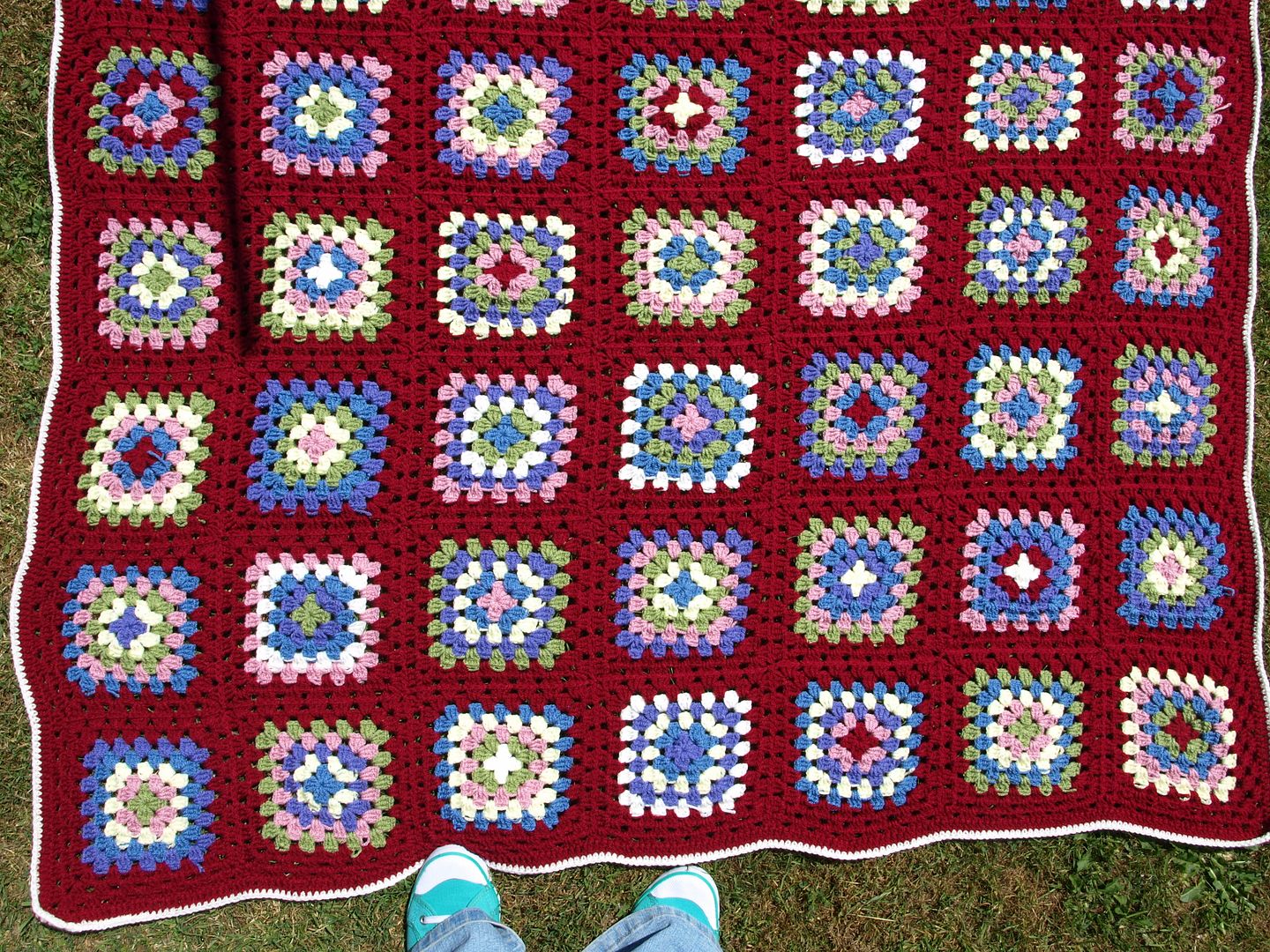 As you can see, I didn't block this blanket. Come on, when have I EVER blocked anything? I know it's a bit wibbly and a bit bulgy but I'm a) lazy, b) not endowed with any kind of blocking space and c) I only finished it on the morning I gave it too her. Not to mention I'm lazy. Oh and the colours look washed out here because the sun was so bright when I took the photos but really, the colours are most acurate in the first photo of this post.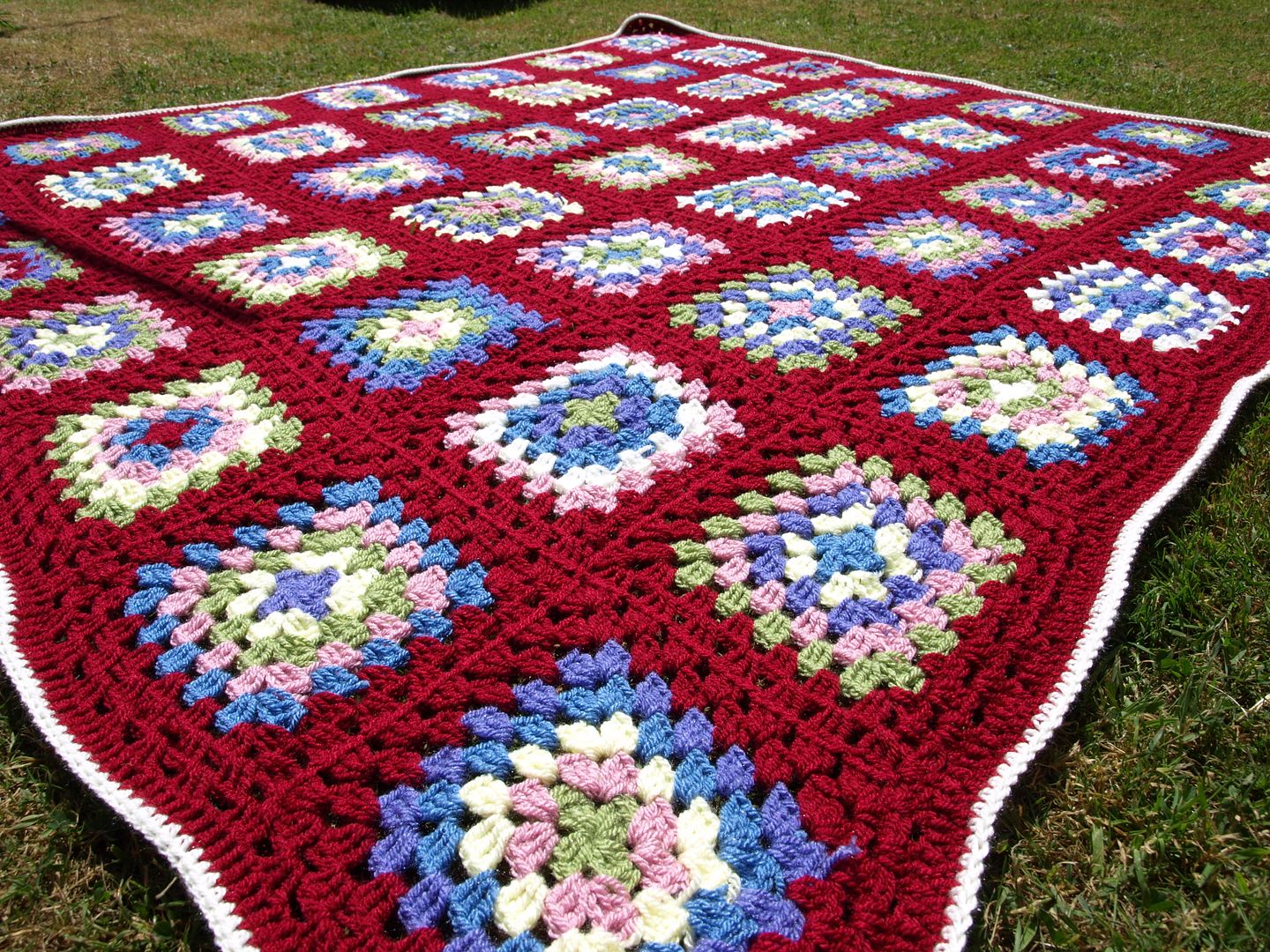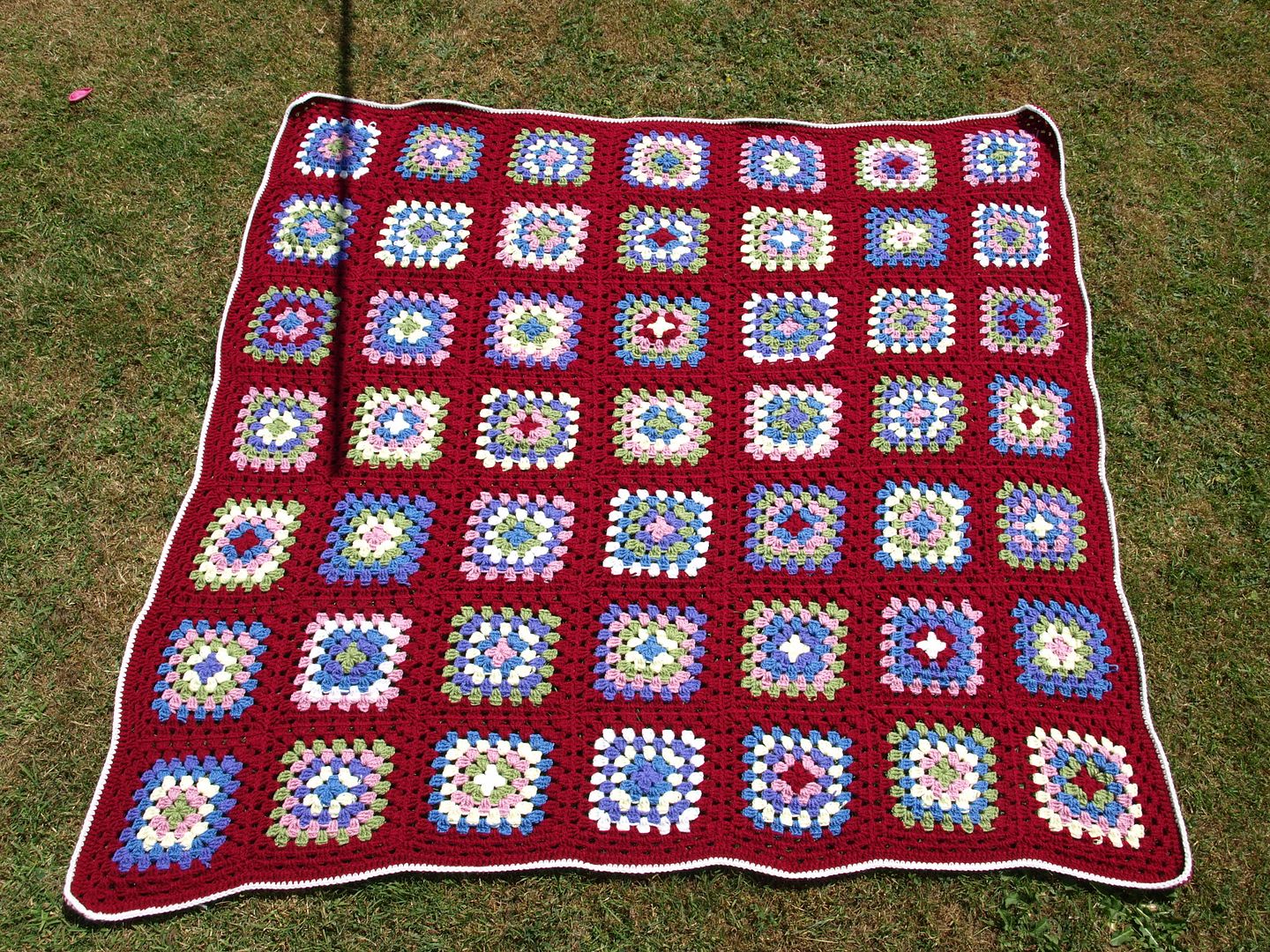 (Shortly after taking these photos I realised that the recently cut grass had dried and left bits all over the lawn so I spent the next ten minutes shaking the damn blanket and picking all the chuffing grass off it. Folks, check your lawn before putting blankets on it, hahaha)
The colour placing was mostly random, but I made sure that I never had the same colour in the same position in adjoining squares. For example, if the first round on a square was green, none of the squares touching it could have green as their first round either. It's not my usual colours but I wanted it to be a bit more vintagey looking and I think I acheived that. Either way, Rachel loved it and that's all that matters really. Happy Birthday Rachel :-)
EDIT: I tracked down all of the yarn labels! Colours used as follows:
1302 "Denim"
1020 "Lemon"
1065 "Meadow"
1123 "Claret"
1080 "Pale Rose"
1005 "Cream"
1277 "Violet"