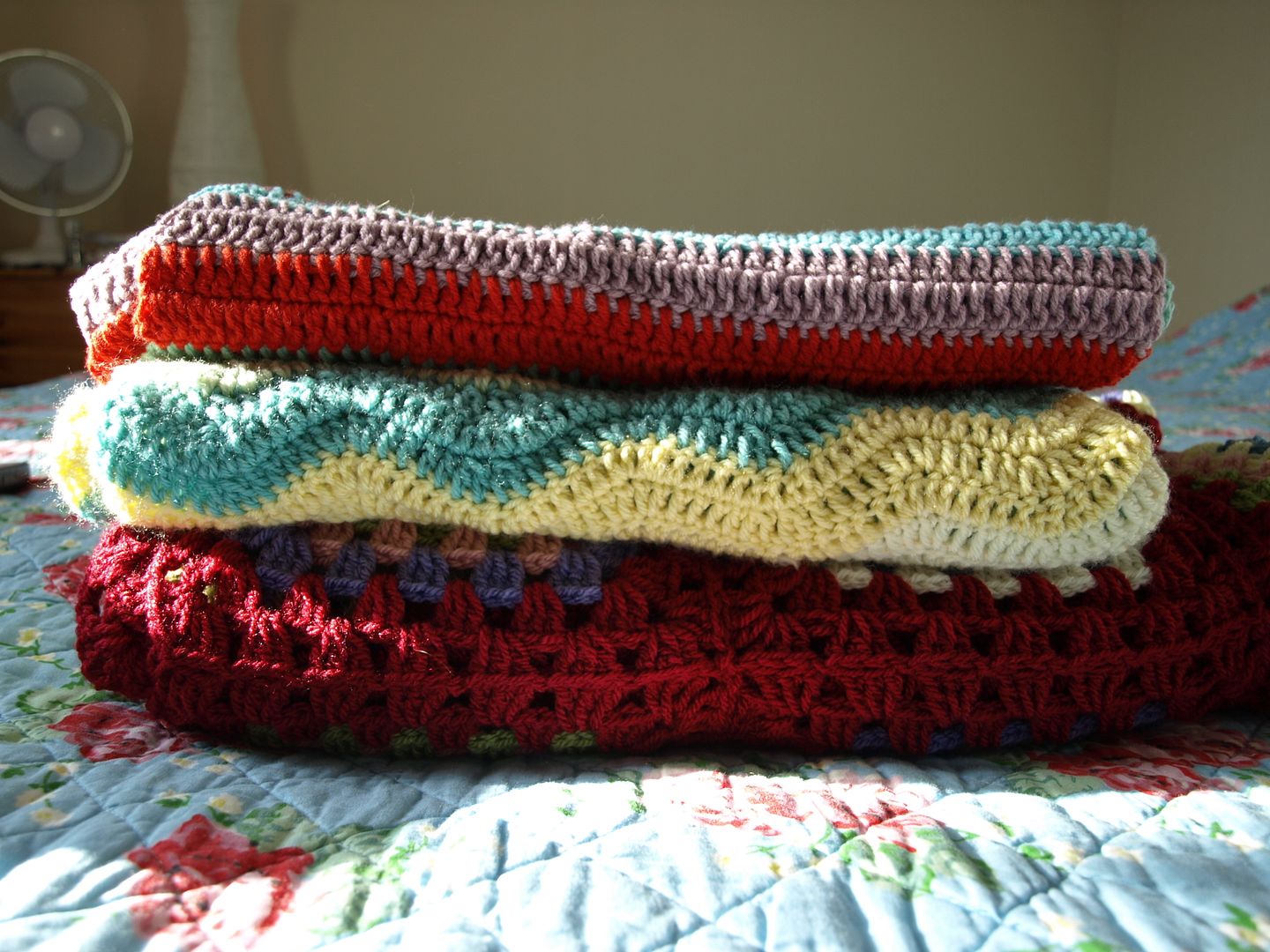 I can't tell you any more about my secret project, because the recipent of said secret project happens to read my blog. And it's her birthday on Sunday. Can you believe it? I am soon to have a TWENTY YEAR OLD sister who is YOUNGER THAN ME. That can't be right! I remember when you were born! (I got given the gift of Playmobil).
Also, my other sister, who is seventeen and again, YOUNGER than me, passed her driving test last week. With one minor. One!! It can't be true, my littlest sister, driving? I remember when you were born!! (I got the gift of Sylvanian Families).
Anyway, Secret Project. I am pleased with the progress I am making, you can just see it peeping out from under the Straight Ripple and the Baby Ripple (this is the 2nd shoppy item I have made and oooh, I love it!). It's coming along nicely. I'm using Stylecraft Special dk and I need to get another couple of balls to make the edging. I'm loathe to commit to an edging this early on in case I don't end up doing it, so you'll just have to hang on a bit longer for the Full Reveal.
In other news, I have had a day and a half off of work being poorly-sick. Which is a bit miserable really, although I'm alright now (I think.) Trouble is, when you've been married less than a year and you have a day off for sickness everyone at work starts to think you are pregnant. Which I am not. Sadly I seem to be the only person who believes me. Ah well, I'll show them in nine months time when I do not have a baby.
On the upside, this arrived yesterday:
17 more balls of Stylecraft dk! Yep, I gave in and ordered the Lucy-Granny-Stripe pack. I wish I'd had the foresight to order the two balls of "claret" that I need for the secret project so that it would all be delivered together. Oh well, I'll buy it on Saturday whilst I'm out.
My plans for this yarn are indeed a Granny Stripe blanket because it looks like fun and stripes are my most favourite thing in the whole world. I'm going to try to make it into a square blanket with picot edging (oof, edging committment so early on?) because I want this to be our picnic blanket for the car. We'll see how it goes :-)
xxxxxxxxxxxxxxxxxxxxxxxxxx