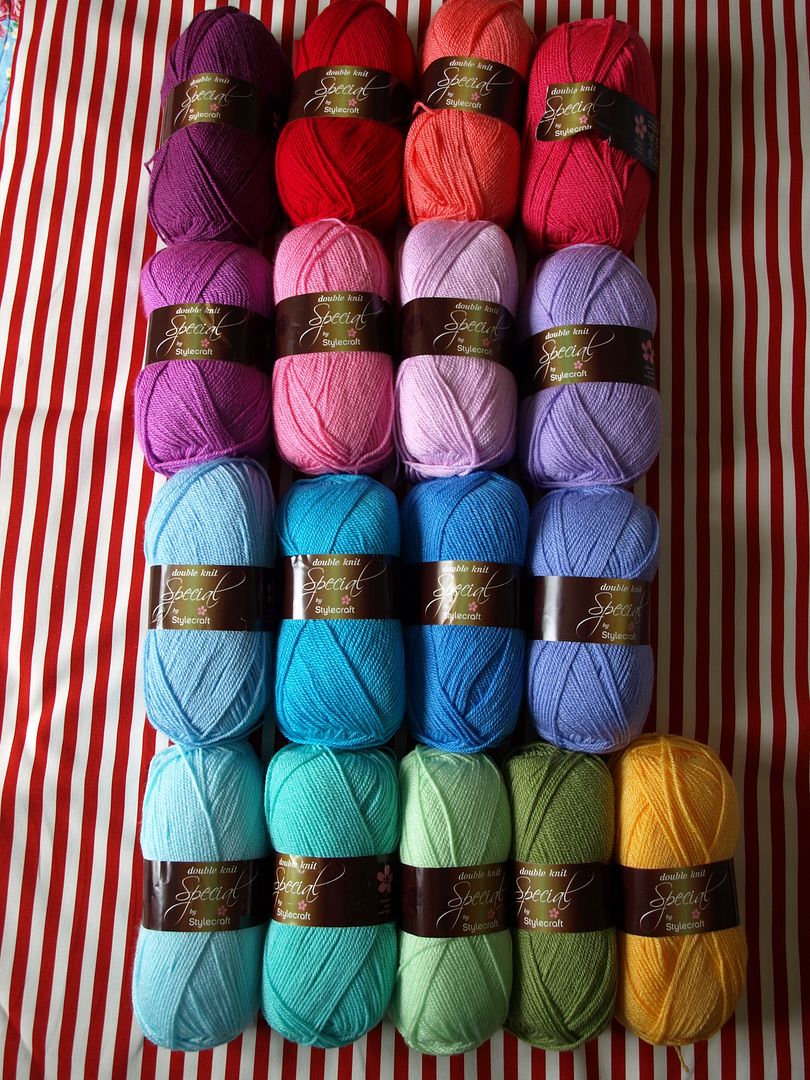 I've been playing around with my stylecraft a bit and I think that laying it out in "colour order" is my favourite thing to do. I'm not going to use it in this order but there really is something so satisfying about putting things in colour order. I love it!
By the way it bugs me no end that one of the labels is torn, I contemplated putting a different one on it just for the photos but then I realised that that was crazy talk and I managed to cope with the torn label.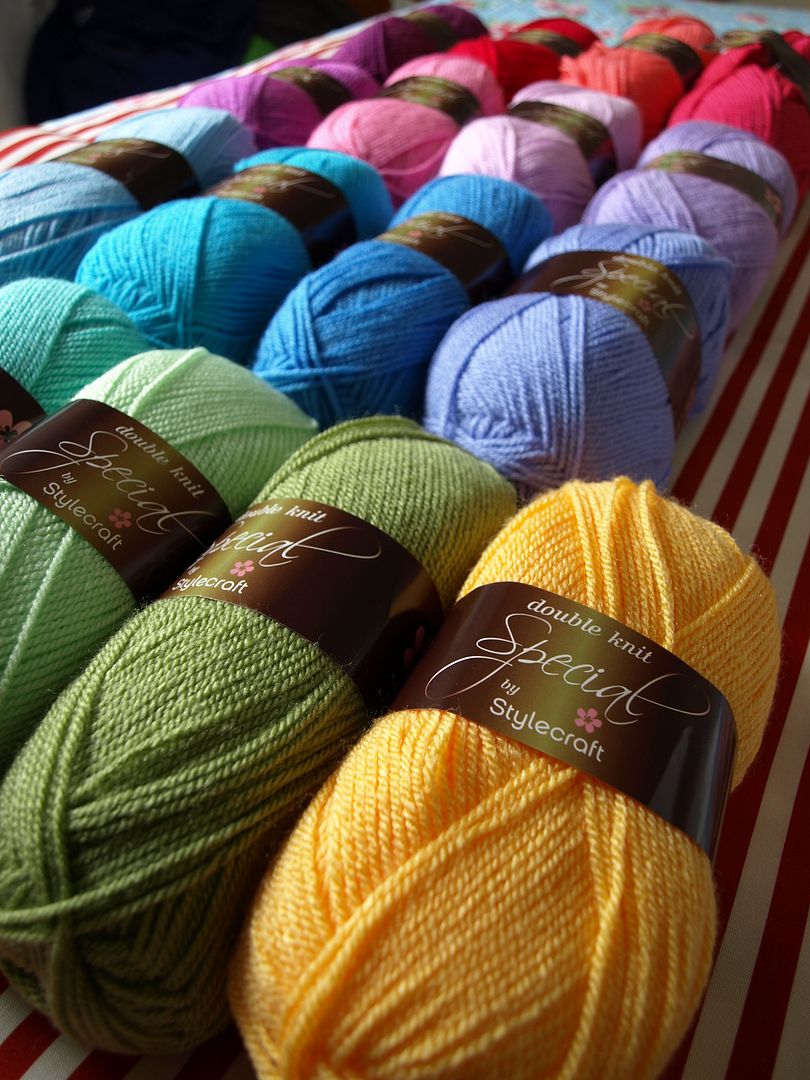 Although, Lucy, I wish that you had chosen an even number of colours to make your Granny Stripe blanket with. How am I supposed to line all my balls of yarn up if there is an odd number? Seventeen just does not line up. The number 17 in this instance gets me almost as much as that label. Almost.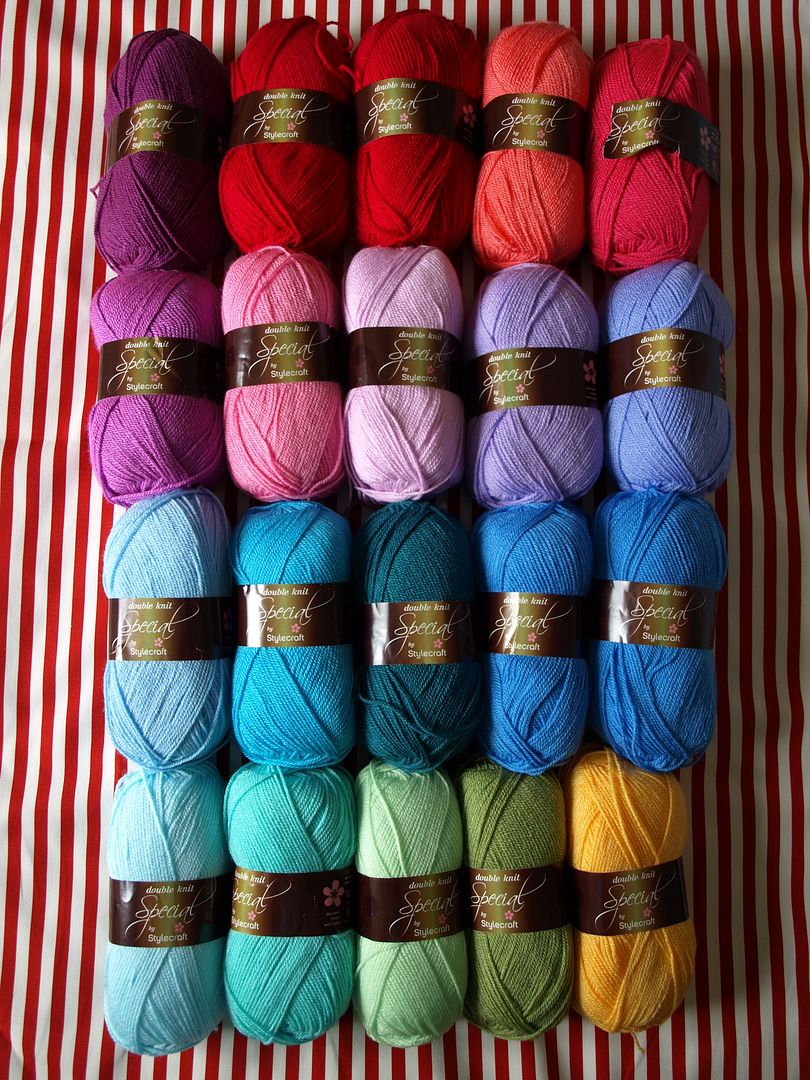 It's pretty easily fixed though. Look, I have cleverly added another ball of "Aster", another ball of "Lipstick" and added a whole new colour right there in the middle, "Teal".
Twenty balls. All in rows. Ahhh. The Teal did worry me briefly, because it's not part of the official Lucy-Granny-Stripe pack, but I LOVE that teal colour and it does fit with the rest of them I think. Plus the fact that it makes it 18 colours (which I can line up in sixes, threes and twos…) makes me feel happy.
I'm saving this yarn at the moment, apart from having lots of other projects on the go at the moment, I'm having to be a lot more careful with my money at the moment and I think that saving this yarn for a time when I'm poorer. What do you think? Also I like the fact that it's all sat there nicely and complete. Part of yarn for me is the potential of it :-)
Do you want to see what I'm keeping this in?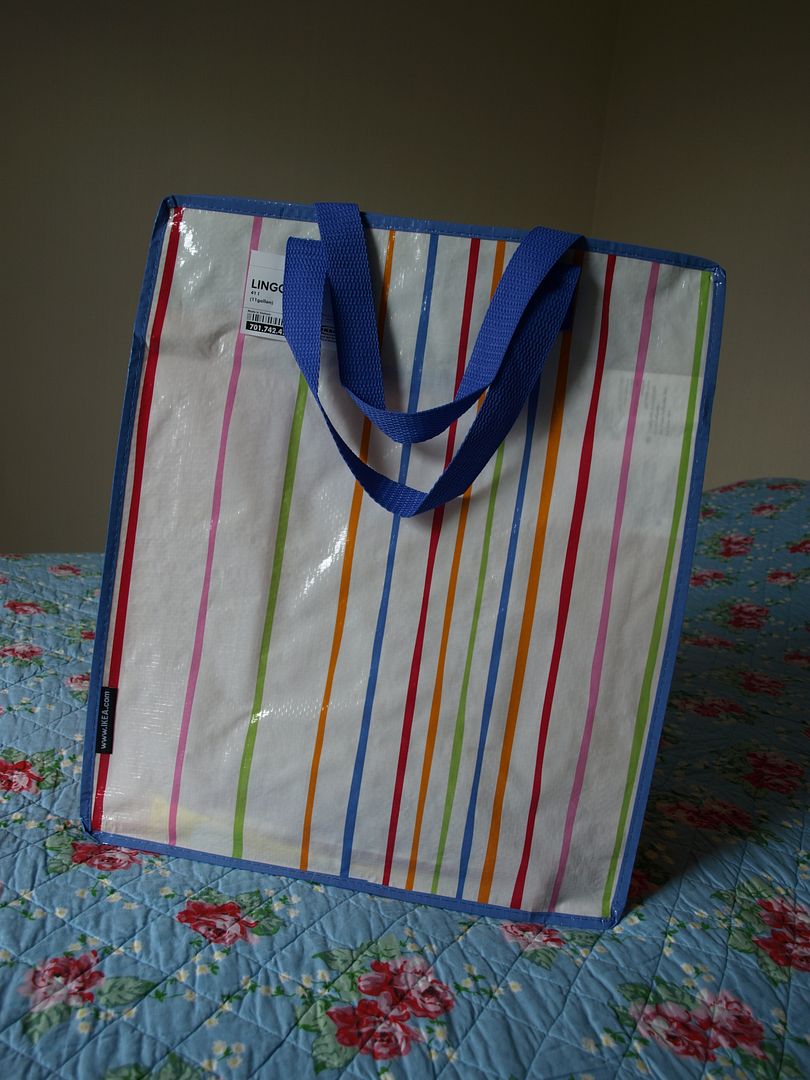 We went to Ikea the other day and they have these new "Lingo" bags for £2.59 and they are just PERFECT for storing stylecraft! Look, 20 balls of stylecraft in there, nice and cosy … ahh!
I'm having a week off blogging this week (no internet being the only reason!) but I will see you in a week's time with some Secret Project reveal photos. Have a lovely week all of you! xxxxxx
Edited to add: You can buy the Granny Stripe pack from Masons Needlecraft and also from Country Crafts :-)