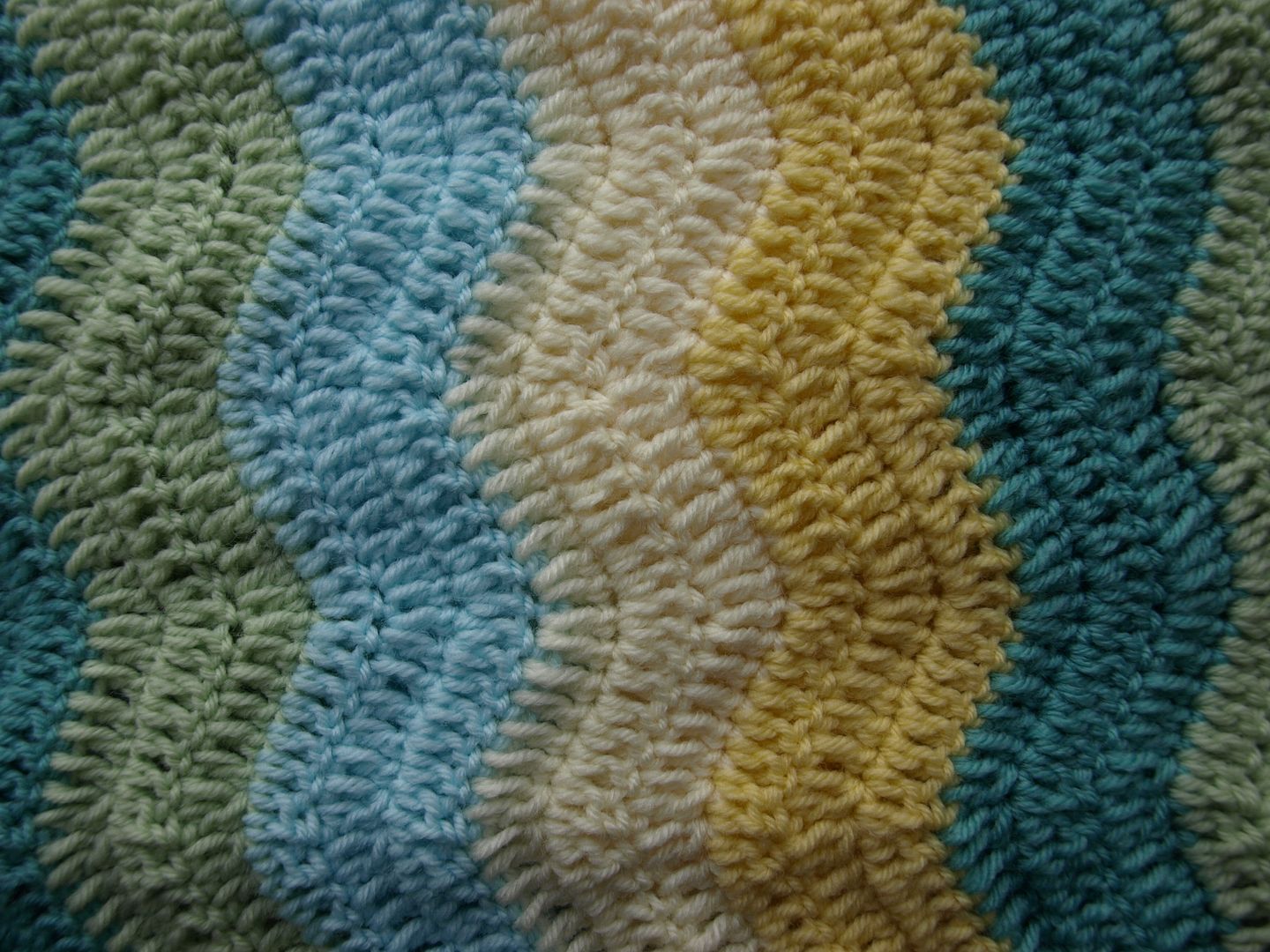 My third baby ripple is complete!
I made this for a friend at work, her baby is due in the first week of July but I always like to push on with projects and get them finished. Usually the inital excitement of a project carries me through with baby blankets as they are quite small. This one took me just over a week, I had to wait for some more yarn to complete it otherwise it would have been a week jobby. The reason that I'm quick with these blankets is that they are very portable, which enabled me to take it to work with me. Each row took about ten minutes, and so if I got into work about half past eightish meant that I could usually do one stripe (three rows) before work. Then I was able to fit in a couple more at lunch time and sometimes even one or two on the bus ride home, provided it wasn't too busy.
I used Rico Baby Dk in five colours (I kept the labels but the shade number don't match up to any websites that I can find! Annoying. I'll have to take the blanket back into the shop where I bought the yarn from and buy it again like that!) and I have to say, I'm VERY impressed with it. It is 50% acrylic and 50% polymide and is sooooo soft. As it's baby dk it's a little lighter than a regular dk and would be tighter with a 3.5 mm hook instead of the 4mm hook that I used, but I think a light blanket for a summer baby isn't a bad thing, so I'm happy with how it turned out.
I know I used turquoise, cream, and vanilla (colours) but I don't know if the blue is "ice blue" or "lightblue" and I don't know what the green is. The labels said "hellsblau" and "hellsgreen" but I don't speak German so I'm none the wiser!
Choosing colours for baby blankets is always a bit of a puzzler for me. I automatically lean towards bright colours, and I have a real aversion to pastel. I don't agree that baby things HAVE to be pastel (and don't even get me started on girl = pink), but I think very bright colours can look a bit scary wrapped around a teeny tiny baby. And this is the rub – that's MY opinion about baby colours and as I am not making any of these blankets for myself (yet – give me time!) I like to give the parents to be the choice over colours. If I'm going to spend a week making something for someone I want them to like it and it to be used.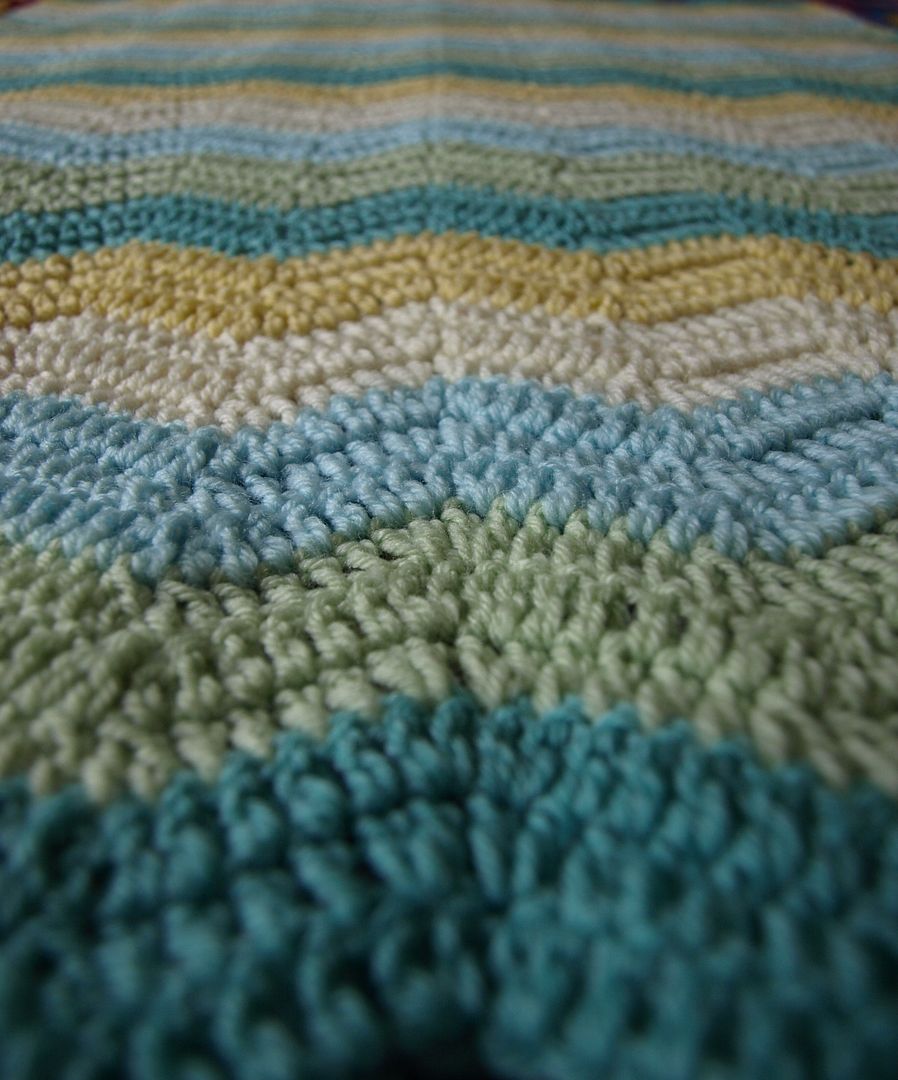 My friend in this case did prefer pastelly colours but I think by sneaking in the turquoise it really lifts the blanket while retaining the non-scary paler colours. I don't think I would have enjoyed working this blanket if they had all been pastels. If you cover up the turquoise in the photo of the balls of yarn, it really changes the look of the other colours.
When I look at this blanket, I think of Spring and Easter and fresh and non-gender specific. Boy or girl could be snuggled in this blanket and not look out of place I reckon. I would definitely work with this yarn and this colourscheme again (just as soon as I can figure out which shades I used …) and it's nice and cheap at around £2 a ball.
So, that's the background, here is the finished item. The big ta-da!
I'm really very pleased with it (hmm, wish I'd pulled it a bit straighter before I took the photo though!) and I'm reluctant to give it away! Just joking. I feel it's a good sign though that I want to keep the things I make, if I like them then chances are someone else will too.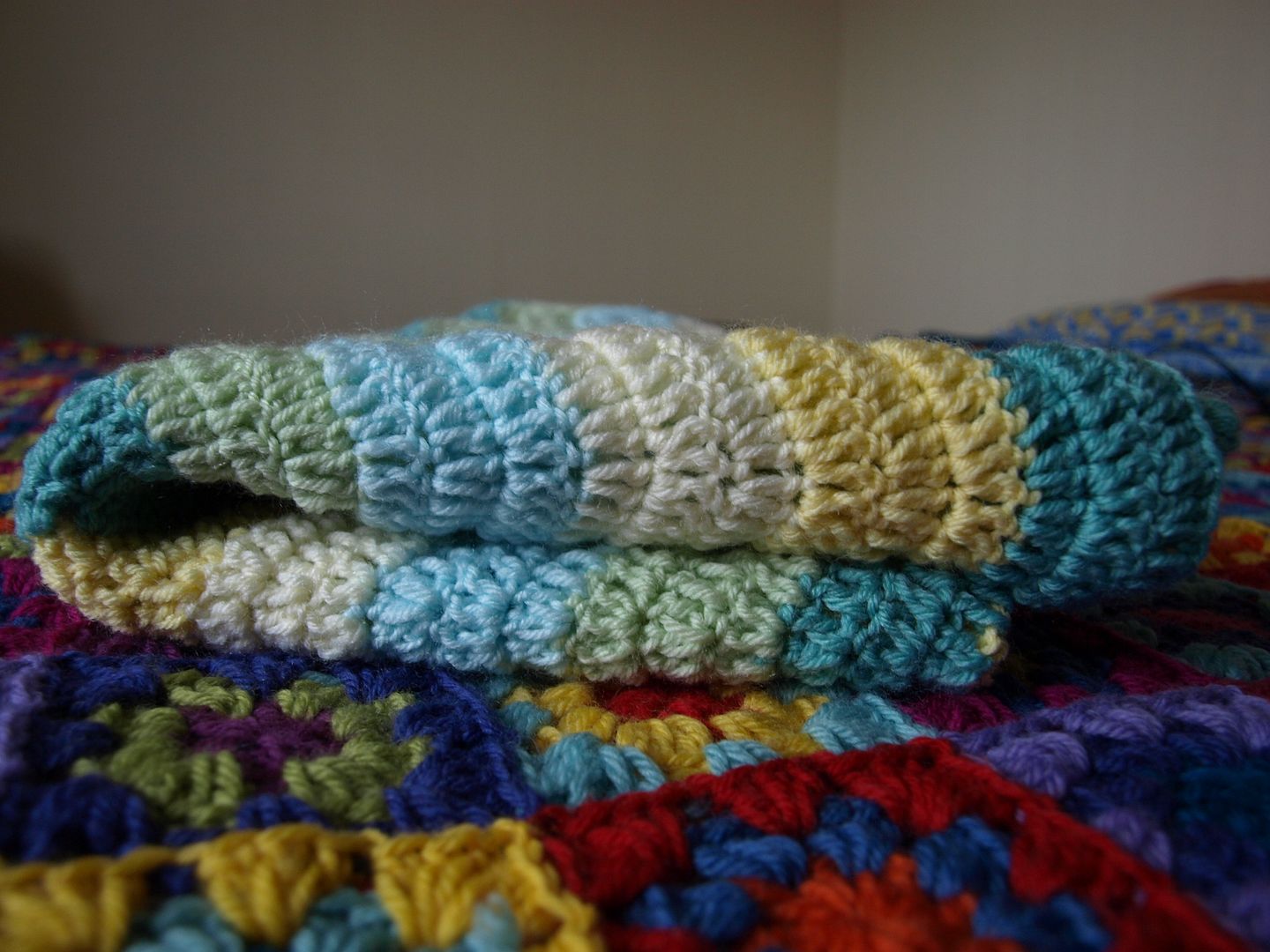 It looks sweet bundled up too :-)
xxxxxxxxxxxxxxxxxxxxxxxxxxxx