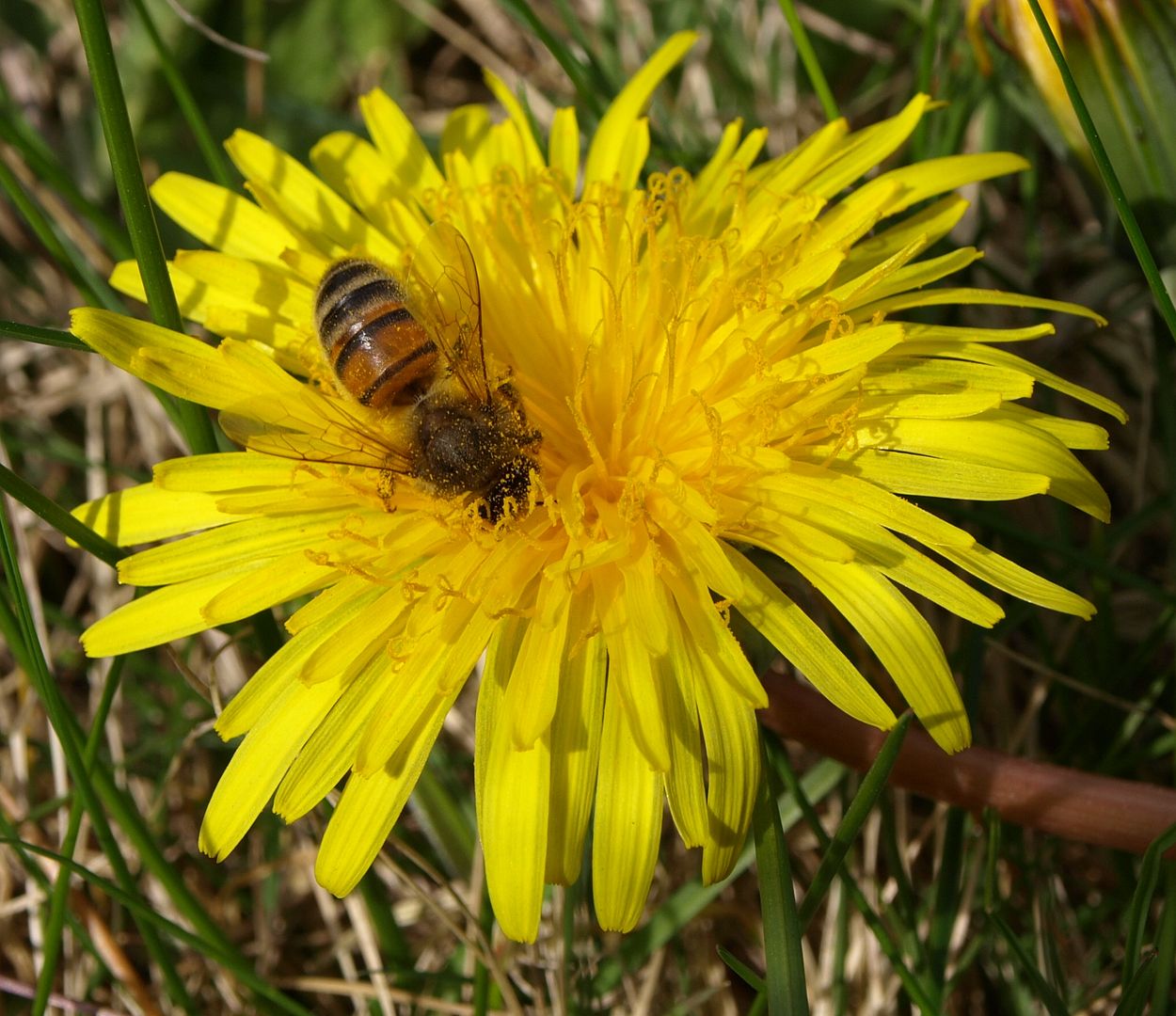 Hello :-) Time for some late evening blogging – I've been out at Knitting Group and so I'm back in later than usual.
Do you like my bee photo? We'd just stepped out of the door to go to Holmfirth when I spotted this greedy, greedy bee scoffling around in one of the dandelions that is thriving on our front grass. (I know they're weeds, but they are so beautifully bright and cheery that I just like to let them grow. I love their tenacity too, you see them growing out of walls, in patios, even inbetween tree roots that have gathered a little soil.) Sometimes I take a photo that just makes me think "wow!" and that's how I feel about this hungry bee. Sorry if you don't like insects – I think he is really smart :-)
Holmfirth is a great place for a trip. Let me list the reasons:
1. The car park is the cheapest car park EVER and you can pay 20p for half an hour if you're just there for a short visit
2. There is a shop called The Gift Horse which is five whole rooms of gifts, homewares and cards
3. Fab bakery
4. It has a river running through it
5. Rowan Upcountry!!! You should go to Holmfirth just for this shop. Head straight up the little stairs and then the whole top of the shop is FULL OF YARN. Rowan yarn. Debbie Blis yarn. Regia yarn. Lousia Harding yarn. LOTS OF YARN.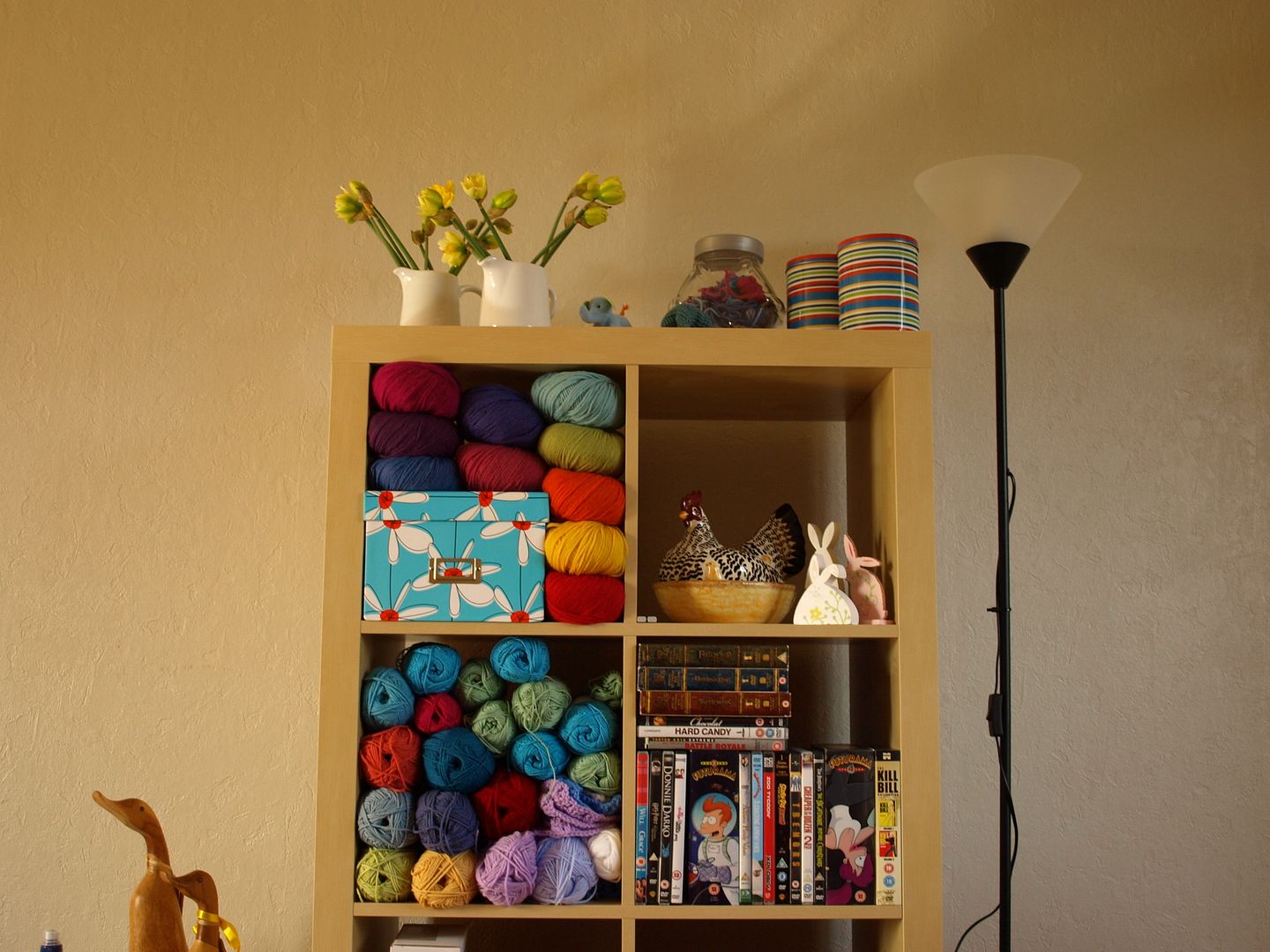 I have big plans for this yarn, oh my yes.
So after leaving Upcountry with my bank account considerably lighter, me considerably happier and my hands considerably fuller (this yarn was subsequently stashed attractively on the YSU – having yarn on display makes any room look amazing), we headed to the chippie for chips n' scraps for lunch. It's been aaaaages since I've had chips! Scraps is such a northern thing though, I'd never had it when living in Northants or Surrey. Being vegetarian obviously means nothing comes with lovely crispy batter on so imagine my delight when I discovered that it is actually the done thing up here to have a big fatty pile of these on your chips! Amazing. Perhaps it's not such a surprise that I've not had chips in so long  – I couldn't even finish my small portion and was desperate for something to drink.
So we did just that, and had a cuppa sat outside the church :-)
One thing about Holmfirth (and other places like Hebden Bridge) is that it's made up of curious under- and overdwellings because it's so hilly. You'll walk along a street and there will be two story houses, but turn the corner and walk down a hill and you see that those two story houses are sitting on top of another level of two story houses! So each two story house has a door onto the street, but one is on top of the other. Very strange, I don't think I'd like to live in one.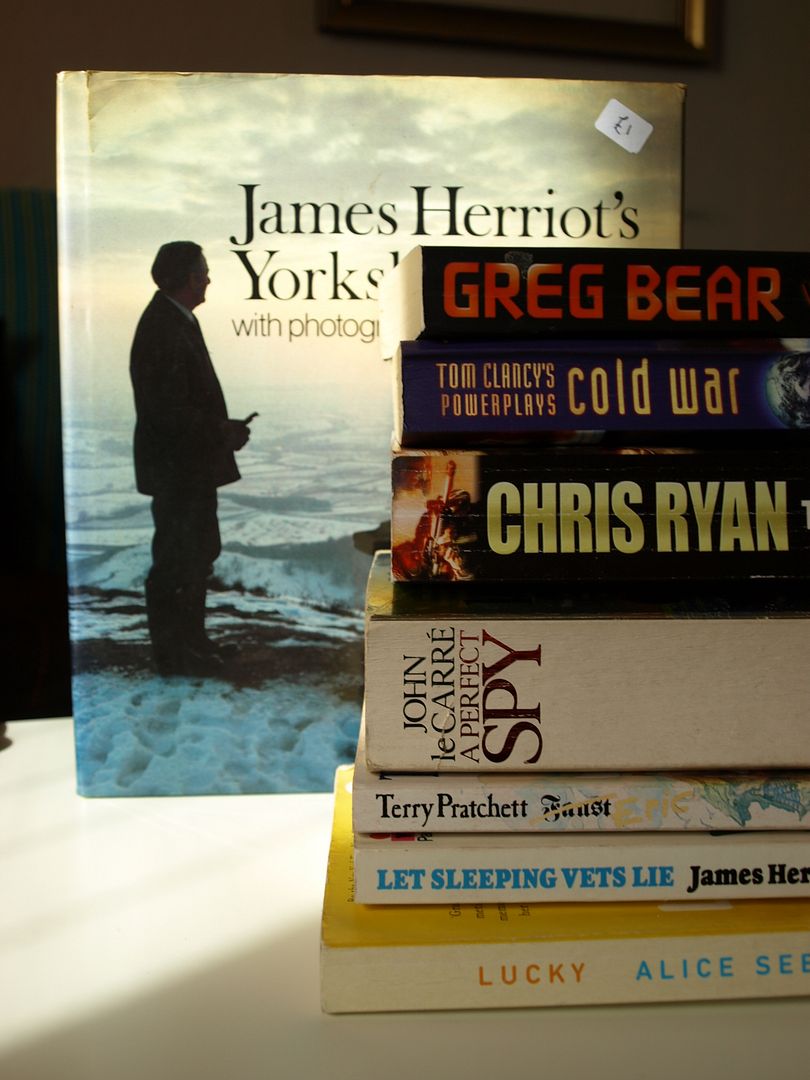 When we were having our cuppa next to the church we noticed a sign for a booksale so we went and had a look to find rows and rows of pews filled with boxes of books. Excellent! I LOVE things like this, it's so … I dunno, it just feels familiar to me from my childhood because we always sought out book sales and had lots of old books. As much as I like a new book, some of my most precious books are old books. I was so chuffed to find a copy of James Herriot's Yorkshire (for a POUND no less), James Herriot was one of my favourite authors when I was growing up and the photo book is ace. My grandma has a copy and lent it to me recently. It's so much more relevant to me now we live in Yorkshire, like when we drive through the Dales of course. I was so shocked when I read about James Herriot (well, Alf Wight as James Herriot is a pseudonym) on Wikipedia and found out that the stories were only partly true and had been embellished and altered to make a good story. Then I wondered how I was so naive before!
Oof that was a bit of a tangent, sorry. Anyway I meant to say that we got all those books for the princely sum of £7 dropped into the honesty box on the church windowsill.
After that we hopped back into the car and drove south (making the most of the lovely weather) into Derbyshire and the top of the Peak District. The view was so stunning that we pulled into a layby near Holme Moss transmitter so that I could take some photos of it. You'd hate driving anywhere with me. I will undoubtedly need to stop and take photos at least three times. The same with going on walks. Unless you are bringing your camera too, don't come walking with me. It's not worth it. Andy will confirm this.
So there I was admiring the view and thinking how incredible it was that I could see all the way over to Emley Moor, and see Holmfirth, AND see lots of reservoirs, when Andy appeared with two 99 flakes!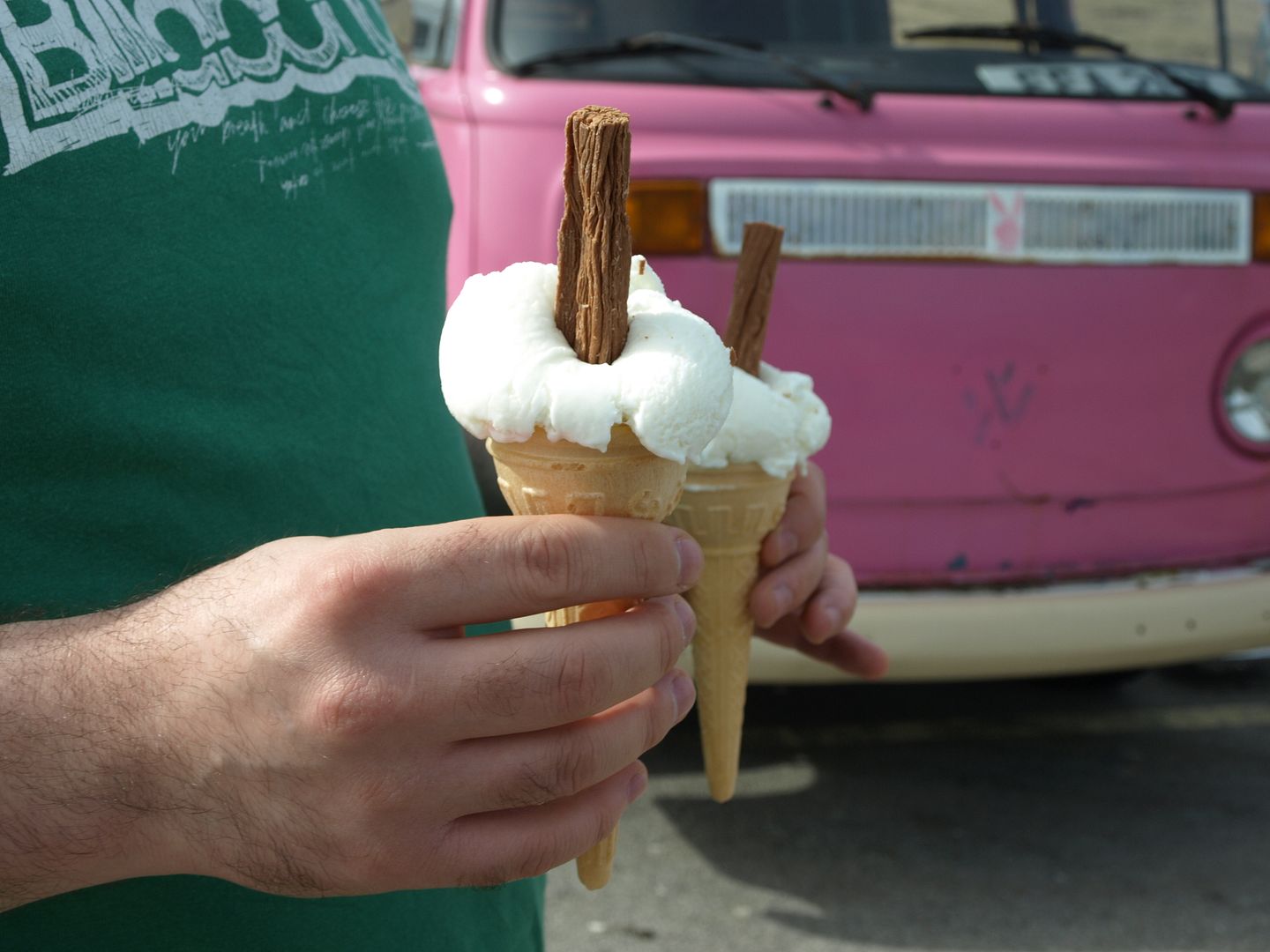 Best husband ever! I can't remember the last time I had ice cream fromma van :-D
It doesn't really get much better than that does it? Although … I wish 'd thought to tie my hair back first. It was a very windy hill. You can see my hair making an appearance in the top right corner of this photo and it only went down hill from there really.
After scoffling our ice creams like greedy bees (see what I did there?) we set off again. Peak District is called that for a reason. It's very lumpy. Although, not as lumpy as Scottish Highlands – was totally not expecting so many mountains when we went on our honeymoon there.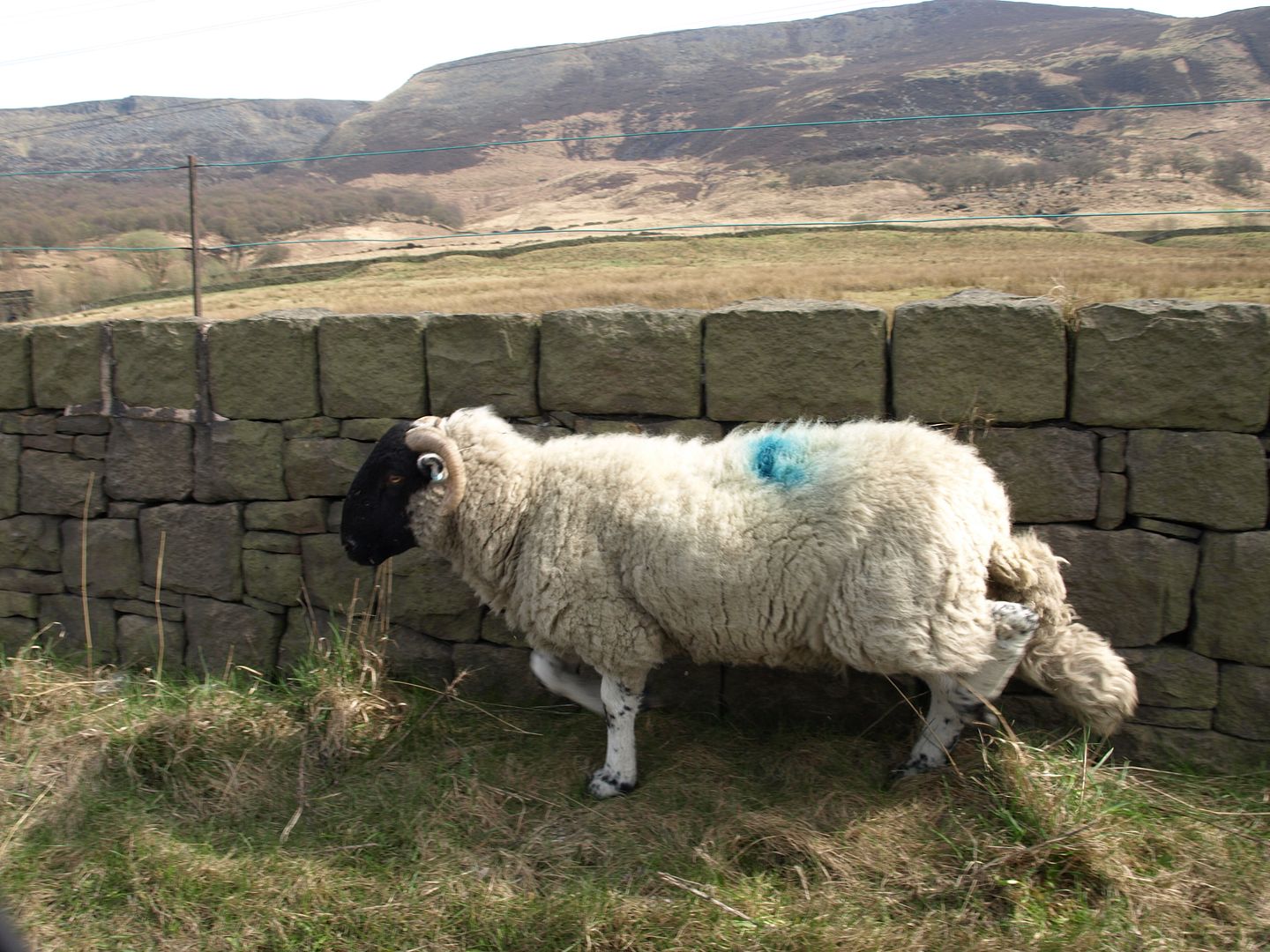 And so we pootled our way home, stopping to talk to the local feral sheep population (Andylookit'sasheepontheroadslowdownsoIcantakeaphotooutthewindow!!!) and laughing at the poor wind turbine that is facing the wrong way completely and not getting any wind.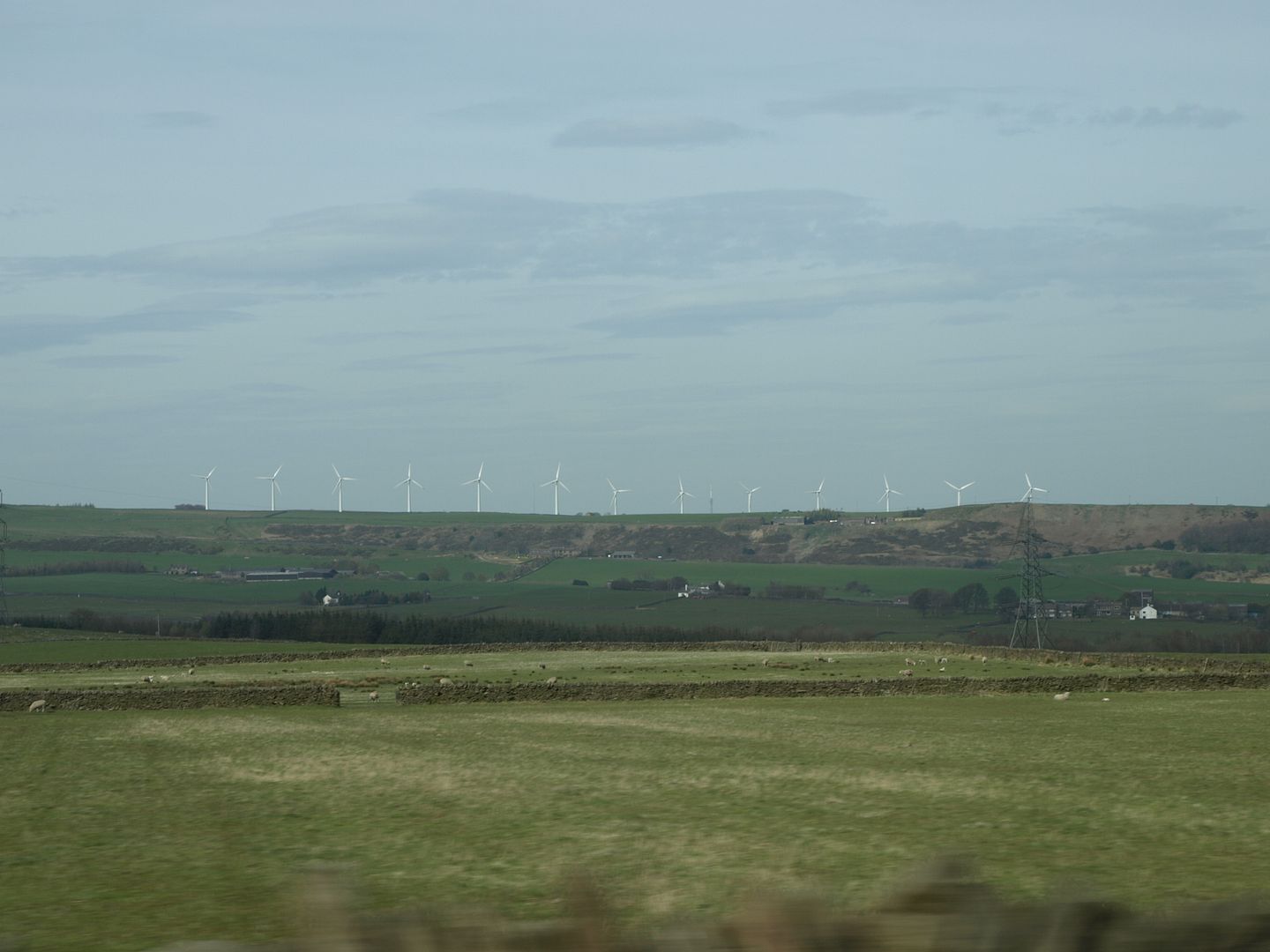 Then when we got home I rippled like a demon on the baby blanket and I'm now nearly finished with it. Hurrah!
So that was my Happy Saturday, I hope you enjoyed yours too :-)
Lots of love to you all x x x x x x x x