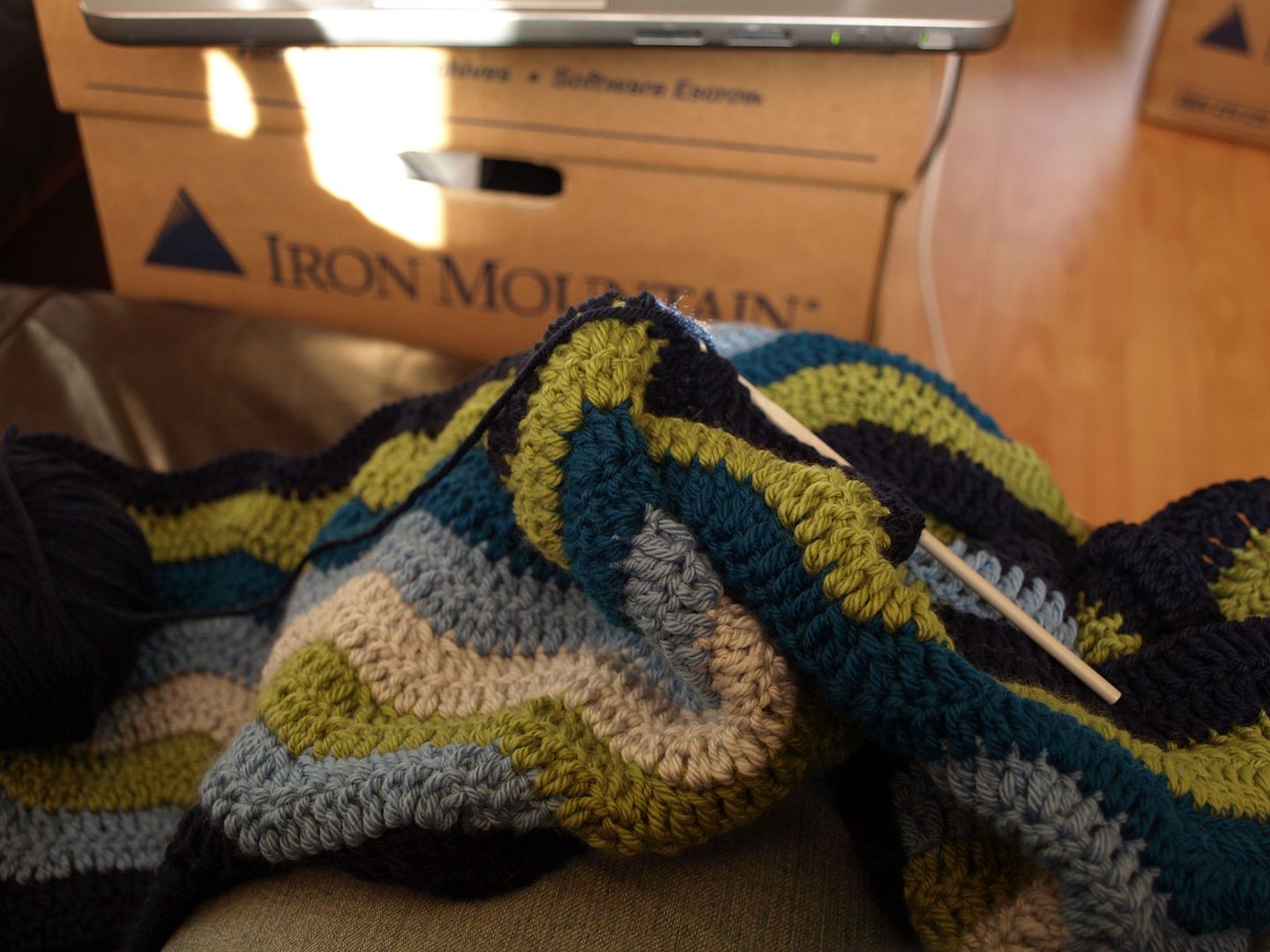 Being back at work definitely slows down blogging doesn't it? Sheesh. Blogging is far preferable to working, trust me, but I SUPPOSE I'd better go to work … after all I do need the money. (That's if my employment agency ever send me my candidate details, thus enabling me to log on to the online system, submit my timesheet and get paid next week.)
So today, I'm going to share some glimpses of my new little house. Just because :) Also I know my sisters are reading this and they wanted to see too. So everyone wins!
The first is my new blanket, my ripply ripple. I've been taking it to work and rippling at my desk before I start but it's getting a bit large to cart around now and so I'm going to leave it at home.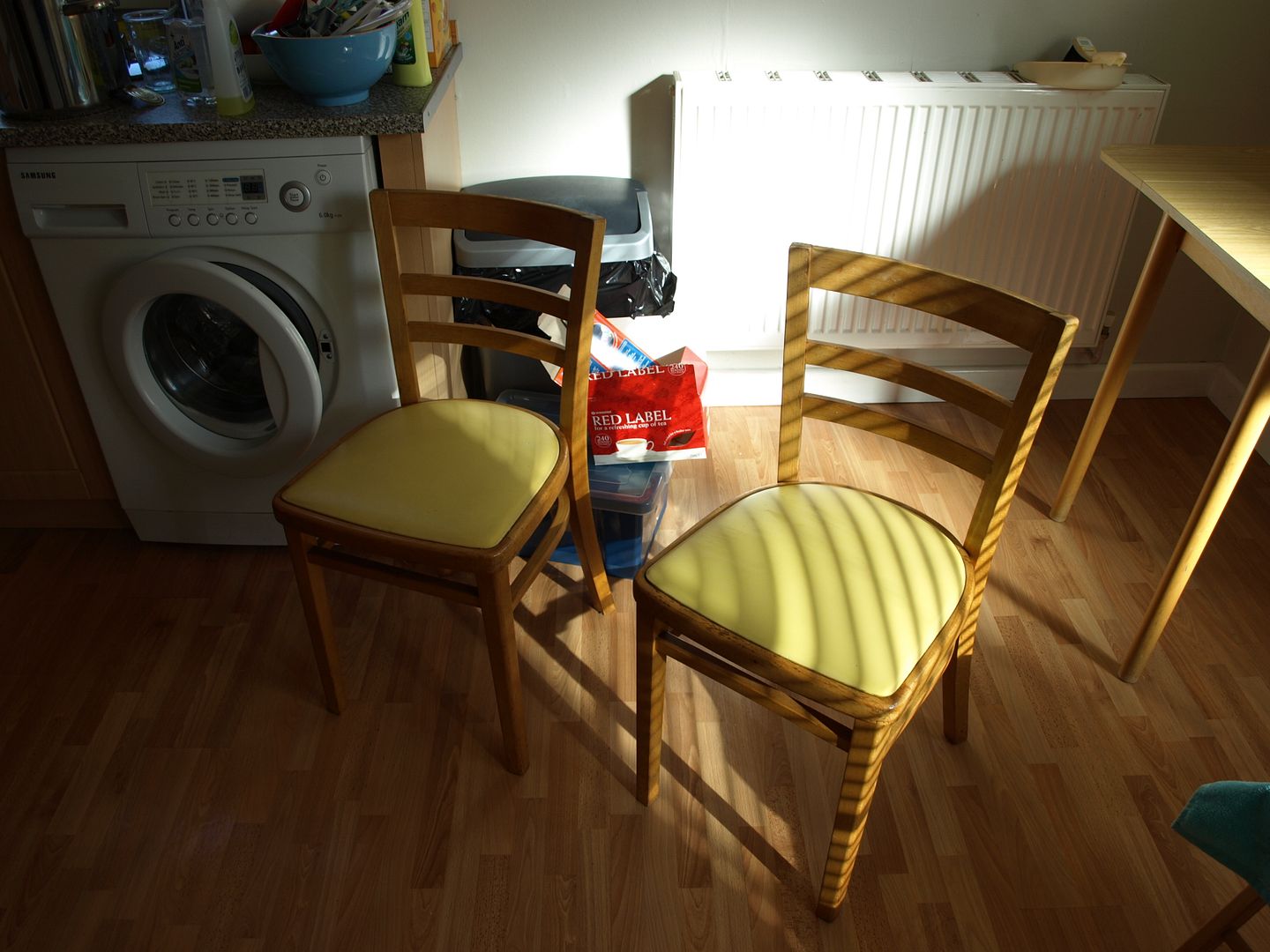 Now this was a fun coincidence … these two chairs are almost identical to the chairs my grandma used to have in her teeny tiny holiday cottage at Pevensey, except the cushions are yellow rather than red. I don't know what happened to the chairs when the cottage was sold, I presume they went to a charity shop but I was quite excited when I realised where I recognised these chairs from :-)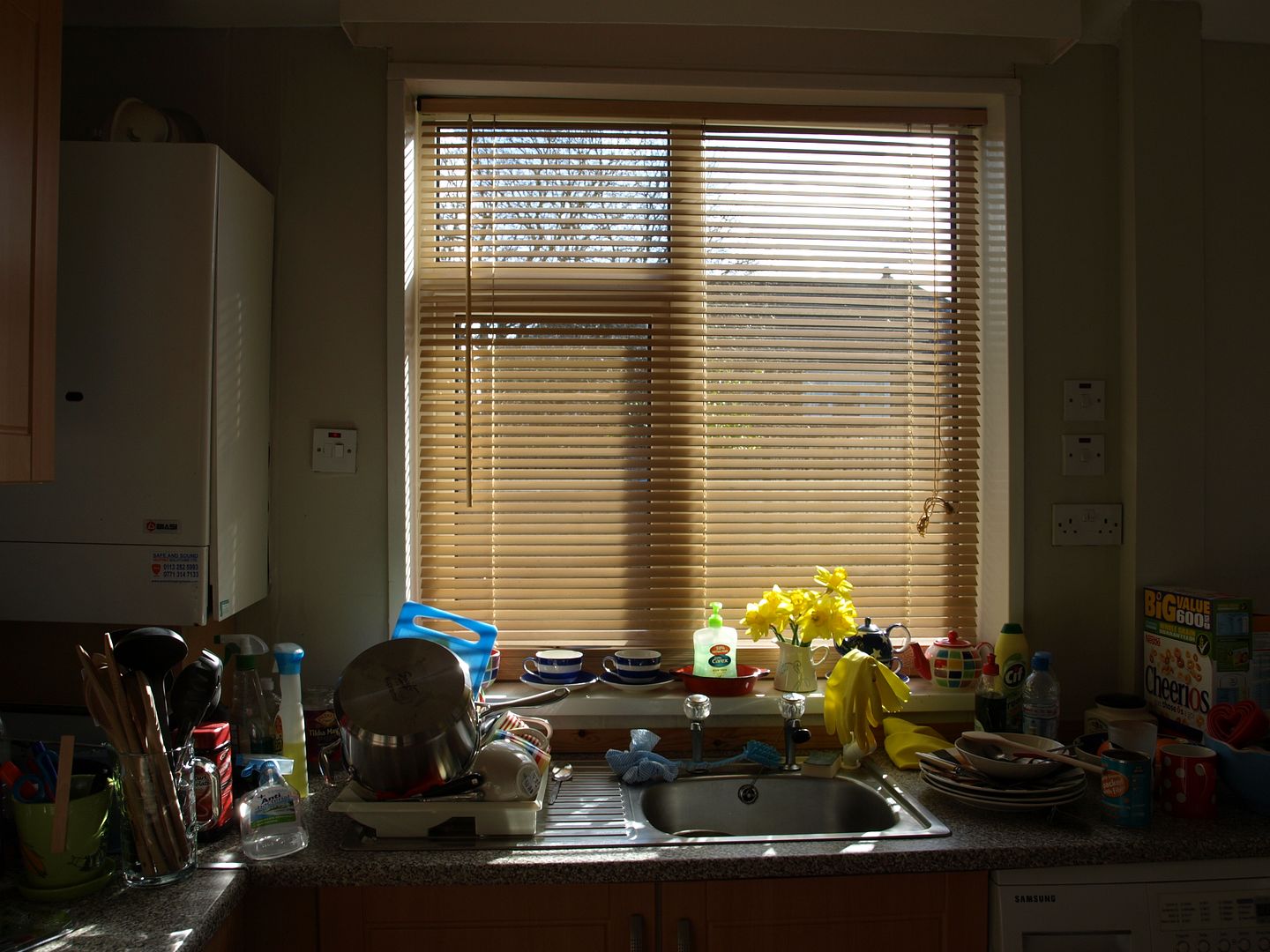 The kitchen is the room that is most finished, but there is still some way to go. I still seem to be washing loads of crockery up, those stacks of bowls are still waiting for their post "packed in boxes and stored in Milton Keynes for 5 months" wash. I love that this is a really sunny room, and I like spending time in here. We've started cooking together again, something that we both love doing and it makes it seem more homey and good.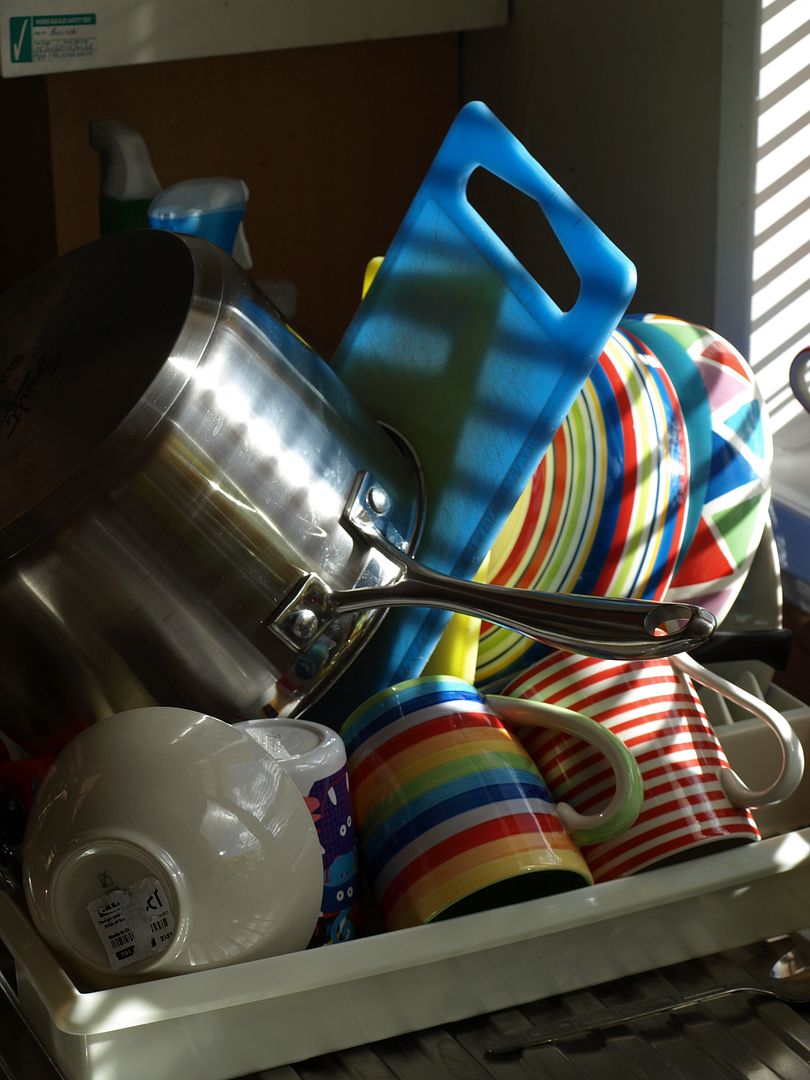 More washing up … including fancypants new wedding present saucepans (we were ITCHING to use these the whole time they were in storage!) and quite a lot of evidence of my Whittard china obsession. I will have to tell you about this another day because it deserves a whole post of it's own. When I was unpacking last week I realised that I could probably open my own Whittard outlet in my kitchen. Andy has so far been very accommodating of the Whittard Obsession, but his tolerance in this matter is not something I like to push and so I have to pace myself with what I buy!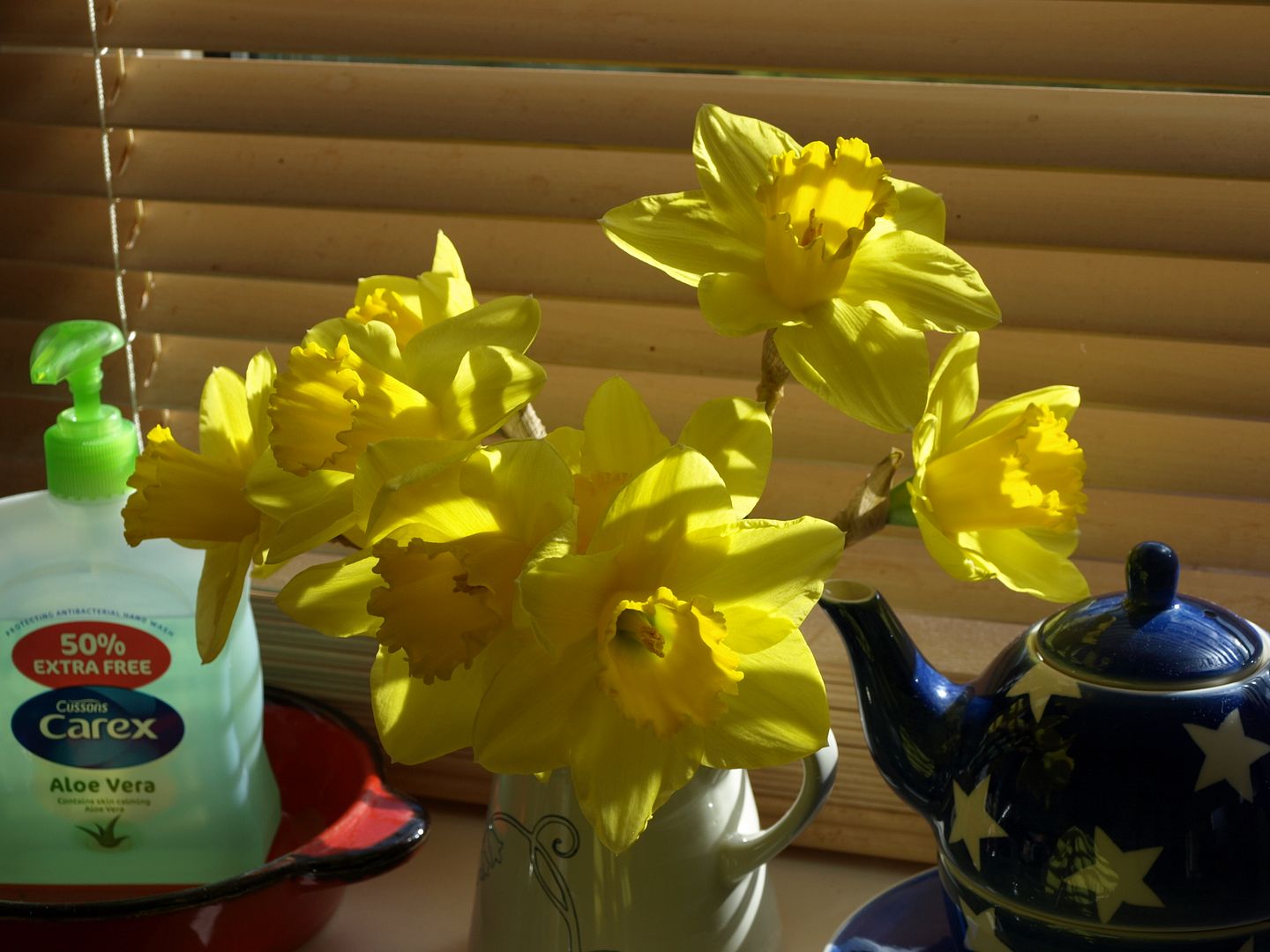 The Clipper Stars range is incidentally one of my favourite patterns ;)
My favourite thing about the kitchen at the moment is my jug of lovely daffodils – £1 for 20 stems from Tesco and they have been out for over a week, just gorgeous. They make the house seem so fresh and alive, don't you think? I never really bought flowers in our old flat because there wasn't anywhere to put them but I've told Andy that from now on we are to always budget for flowers because they make me feel so happy – and that's not a bad thing really, is it! I also mentioned that I was very ok with him to bring home surprise flowers as well. We'll see how that goes. It has been known to happen ;-)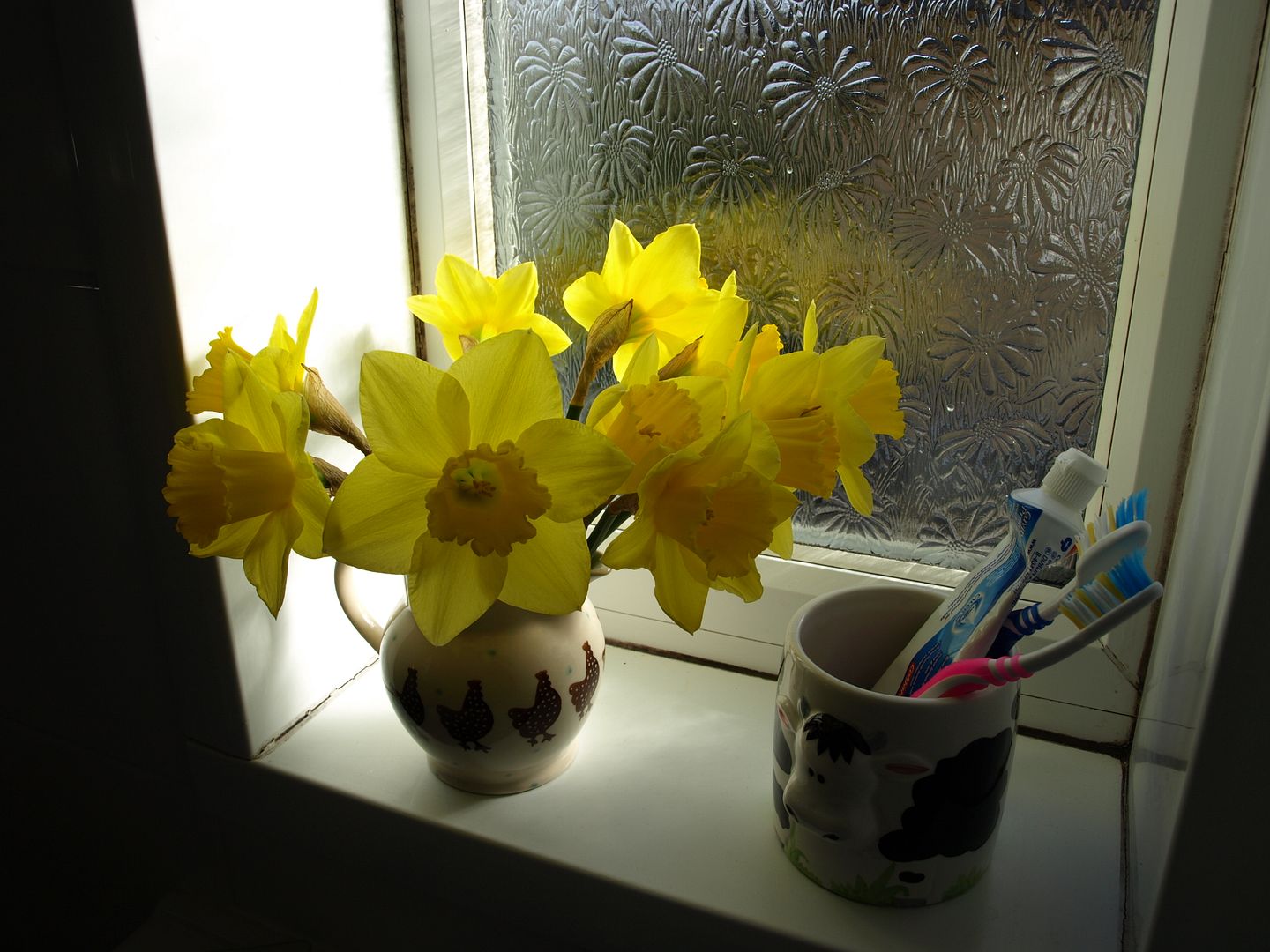 Ten of the stems also went into the bathroom, where there is this handy little windowsill that catches the light beautifully. Don't they just glow?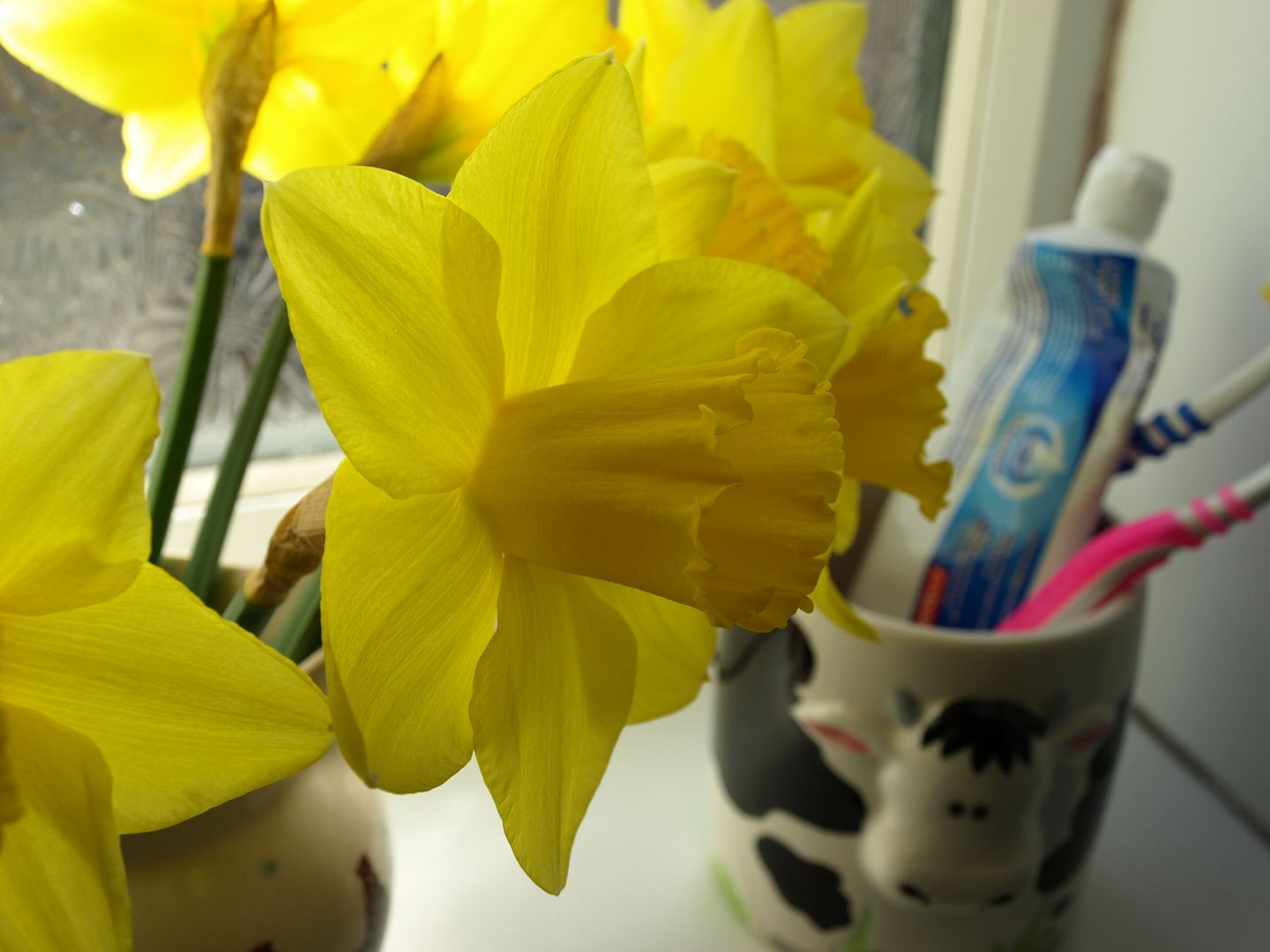 I was also happy to find a use for my cow mug – the glaze is ruined inside so it's no good for liquids anymore but I've had it since I was in my early teens and I was too sentimental about it to throw it away. Andy didn't think it was worth keeping so I'm glad that it is happily functioning as a toothbrush holder.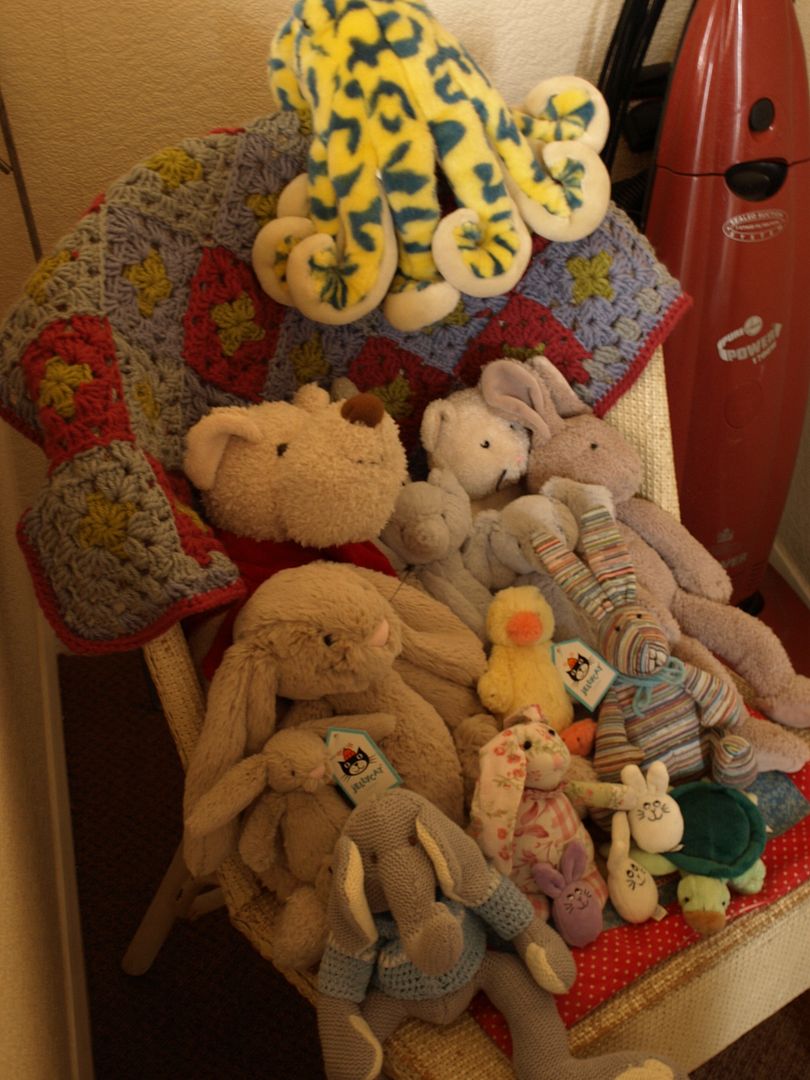 When I moved up here, my mum gave me this chair. It was the nursing chair that my grandma used for my mum, and that my mum used for me. Unfortunately it's suffered over the years and the webbing that forms the seat is very loose and has mostly fallen off so it is most definitely not suitable for sitting on (or even looking at strongly!). I don't know if it would be practical to have repaired but I intend to keep it forever for sentimental reasons. At the moment it is a perfect Bear Home (Henrietta Hippo was deemed too heavy for this chair and so she lives on the floor underneath) and I draped that little cashsoft aran blanket over the back of it. I like it. It sits on the little bit of redundant landing between the stairs and our bedroom. You might notice that I'm quite keen on Jellycat Bunnies. This is an accurate observation – I do love Jellycat, especially the bunnies. All gifted to me as well, and so each one reminds me of the person who gave it.
This is getting a bit mushy isn't it? I'll stop now :p
I need to go and choose some clothes for work tomorrow – we are having a "Smart Casual" day tomorrow and it was emphasised that this is not as casual as a usual casual Friday (Fridays are usually dress down days) and we are not to wear holey jeans! Fortunately I don't own any holey jeans so that's ok. We have to pay 50p to wear our non holey, smart casual clothes tomorrow. This is in aid of Sport Relief and goes along with the cake sale that Rach organised today. Me and Rach work together, this is how I knew her in case you were wondering :) She does a lot of knitting (and scrapbooking, quilting, baking, sewing) and so I think she is the person who is most happy that I have returned to work as she no longer has to knit on her own in the lunchroom anymore! I hook and she knits and we both get funny looks together, excellent.
Look at the time, twenty past ten. I'll be full of zzzzz at my desk tomorrow (the thrill of data entry notwithstanding) so I'd best go to bed. I'm looking forward to our four day weekend – phew, 4 days at work and I'm knackered!
I suppose 5 months off is enough to lose your work stamina ;-) xxxxxxx