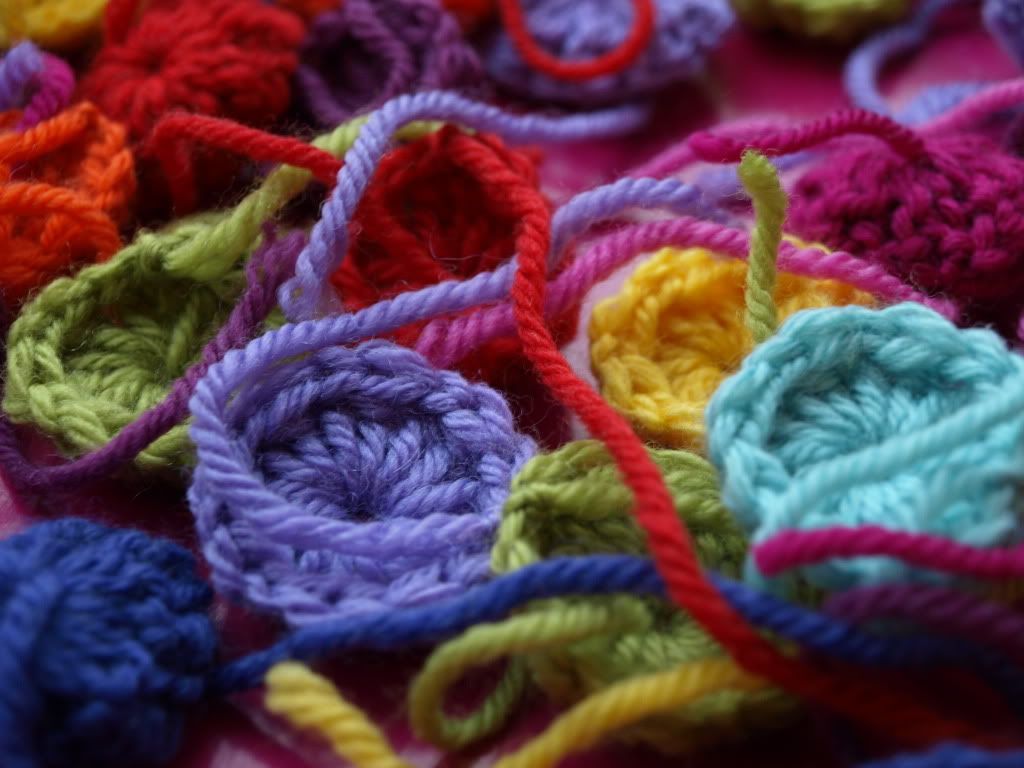 It started off small, using the scraps leftover from the Granny Alice Blanket. I like to think of them as planting the seeds for my next blanket.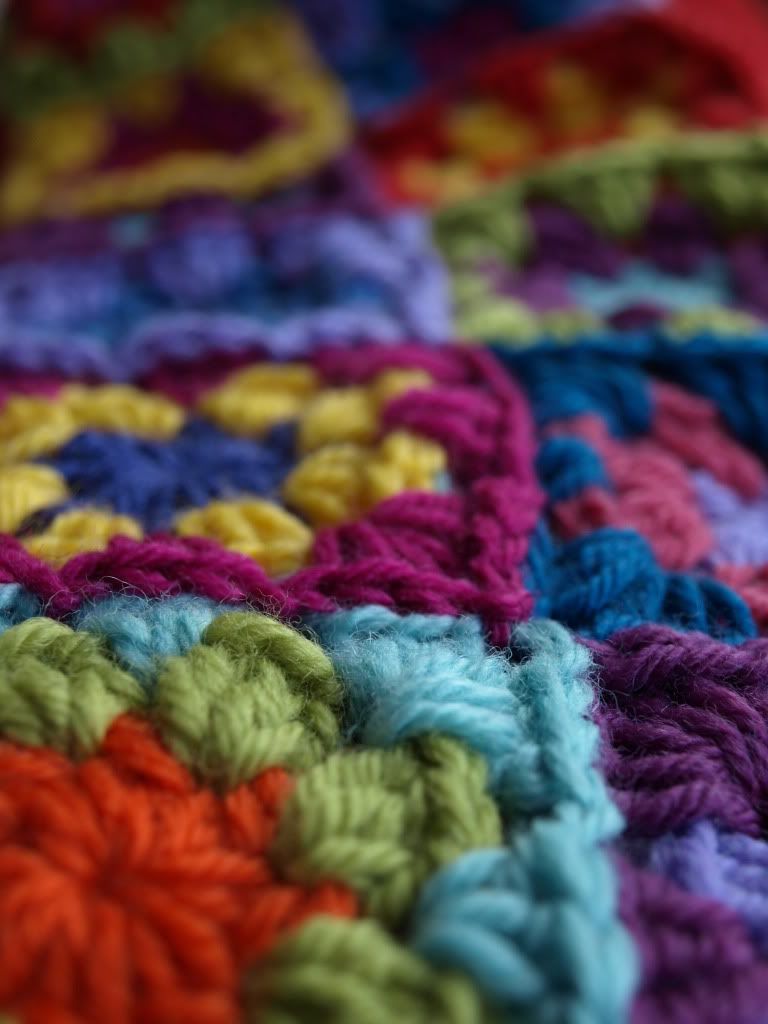 And then it grew …
and grew … quite quickly to begin with as it was SO EXCITING and BRIGHT and COLOURFUL and really fun.
I frequently had "OMG so much colour!!!" moments about this blanket.
Originally it was only meant to be a 100 square throw. But I reached 100 and thought … "hmmm. That's quite small." I thought how amazing it would be to have a blanket like this that covered a double bed. Quite a few people thought I was a bit bonkers.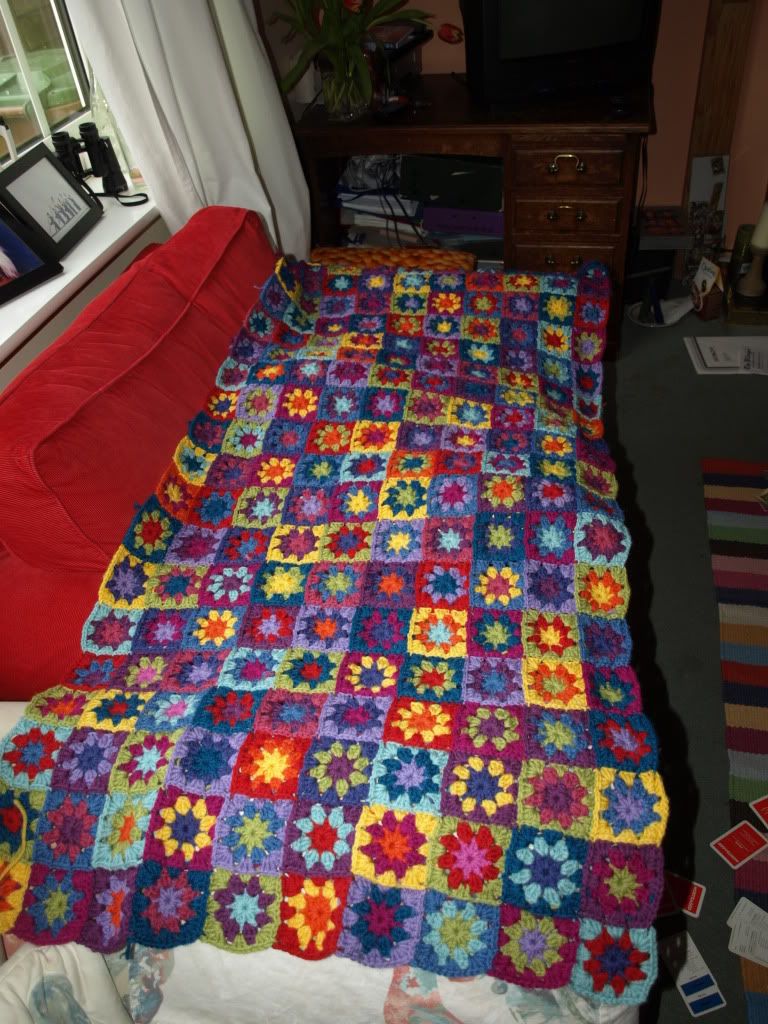 Reaching 200 squares didn't take too long, and you were all REALLY complimentary about it, that was great fun :-D
I'm so excited about showing you the finished blanket. Just a few more photos and then I'll show you, promise.
Did I mention it was colourful? I LOVE LOVE LOVE this photo!
By this point the blanket was so big that I could only work on it whilst sitting on my bed! I began to make lists of each colour for each square, which speeded up the process a lot.
It was also getting very tricky to photograph it!
Once I reached 400 squares, my sister tried to steal it. Several times.
400 squares! It was incredible seeing it spread out like that, just WOW.
Then of course, the question of how to actually finish the blanket. I was desperate to get it finished before we moved house but was unsure of how to edge it. You see, the things I like most about this blanket is that there are so many small bursts of colour, and that it is very dense, ie not a lot of granny square spaces. I thought that having a normal granny square edging in each colour would be "too much" and would detract from the blanket itself. I wanted it to be all about the amount of squares, you know?
So in the end I chose to do two rounds in the Debbie Bliss "Kingfisher" colour. The first round was Granny Square edging, because with that many joins it would have looked rubbish to just do TRs into each stitch straight away. I used the Granny Square Crinkle-Free Edging method by CompactUK and I'm REALLY happy with the result. The second round was a TR into each stitch. Like so: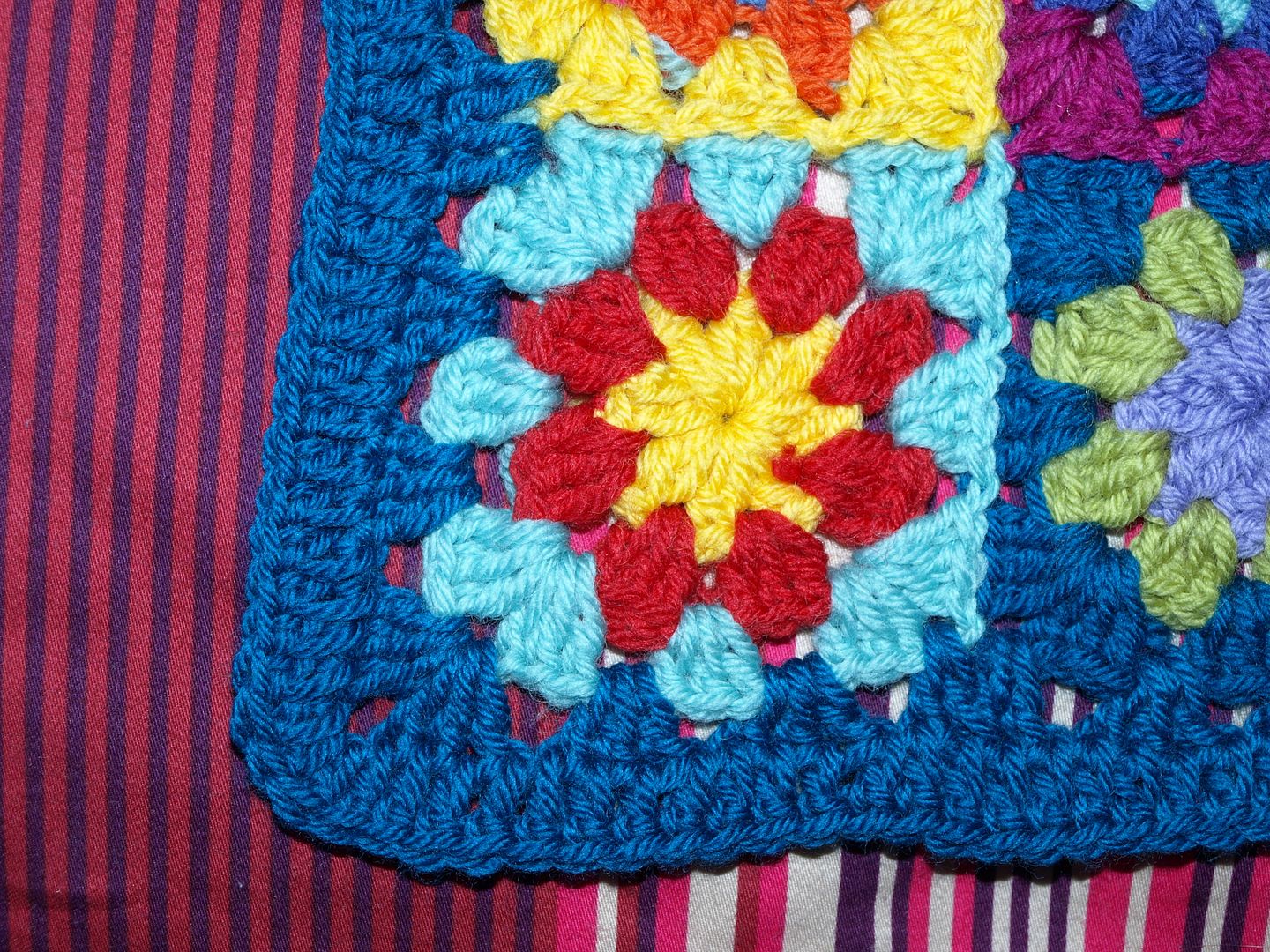 You can see the Crinkle-Free edging better here: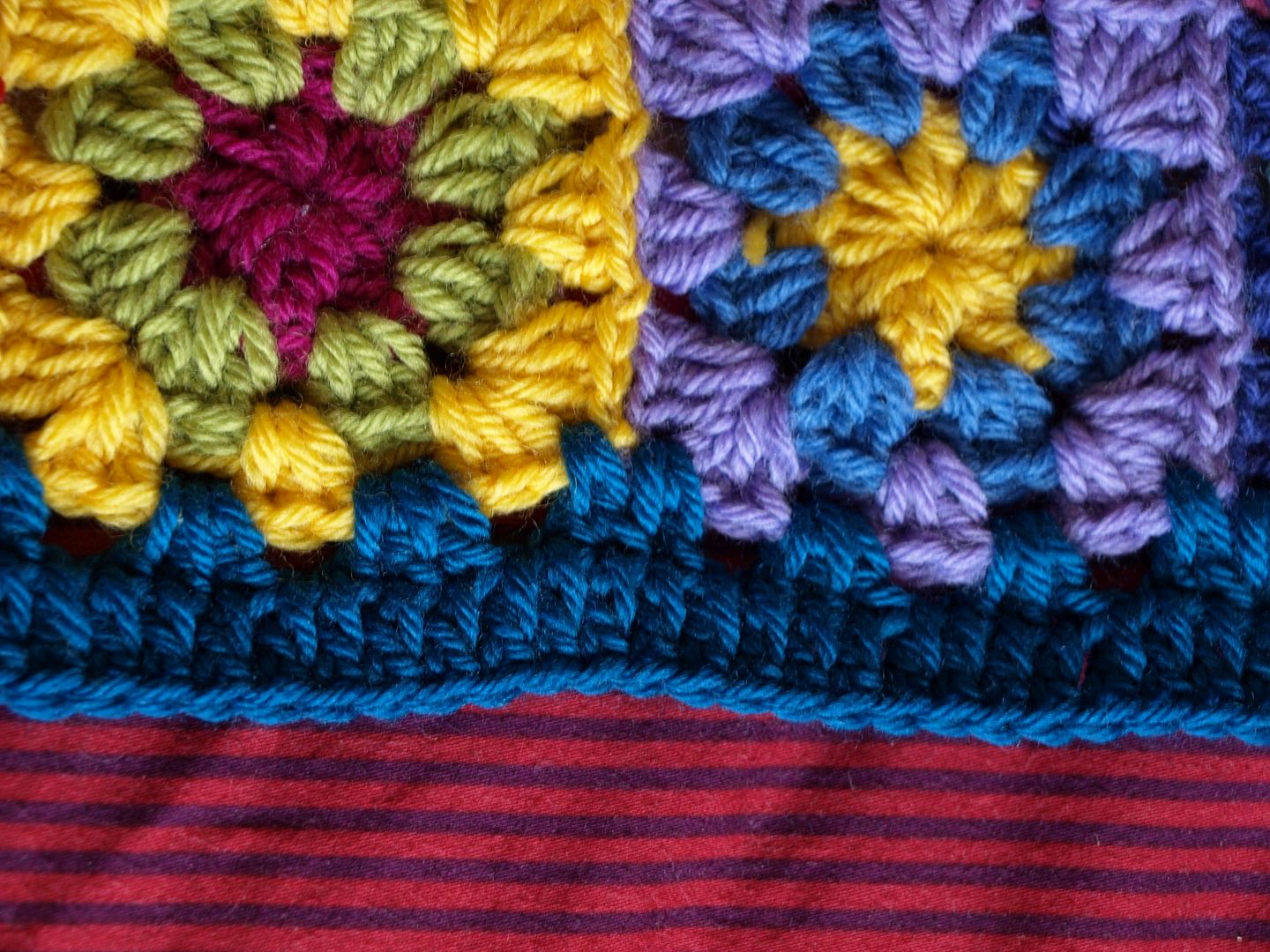 And now, I am SO PROUD and excited to present to you my finished blanket.
(Squeeee!)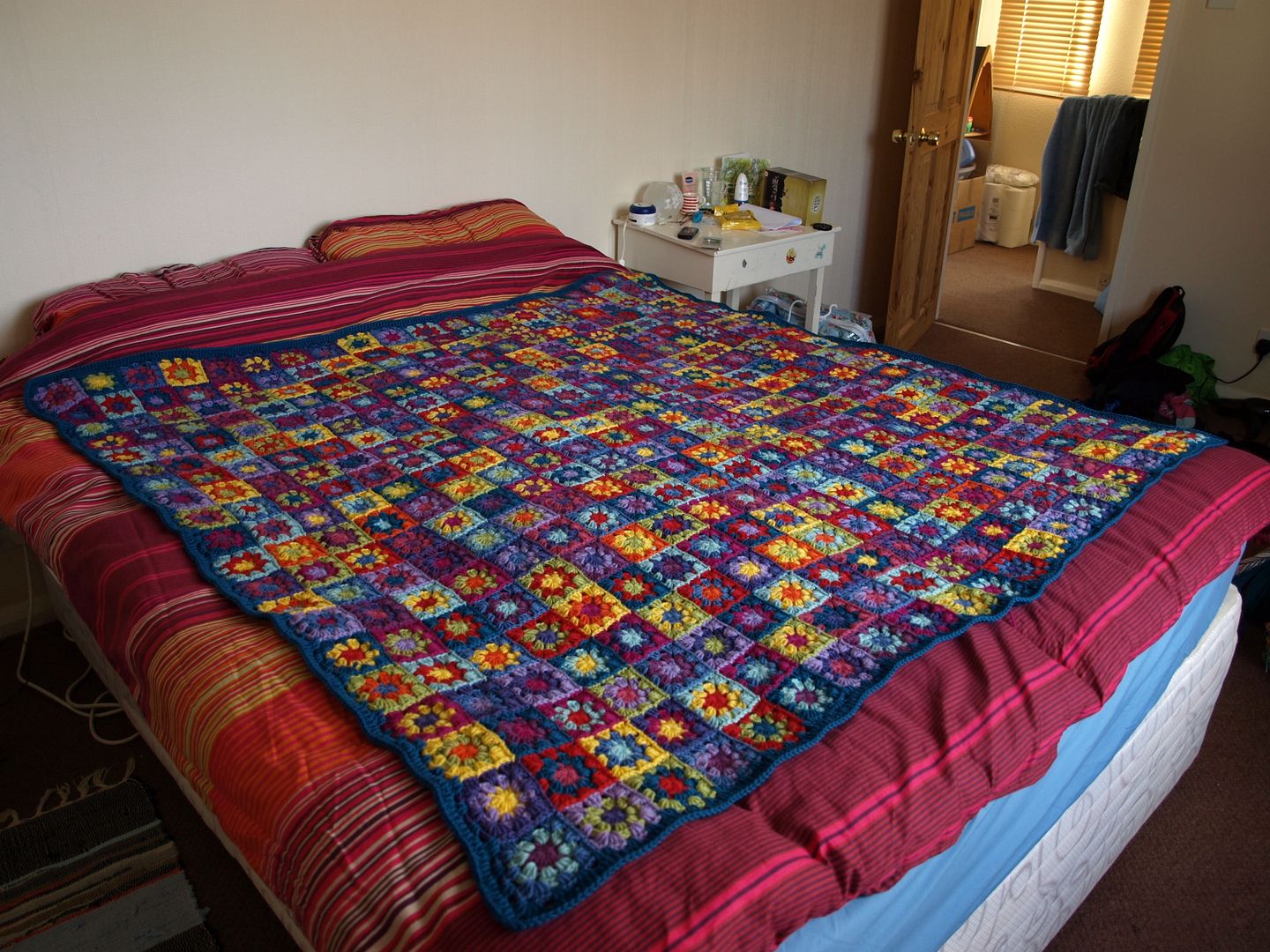 (You can click this one to make it bigger)
I adore my blanket. I'm so incredibly happy with it and I LOVE the way the border is understated yet ties it all together *just right* in my opinion.
I have learned a lot about colour choices with this blanket and it's given me a lot of confidence, colour wise. I trust myself to choose colours now, which I didn't before. The only changes I'd make to this blanket would be the use of orange on the third round of any square. It doesn't go well with the surrounding squares and is better as a first or second round.
This blanket is also really special to me as I made it during the time that I lived at home. My Time Out from normal life. I started it on the 25th November 2009 and finished it on 13th March 2010. Oh I just love it!