When I went to bed on Sunday night I lay awake for ages worrying about all the things that I had to do on Monday, trying not to panic about it all. It sounds a bit silly writing it now, but I was worried about normal things right at the start of the day – having a shower in someone else's house (Andy is living with friends at the moment and I stayed that night there too.), drying my hair without waking them up (my hair is very thick and quite long and it takes ages to dry it), and being ready to leave with Andy when he went to work.
I was a bit worried about the shower because within twenty minutes of being in our friends house I had spilt my tea on my leg and knocked a jar of corriander seeds off the spice rack. We managed to fish them out of the cat food and the vegetable rack eventually but I'm sure they'll be finding those seeds for weeks. I don't know what came over me, I'm not normally that clumsy. Anyway something I hate more than anything is making Andy late for work, it's always difficult to fit into someone else's routine and I'm very conscious of that. The first 8 months of our relationship were very stressful morning wise as I stayed with him in Leeds for the most part and travelled to York for my university lectures. I'd have to get the bus to work with him in the morning and he walks a lot faster than me.
My worries were unfounded though because it all went fine and I so enjoyed the drive through Bradford –  the sun was just about risen and it was catching the fronts of all the terraced houses which looked amazing in their stripes along the hills. By the way, I am yet to find a part of Bradford that is not on a hill. A couple of the ones we drove down were almost vertical! Really fun though. I had forgotten how much I liked our random drives around Yorkshire. One of my favourites was Leeds – Bradford (to the Forster Square retail park, can't remember why) and then instead of going home we drove through Shipley, Saltaire, along some more roads to Skipton, by which point is was starting to snow, around Skipton and then back again via Otley – by this time it was heavy snow and we could barely see. But it was so much fun!
This trip to Leeds was a bit of a relief in some ways really, because despite being excited to live with Andy again and move back to Leeds and start living again I have also been quite scared about it. I have lived at home with my parents (and no job) since November and I had lost my independence more than I'd realised. I was beginning to wonder if I'd be able to cope doing things on my own! I'm aware that this sounds really daft now …
Anyway, I got the train from Shipley to Leeds *all fine*. I wandered around Leeds for a couple of hours *all fine*. Visited some shops *all fine*. Had a cup of tea and a croissant in Costa *all fine*. I really enjoyed myself and not one bit of it was an issue or a problem. It just felt like normal. So that's all ok then. The only thing I thought was "Is it normal to be this familiar with a place without living here?" Which is very daft because with the exception of the last four months I have lived in Leeds since 2006 ish.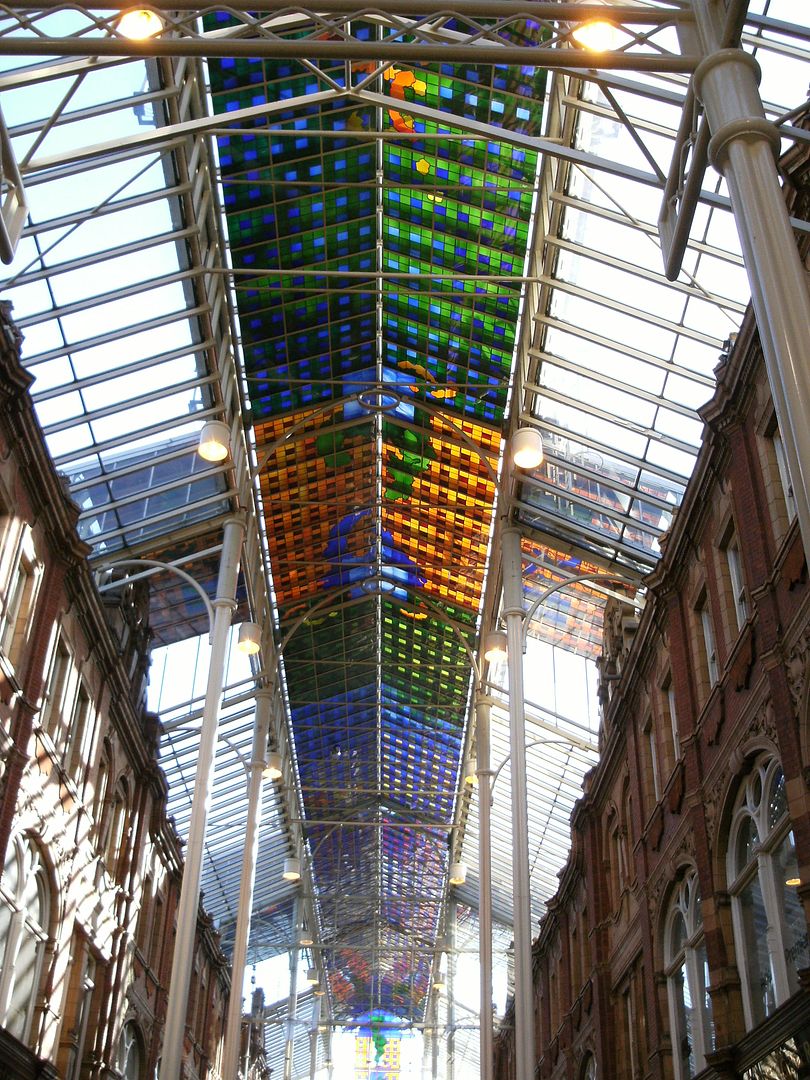 I sat in the Victoria Quarter for a while as it was warm and has indoor benches. This is a good thing when you have two hours to kill before a meeting. The roof is rather fab in here, it was originally a normal street but a roof has been placed over it. It is always nice and warm in here but for some reason Harvey Nicholls feel it necessary to use patio heaters in their cafe here. Patio heaters. You know, big flamey things? Yeah, those. Inside a heated arcade. Nice one Harvey Nichs.
For those of you that know the Victoria Quarter know that it's full of posh expensive shops, and they always have wacky window displays. Two that caught my eye yesterday was this Carousel horse in the window of a posh bag shop (so posh that I can't remember the name.)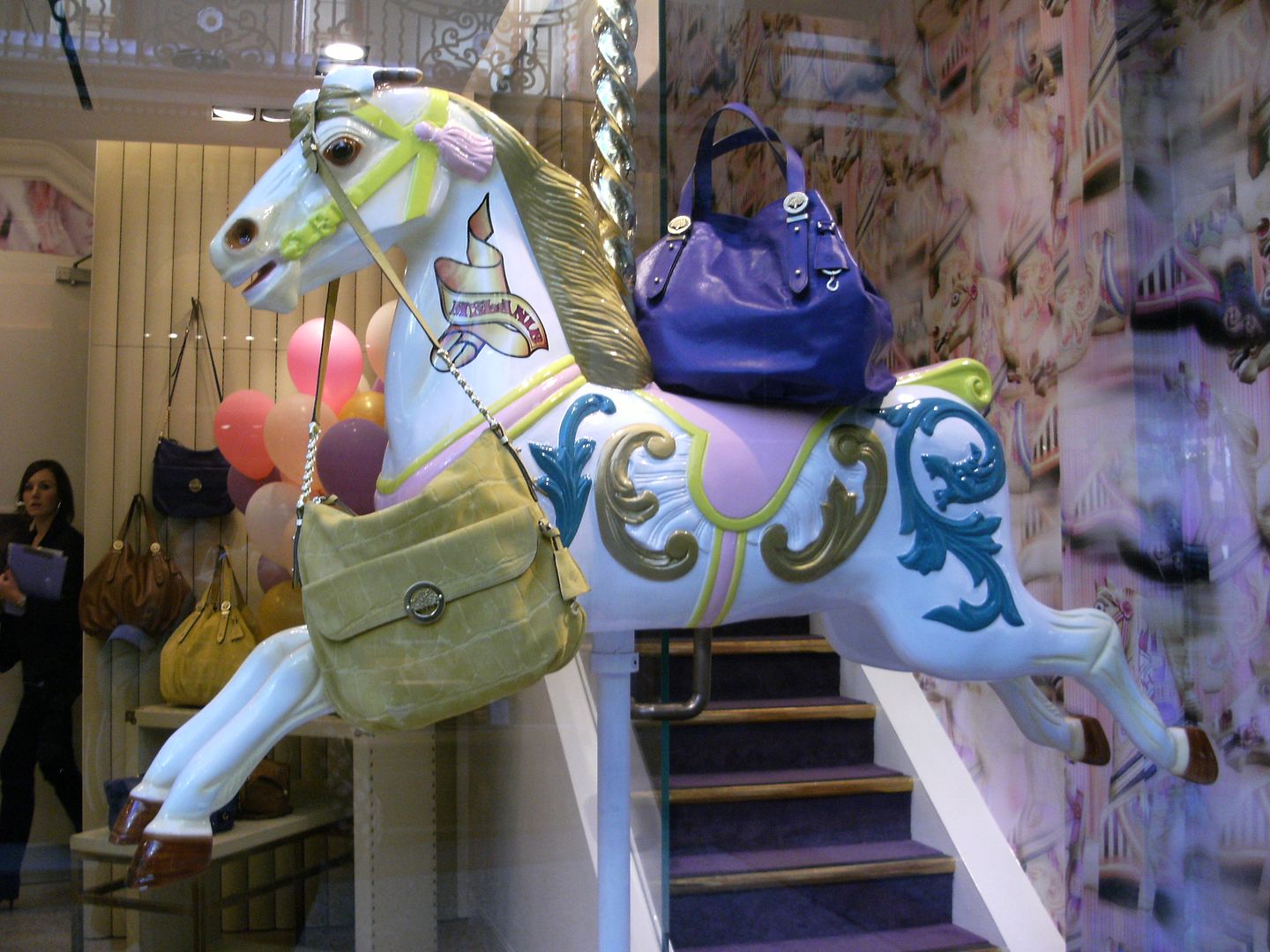 And then the many windows of All Saints. All Saints have two shops in the Victoria Quarter with a total of five display windows. I want you to bear in mind that there were FIVE of these windows when I show you these photos. Unfortunately there is quite a lot of glare from the glass and my little point and shoot didn't cope with it very well.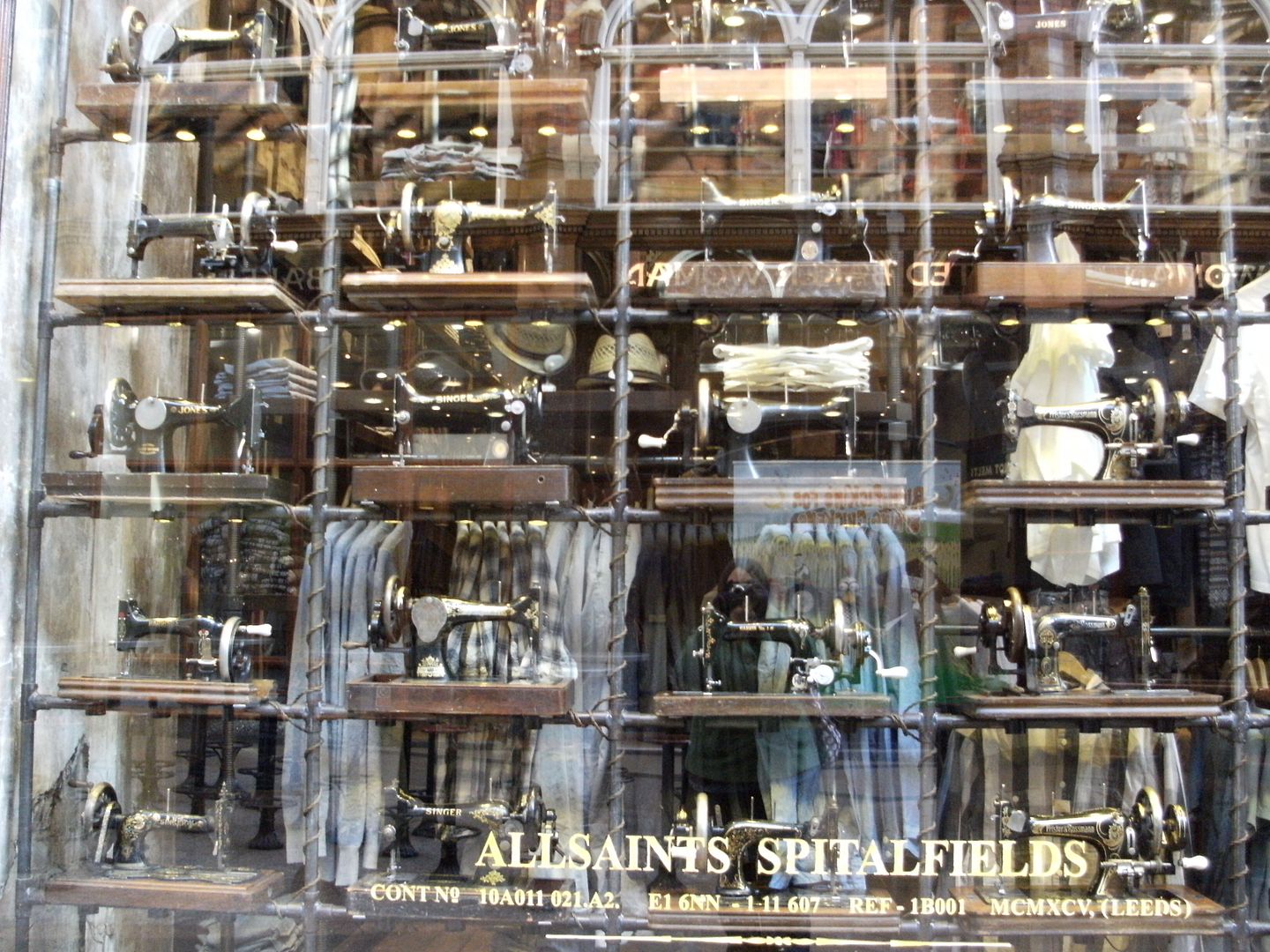 Each of these five windows was top to bottom full of vintage Singer sewing machines! I have never ever seen so many in one go before and I can only goggle at how much they must have spent on the machines. And what they intend to do with them afterwards. Unless of course they have borrowed them from a museum, which is a possibility.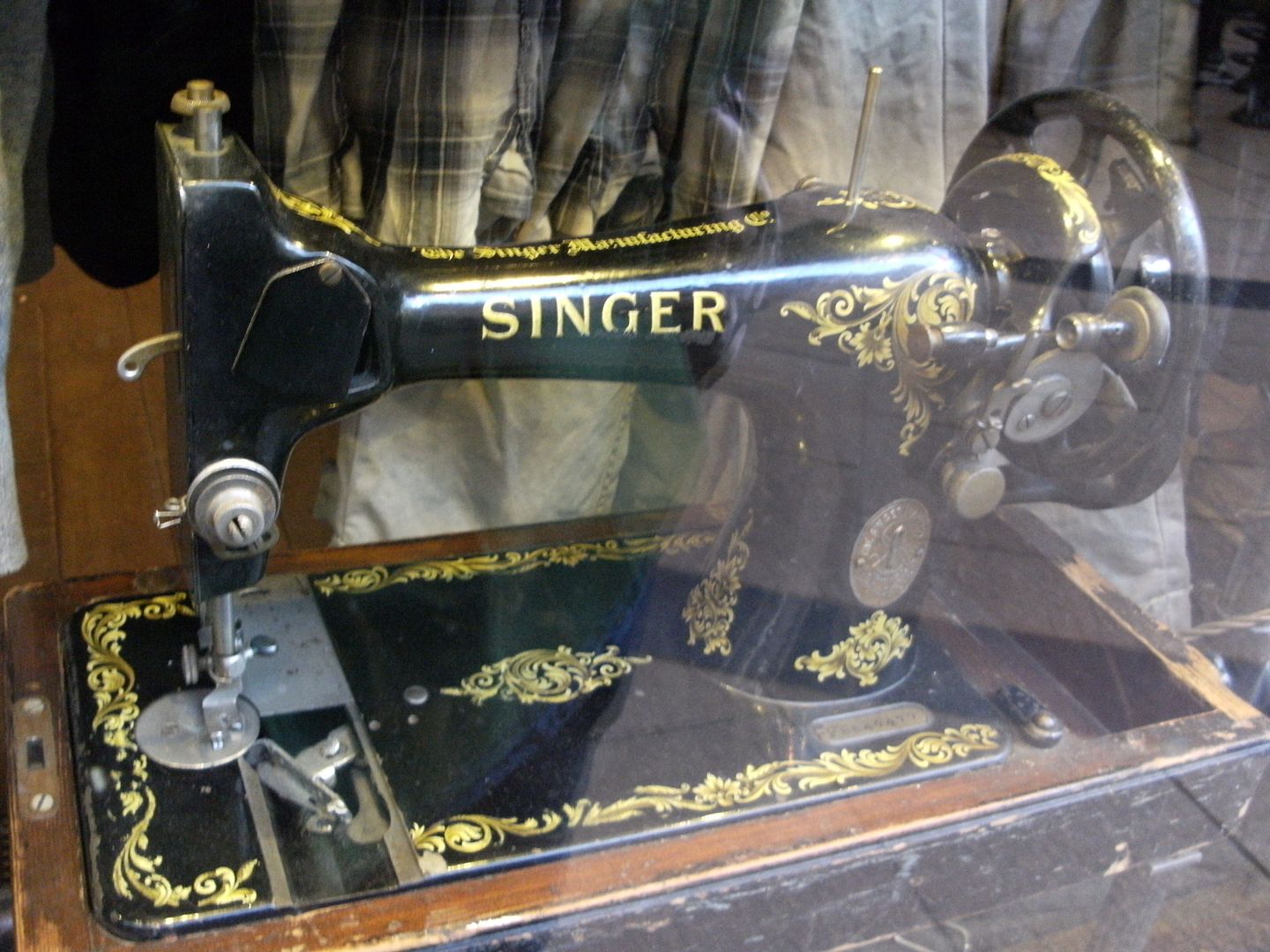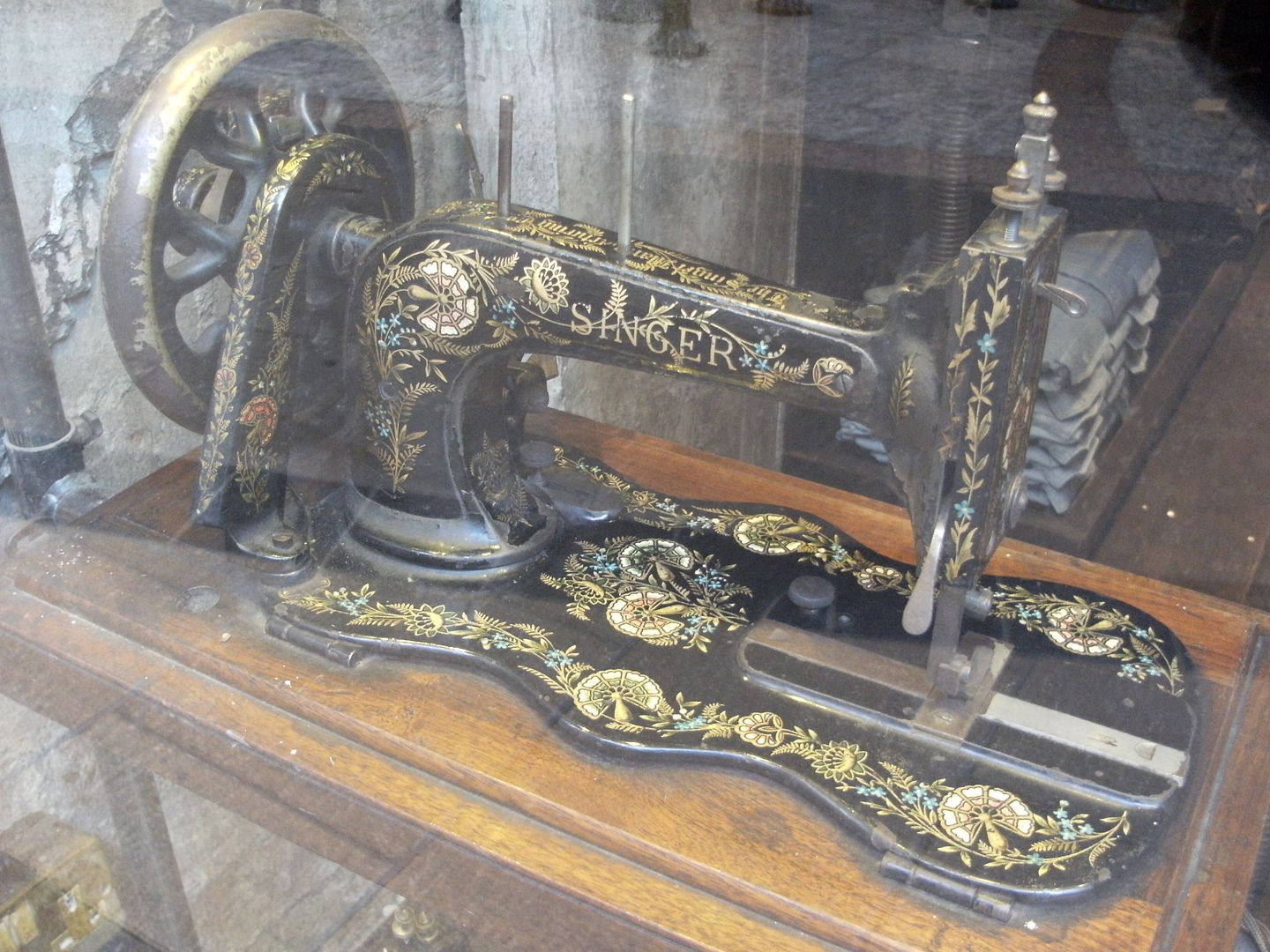 Some of them are beautiful, so ornate.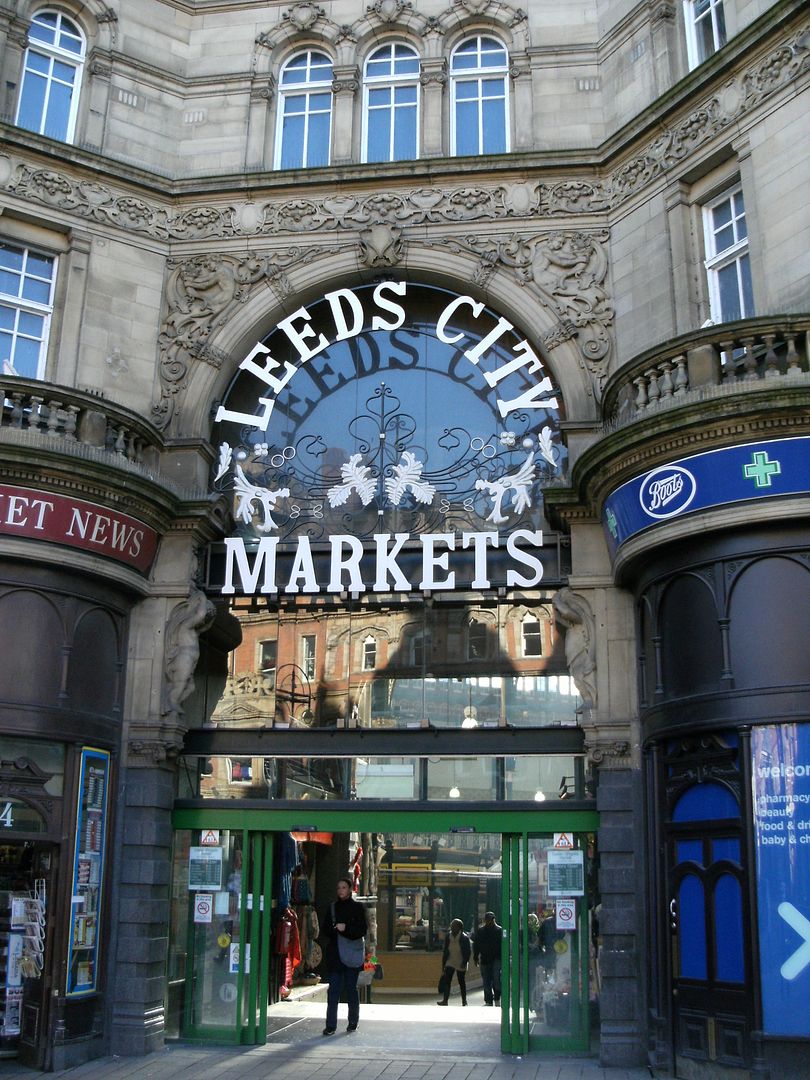 My wandering took me into Leeds Markets, a really fascinating place where you can get a whole variety of things, ranging from complete rubbish to good bargains and useful haberdashery. The building is beautiful and I remember being completely breathtaken the first time I saw it.
This is the street next to the Victoria Quarter, as you can see the buildings are the same. It just doesn't have a fancy roof over the top!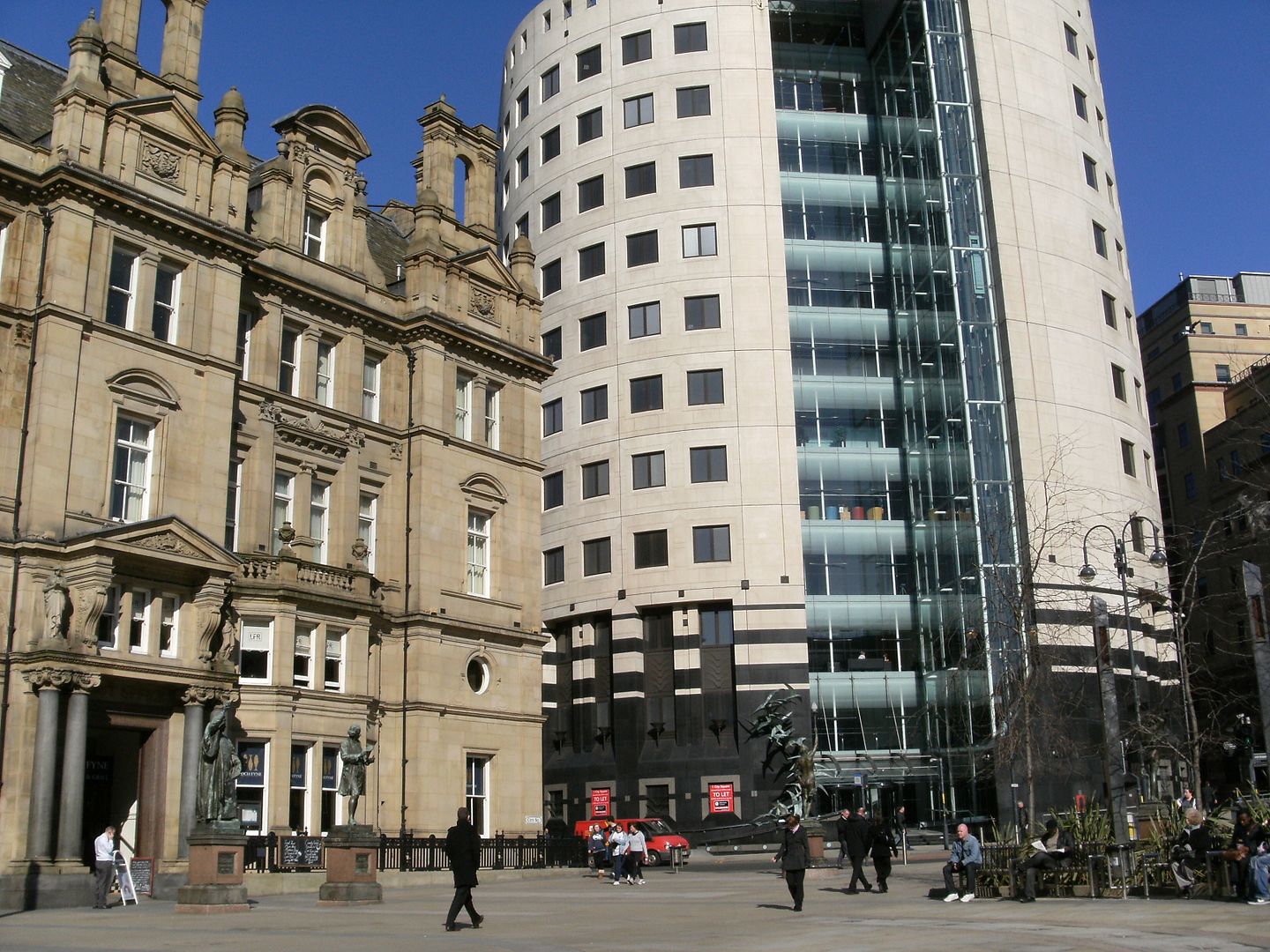 I had my meeting which went fine (thankfully), but I was a few minutes too late to get the train I had hoped. No biggie though, I just sat in City Square and enjoyed the sunshine. I remember sitting there about a year ago during my lunch break at work, watching the pigeons play in the water fountains and marvelling at what felt like the first sunshine in months.
It really was lovely sitting there in the sunshine and thinking about all of the things I want to do and people I want to visit when I've moved back. It will be so good to see Rach again, I've missed hanging out with her. Plus, she is much more into knitting than scrapbooking now so we can sit and do yarny things, yay!
I'm definitely ready to move back and I'm really looking forward to it. I'm definitely going to miss my family but I can't keep living here and there is plenty that I won't miss.
Then, I gave the last of the contents of my bank account to Arriva Cross Country and journeyed home (including a change at Birmingham.). I do object to trains being £45. With a railcard.