MAY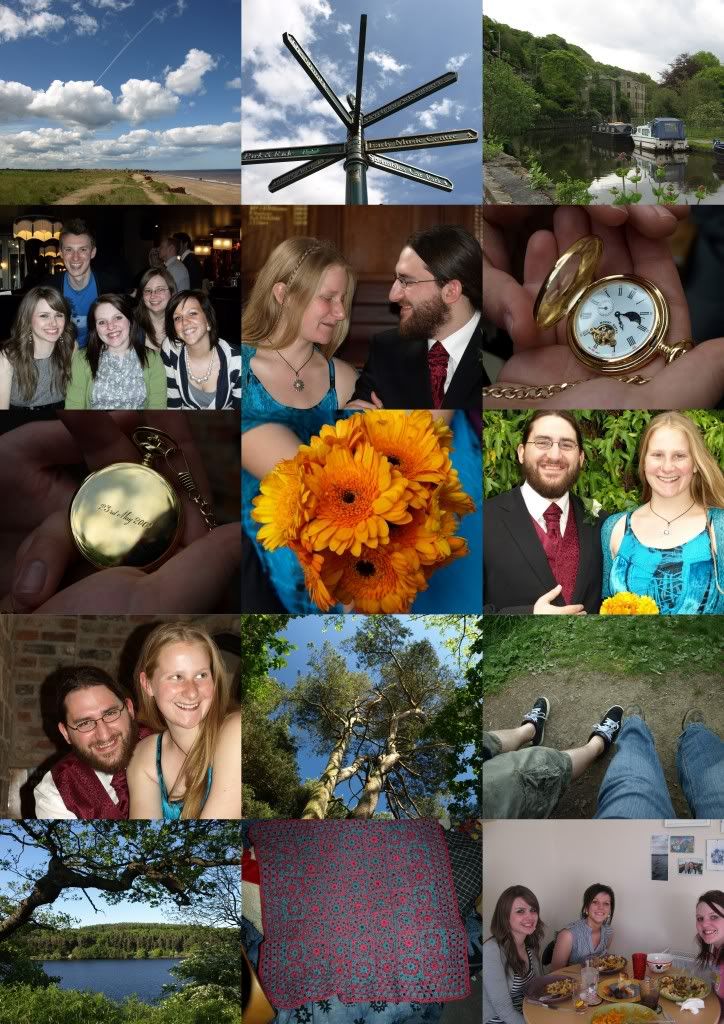 Well what a year 2009 has been! Certainly a very eventful year. I started my blog in May, just after I picked up a crochet hook for the very second time (The first time was Not A Success) so I thought I would start my "Year Roundup" in May, to reflect that.
In May the most significant event was my two best friends getting married. Very quickly and a bit ahead of schedule! It was an amazing day and truly wonderful to see them marry and be so so happy together. I took their photographs, which was a highly nerve wracking experience – somehow I don't think that a career in wedding photography is for me!
We also had trips to York, discovered Hebden Bridge and Jules China shop, and had a beautiful walk around Fewston Reservoir where I managed to take a whopping 271 photos in 2 hours. The best trip was to Spurn Head – first time seeing the sea in 2009!
I completed my first blanket, just a small one but a blanket none the less, and we wished our good friend Fran goodbye as she left England for three months to volunteer in India. May was a month of good times spent with good friends.
JUNE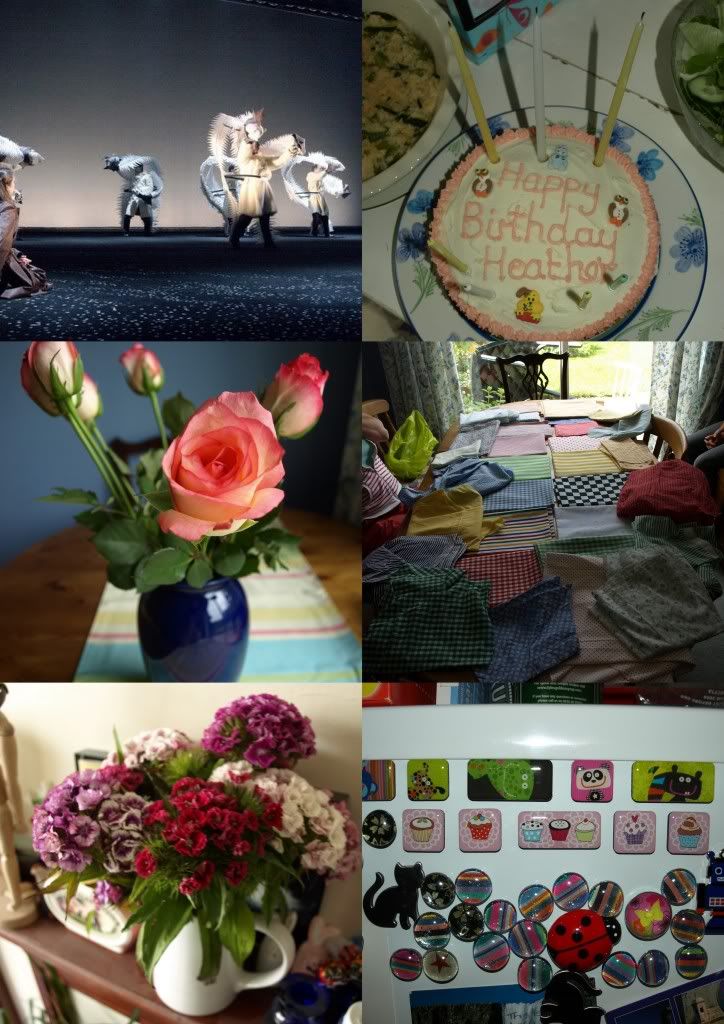 June was Wet and Rainy. My birthday was rainy rainy rainy, and my family met Andy's dad for the first time.  We started to make the bunting for my wedding. I bought my first proper stash of Rowan yarn to begin my Big Blue Blanket. I also had a frenzy of making funky stripy fridge magnets, which was great fun, and discovered IPop Clicks magnets too.
We saw His Dark Materials at the West Yorkshire Playhouse, utterly captivating and I enjoyed it so much.
JULY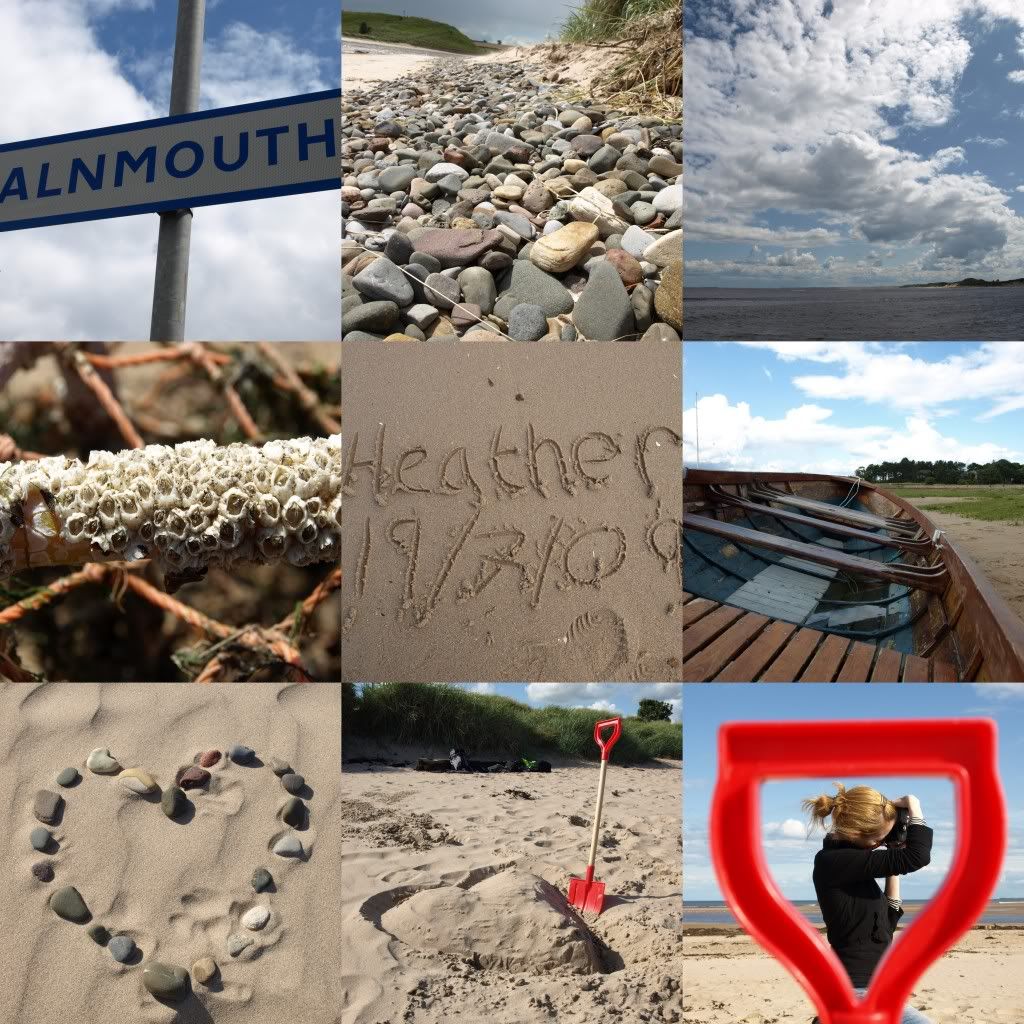 During July, I spent a lot of time with Katherine from the Peppermints and Poppies blog. We took trips to Holmfirth to buy Rowan (and I made her start a blog), and a WONDERFUL trip to the seaside at Alnmouth. It was SO GOOD to spend time by the sea, and in good company.
AUGUST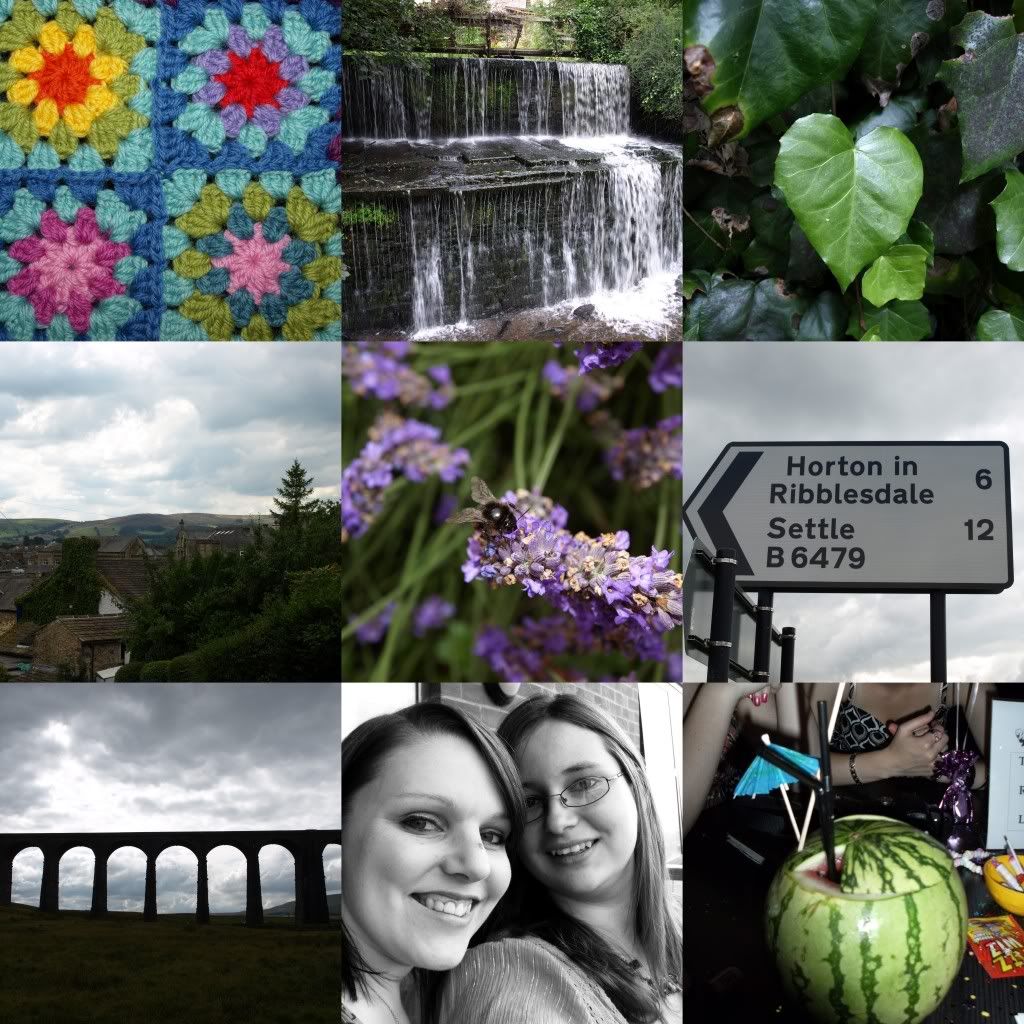 August was a MEGA MONTH and needs two mosiacs to do it justice. In the first part of the month, Andy took me on a mystery tour around Yorkshire. We started in Skipton, where we had a good walk and a sneaky picnic from Morrisons in the carpark. I like Skipton. Then we proceeded further north towards Settle and walked up, around and through the Ribble viaduct, and then drove home via Ripon and Harrogate. I made great progress on my Big Blanket, and completed all of the squares and joined them together. Added 3 rounds of edging. Then I had my hen night with some ace friends from work, and got given some free cocktails. In fruit. They were not nice.
The most INCREDIBLE thing happened in August though, which was of course MY WEDDING. I got married. Hurrah!
It was simply the most superb day and I enjoyed every single flipping minute of it. Just amazing. I'll never forget a single thing about it :-)
SEPTEMBER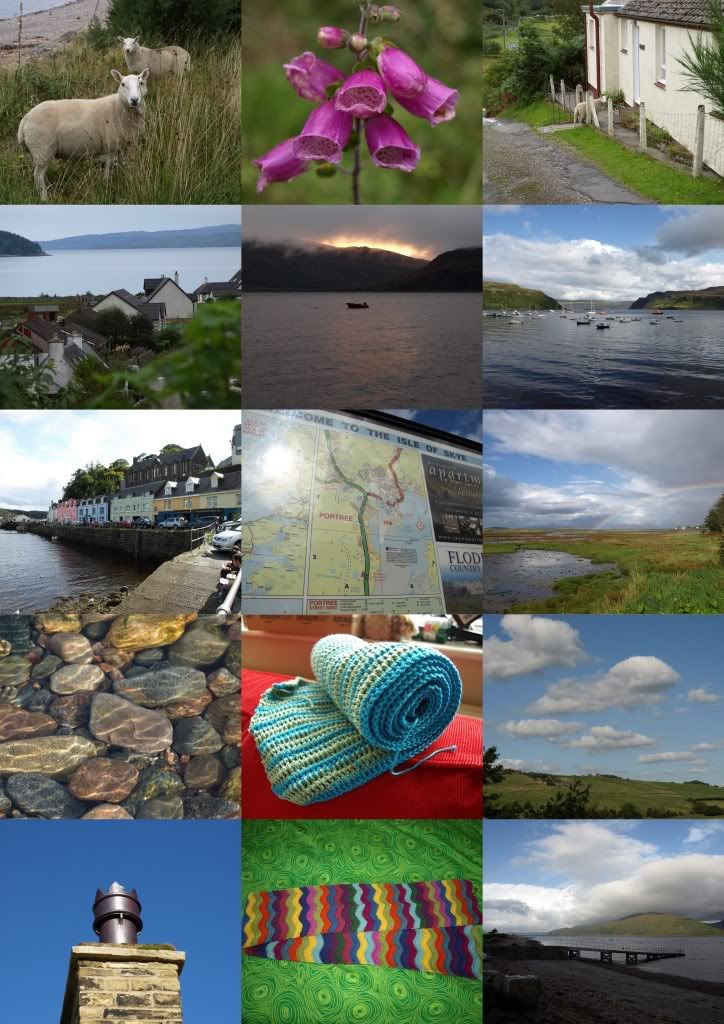 In September we went on our Honeymoon to the Scottish Highlands, to a little tiny village called Glenelg which overlooks the Isle of Skye. It was wet and mountainous, but was lovely over all. Portree was my favourite place to visit, simply beautiful and  I took some good pictures in the harbour. I would like to block out of my mind the bit where the car broke down!
We also visited Andy's family in Haworth when they came up for a holiday. Andy loved this day as he had some fantastic gammon, which was quite a treat for an almost vegetarian. (I am vegetarian and he mostly just goes along with it, but makes exceptions for good gammon etc!) The sky in Haworth was the bluest I've ever seen it.
My sister went off to uni, and I tried to make her a quick blanket to take with her. I chose stripes, in Patons cotton, with a 3mm hook. Bad plan. Blanket is still not finished and is the actual bane of my life.
OCTOBER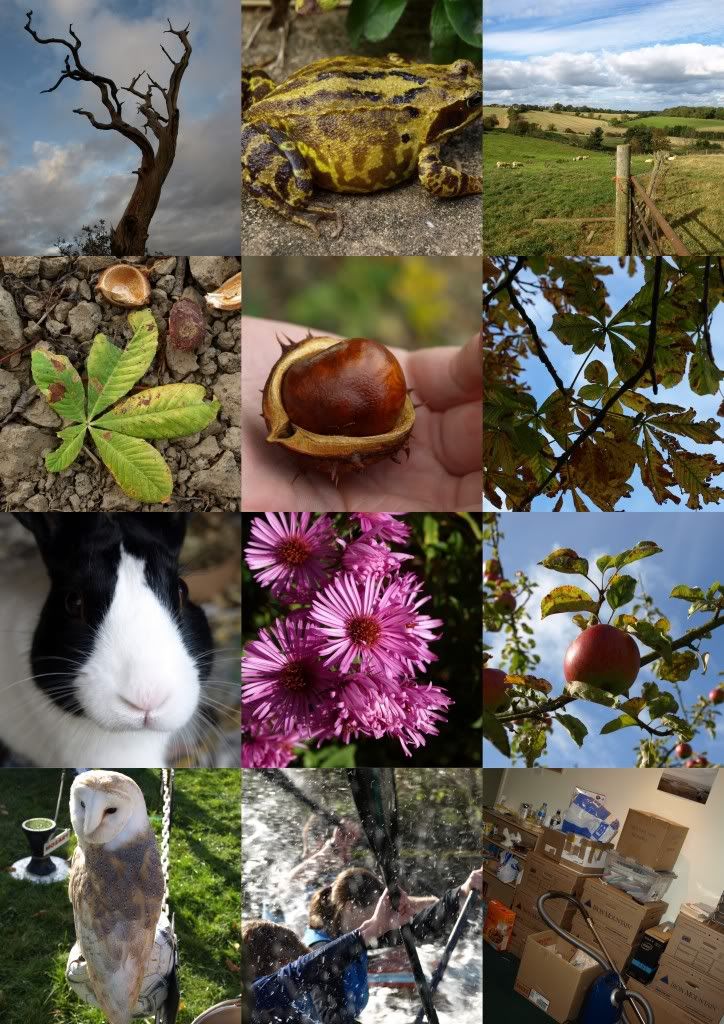 October was a mixed month, and the beginning of the end of living in Leeds, and with Andy. We had good times walking at Stowe and Fawsley, and a fab time at Apple day with the apples and the owls and flowers etc. Conker picking was fun as well :) I took photos for the Banbury Canoe Marathon, with my sister coming first in her race. Good photos.
It was sad to leave Leeds, even sadder to not live with Andy during the weekdays.
NOVEMBER
November was sad. We left Leeds and I have been living with my parents ever since. Andy lives with his dad over 100 miles away and comes to stay at the weekends. It is very difficult. We hope to rectify the situation soon but we still don't know where in the country we will end up living. It was hard saying goodbye to Rach, but we had a lovely coffee and crochet evening before I left.
I discovered the yarn section and John Lewis (mmmmm), completed a blanket for my sister's birthday and started my circles to squares blanket for myself. I made a blanket for my grandma, and some little christmas tree decorations.
I took photos for the Ross Warland Canal Challenge, which was cold and wet.
Willow bunny made a midnight run for it, but was rescued safe and sound :)
DECEMBER
December has been the month of the circles to squares blanket, I am steaming ahead with it and LOVING every single minute of making it. It is delightful to make and the colours make me go all squiggly. I made woolly snowmen, and bought wooden Russian santas for the mantlepiece.
We collected my sister from uni in Portsmouth, and had a lovely weekend in Dorset visiting Andy's family. We also had a FANTASTIC quick trip to Leeds to see the Wildhearts and it made us realise that we both really miss Leeds (and that we both love the Wildhearts.)
And then … it was Christmas :) It was hectic and lovely and cosy and fun, and I both enjoyed it immensely and am glad it's over. I got awesome presents – an Ipod touch (I paid half) from my family, and AMAZING yarn from Andy and my grandma. My next blanket will be a ripple in Debbie Bliss Cashmerino and Rowan Cashsoft dk. YUM YUM YUM.
I have an overwhelming urge to pack up all the decorations and put them away now, so that things can get back to normal. It feels very cabin feverish here at the moment, and while there are good times it mostly feels very stressful and I feel trapped a lot of the time. I'm looking forward to Clare and Tom coming to stay for New Year's eve.
Doing my little roundup here has been good fun, and I'm glad I did it. I think I have achieved a lot this year, a real lot. But I also feel like I have lost a fair bit too, but I am looking forward to recouping that in the New Year and hoping that by really working for it our lives will take a more positive and productive direction.
Thanks for reading, I hope I haven't bored you too much. I would like to do a "Crochet 2009" post as well, so I will start collating my photos for that tonight. Love to you all x x x x x