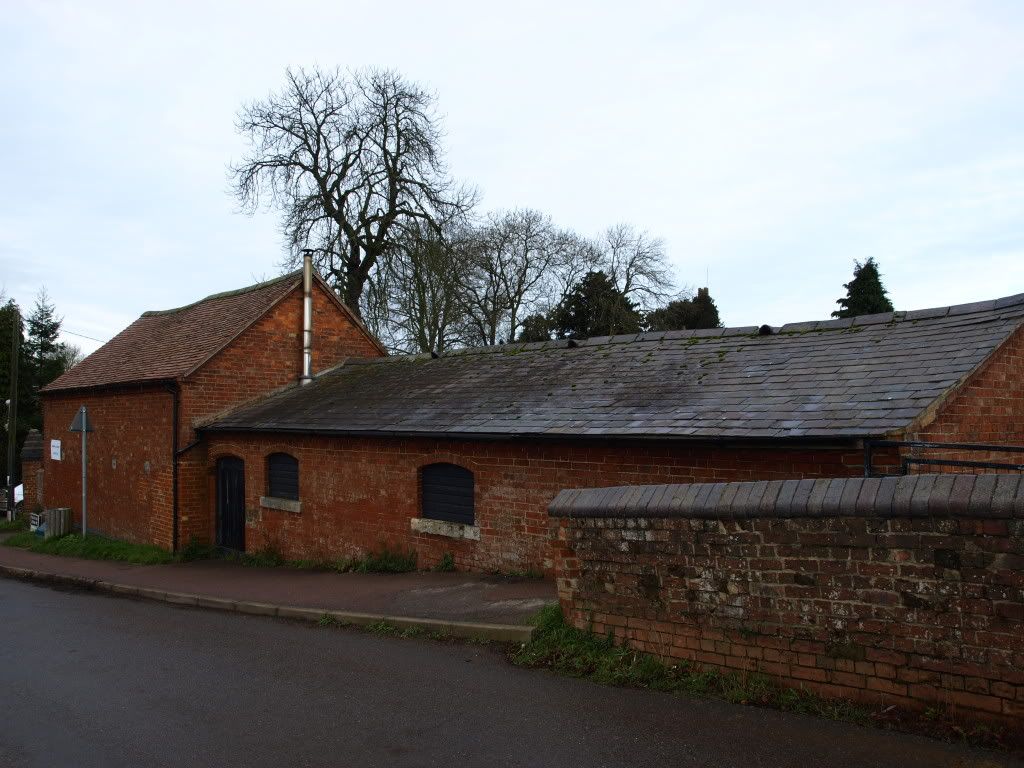 It's been another gloomy day here today, although the rain held off and it's been nice and dry. As you can imagine, at the moment I take any opportunity to get out of the house, even for little trips in the car to do mundane things. You have no idea how excited I was the other week because I could wear my new coat to Tesco! Today my mum had to take some training kit to the canoe club so that my sister could train after school. I was in that car with my camera very quickly, thinking "hurrah I am out of the house!"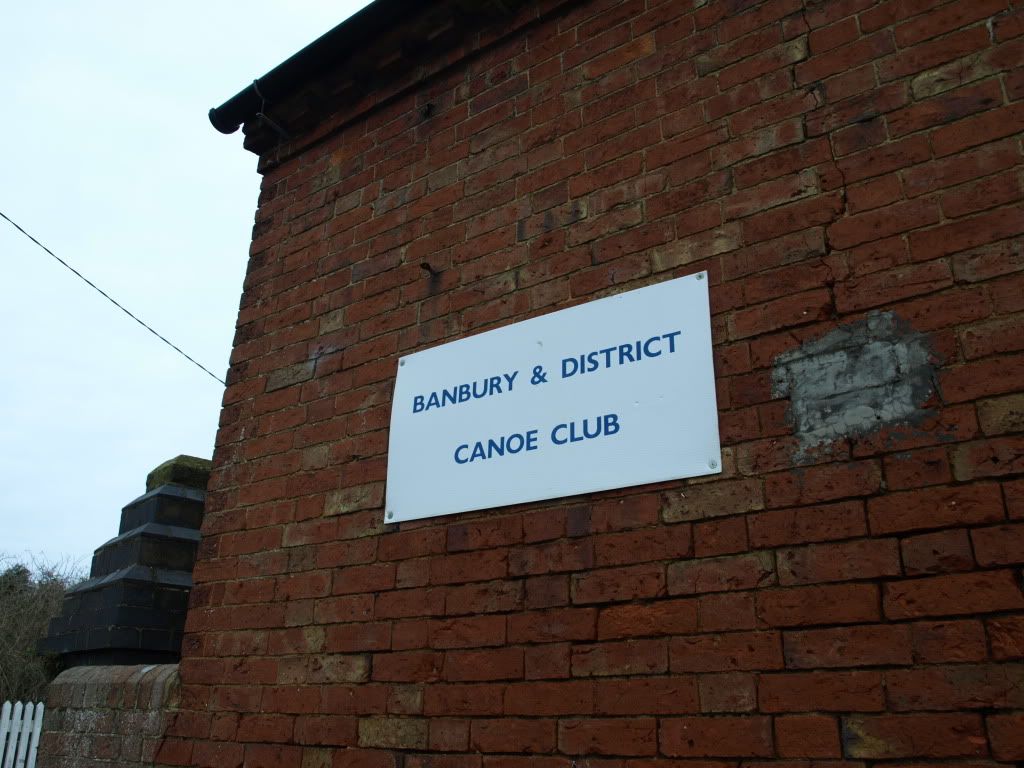 I managed to bag a couple of photos to show you. This is one of the club walls. Oooh, exciting!
This is the grounds of the club (not the house – that's private) and the bit of canal where we launch the boats. If you are thinking that this looks familiar then you have probably come here for the Fairport Convention Festival and had a breakfast at the canoe club. If you haven't, then you should do!
It's a bit grim today and nobody is out on the water. At least this means that there are some nice reflections on it instead.
Beautiful hollybush outside the shop. It is so green and glossy and covered in red berries (as all good holly trees should be!)
It's definitely winter now. Did I ever tell you that silhouetted trees are one of my favourite things?
On the way home we stopped at the farm and bought our Christmas Tree … yay! SO excited about this, and it smells fabulous. We don't actually decorate our tree until Christmas Eve (just a family tradition) although we do decorate the house before that.
I wasn't sure we'd be able to get it out of the car …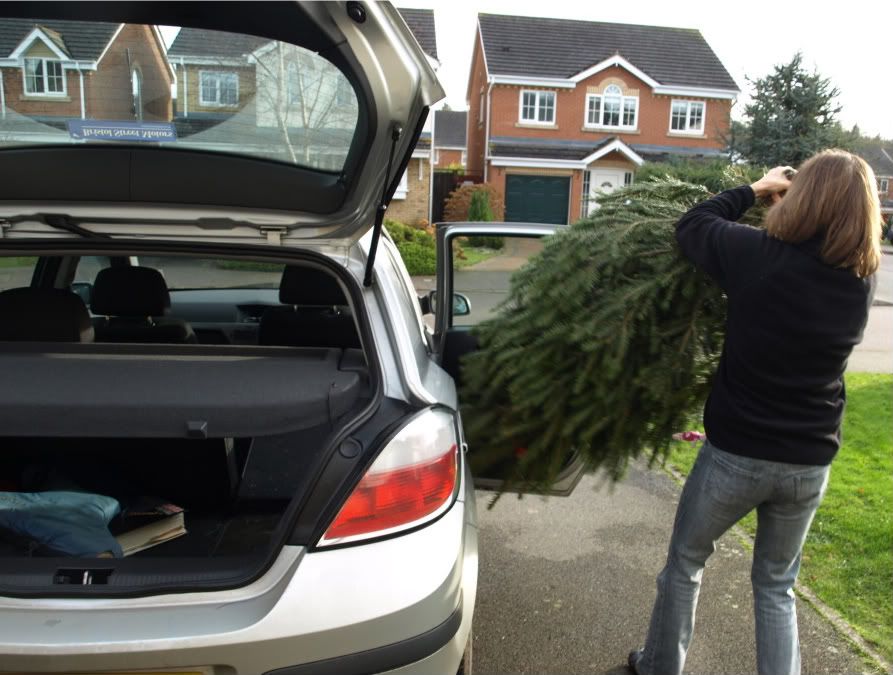 But my mum managed it really easily.
This is my newest thing, and I love it so much. Father Christmas Russian Dolls? Yes please! Aren't they sweet?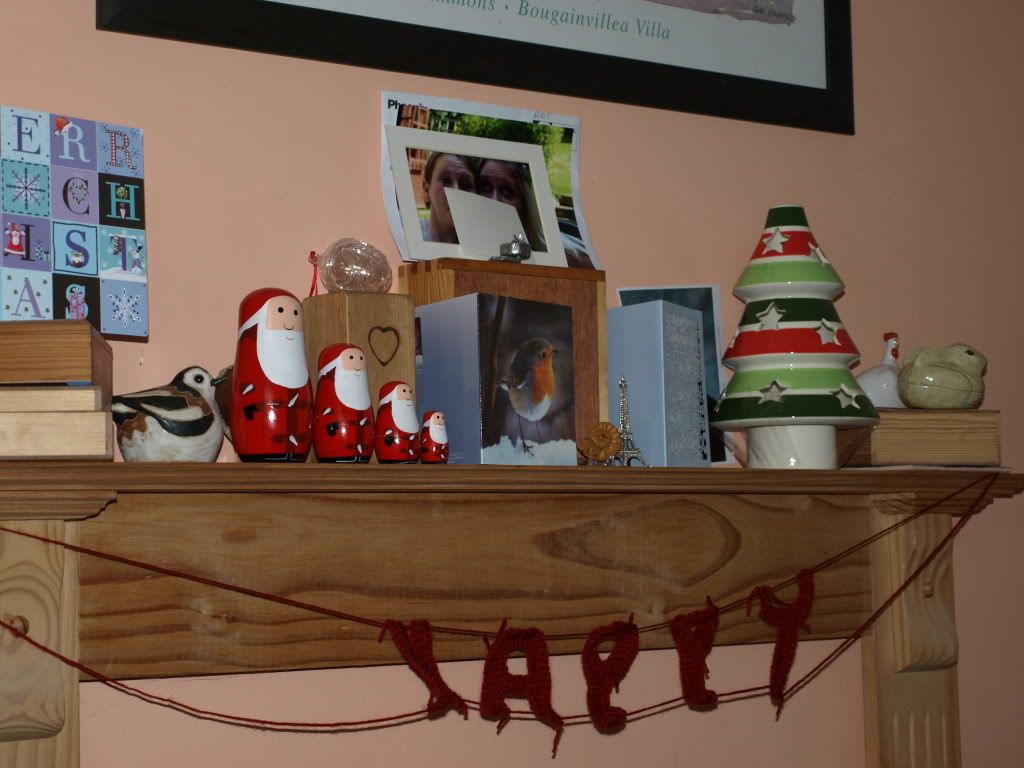 I have put a couple of my own Christmas things out today, the rest will stay in storage but I just really wanted to put my tealight tree out. How ace is that? It's from when Whittards actually had nice Christmas things. I think this was only for one year as the rest have all been dismal, but in 2006/7 I bought (I think) one of all their Christmas things in the sale and I'm so pleased that I did. They've been in my cupboard since, and so it was lovely to get them all out today and have a look at them. I can't wait for them to become Christmas traditions for when we have children, and I can't wait to have our own place to live again so that I can use my own decorations. The "Happy" is the result of forgetting to by my brother a birthday card and thinking (at about 10pm) that I could just crochet the words "Happy Birthday" and hang them up as a surprise for him. Hmm. Well it took me three hours to do happy and then I couldn't face birthday after that! They are not very well done because I just winged it without counting (never a good plan) but the idea is good and if I have time I might make them properly and block them so that they keep their shape a bit better. I may make it into "Happy Christmas" instead though.
Another exciting "out of the house" day tomorrow, I am going into town eeearrrly, getting a lift with my mum on her way to work. Its a very exciting wrapping paper and finishing off Christmas shopping trip. Then I can come home and wrap my gifts while nobody is in. I just *LOVE* wrapping Christmas presents! I love giving Christmas presents too – it makes me really happy and I'd always rather buy things for other people than myself. I'm just a bit sad that I can't spend as much on people as I usually would do because I'm not earning at the moment. Ah well. I will just have to wrap them slowly!