Goodness me, the last day of the year has come around so quickly, I still can't quite believe it. Just a quickie entry today as we have visitors (currently having a nap after getting a train at 5:30 am this morning). I couldn't let 2009 pass without showing you an attractive montage of my crochet. You will note that I have omitted those little embarrassing granny wonky squares from when I started to crochet. This is because, no matter how proud I was ofthem at the time, I can't bear to put them in my Crochet roundup! What a wimp eh.
Let's start with the lap blanket for Rachel. This was the first thing I made, and it started my love for Rowan. I felt a huge sense of achievement when I finished this.
This is my BBB (Big Blue Blanket). It is copied directly from Lucy's Big Blanket, up to the joining rounds where I used just blues instead of many lovely colours. This took me aobut 2 or 3 months to get them all made and joined, but I have sort of given up on the edging because it was taking too long. I have the yarn for it, I hope I will get round to properly finishing it someday. I do count it at "mostly finished", and I use it on my bed at night so it is lovely and functional and warm :)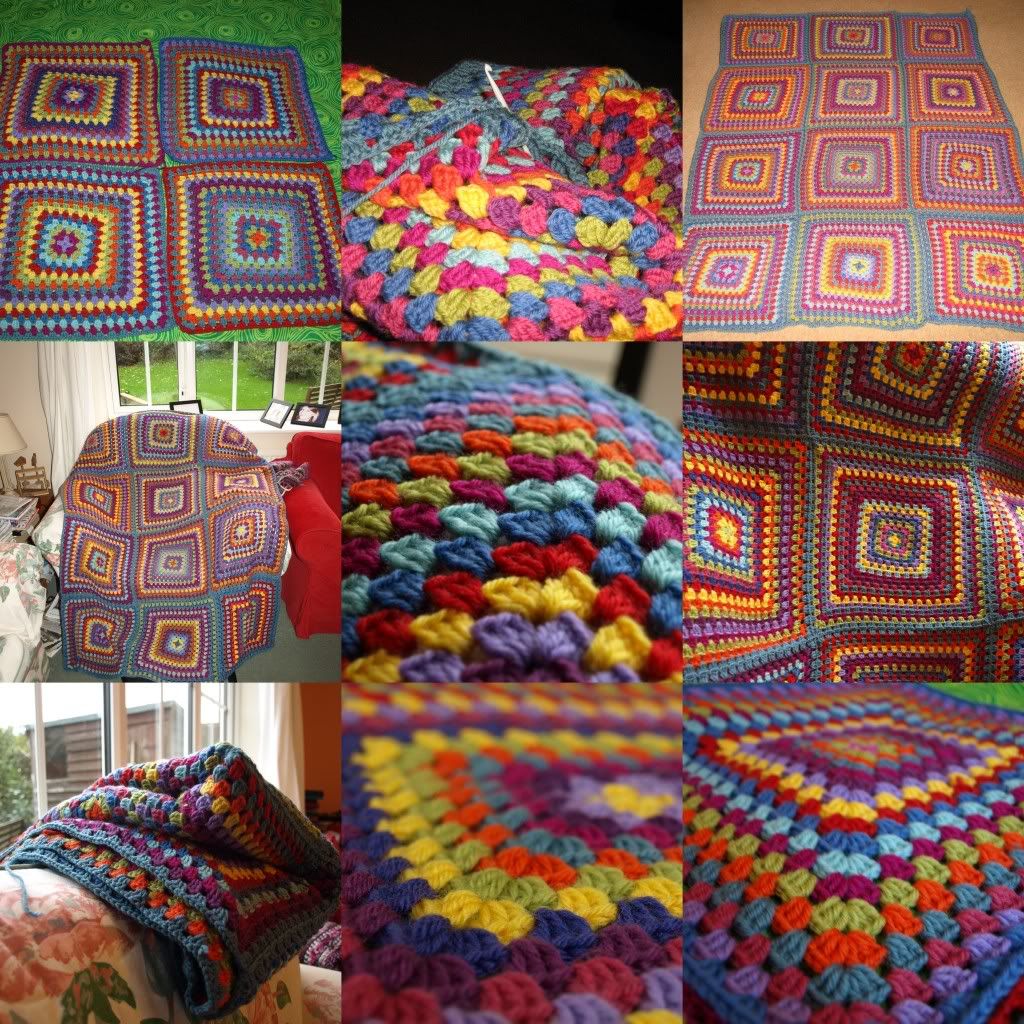 The third blanket is the Granny Alice, made for my sister Alice's birthday. I LOVED making this blanket, it was so much fun and really quick to do. It's beautiful, liked stained glass, and got me loads of lovely comments on Flickr. That's such a silly thing to get excited about isn't it? But it meant so much to me that 15 people counted it as a favourite! SOOOOO exciting to me :-D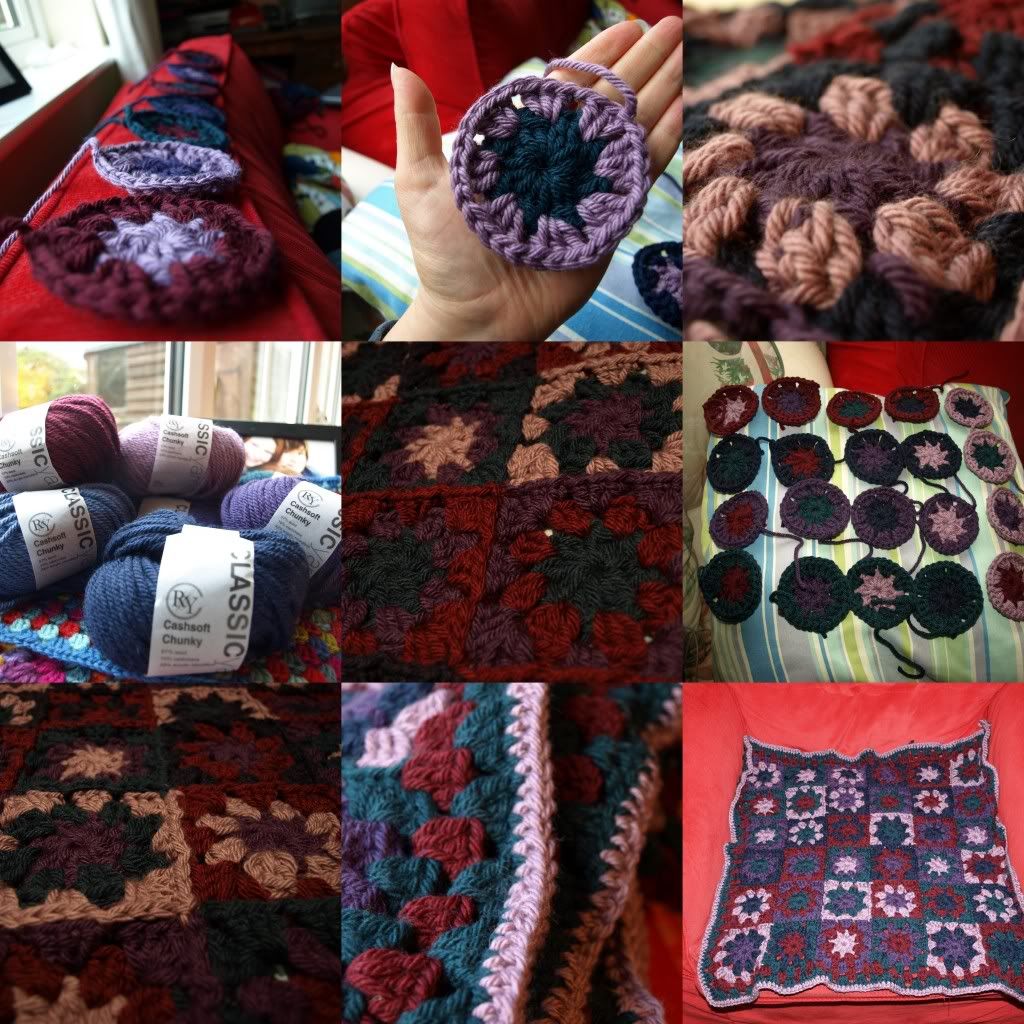 I made this blanket for my Grandma's christmas present. It was my first time working with Chunky yarn and it was ace, the blanket grew so quickly. It was quite hard work to use it though, a lot more effort than DK weight yarn. I LOVE the texture though, it is Rowan Cashsoft – gorgeous!
My first rippling was a ripplescarf for my friend's birthday. It's lush, and I now love to ripple! My next blanket is a ripple. Can't wait to start it!
Ahhhh, my current love! I get up in the morning for this blanket. I love it so much, it's beautiful and I can't get enough of it. It's my favourite so far, simply lovely. I've reached 180 squares now – I'm aiming for 400 at least, and then just increase it enough to be double bed sized. Oh gosh, I love this blanket so so so much!
Thats's about it for the crochet really, I've made a few stars and Christmas trees but they don't excite me as much as blankets really. My crochet aims for 2010 are to finish my current blanket, make my cashmerino ripple blanket, make a little hex blanket out of my 4ply cotton stash, and then make a cushion cover from sunburst granny squares. Yes yes yes.
Right, I am off to bake 2 lasagnes for dinner tonight :-) Have a fun day and evening, and a HAPPY NEW YEAR!! This one has been rather good and I look forward to sharing 2010 with you all as well. Lots of love x x x x