What a week this week has been. A good friend left work on Friday, she's going to India to teach English for 3 months. I'm going to miss her a lot, and so Friday was a bit hard. So were the two leaving do's – I think I'm getting old, I can't cope with two nights out in a row!
On Saturday, my best friend got married. It was lovely and I'm so happy for the pair of them. The ceremony and wedding breakfast was at the Bedern Hall in York. It's near to the Minster but really tucked away and quiet, which was a very good thing considering it is a Bank Holiday weekend and thirteen thousand people descended on York. They leave for their honeymoon in Norway on Wednesday. I can't wait for my wedding – just less than three months to go! Our wedding rings have arrived now, it's getting so close.
This week has been so busy that today I've just enjoyed having the day to myself so much. We haven't had to go anywhere, or do anything. I have lounged on our new sofa (at last, thank you landlord), I have browsed the internet, watched a DVD and learned some new crochet. I have fiiinally let myself use my new yarn! That's right, I bought two balls of Rowan Pure Wool DK, in raspberry and cypruss (mainly because they were the first ones I found on ebay!). Oh, how I love them! They are so different to the acrylic stuff I've been practising on, which is stretchy, nasty and frays a lot. This is soft, gorgeous and keeps its shape. I just love it so much and it's a joy to work with. I want more!
Would you like a peek at what I've made? Ok! I'm going to try to make it into something, I'm not going to say "blanket" because that's a big commitment and I don't know if I'm good enough yet but I'll see how it goes. I might make a scarf or something. Anyway, I used another Attic 24 pattern because I find them very easy to follow. This is the squares from the Summer Granny Square. Just the first two rounds so far, but I wanted to get them perfect before I started the next rounds. Oh and I still don't know what to do with the taily bits so if anyone can tell me that would be lovely.
The photos don't do the colours justice – it's not very well lit in here and it's a new camera that's firstly nowhere near as good as my SLR and secondly not too happy about close ups and low lights.
One last thing before I go, I have bought these: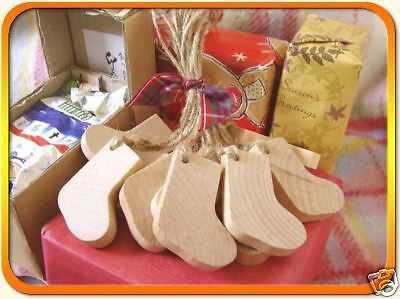 from ebay. I LOVE making Christmas tree decorations, and I'm going to paint these and glitter them up a bit. Can't wait! I'm feeling very crafty at the moment and I'm enjoying it greatly.
I hope you are all having a good Bank Holiday, I know I am :)
Thanks for reading  x