June has flown by in a flurry of park picnics, nursery school trips, suncream, sunhats and the occasional rainy day. I've almost finished making my Big Grannies blanket (I'm having border regret and need to rip that back and do it again), and I've started knitting a sock. I've started this five times; progress is a little slower than I would like! I'll write about it in the fullness of time (and hopefully fullness of sock.).
I've just looked through all of my "June" photos and the overwhelming theme is outside in our little yard. And just how quickly TTB's hair grows: it's fine at the start of the month and now it looks like it should've been cut last week. It's crazy just how fast children grow, not just their hair!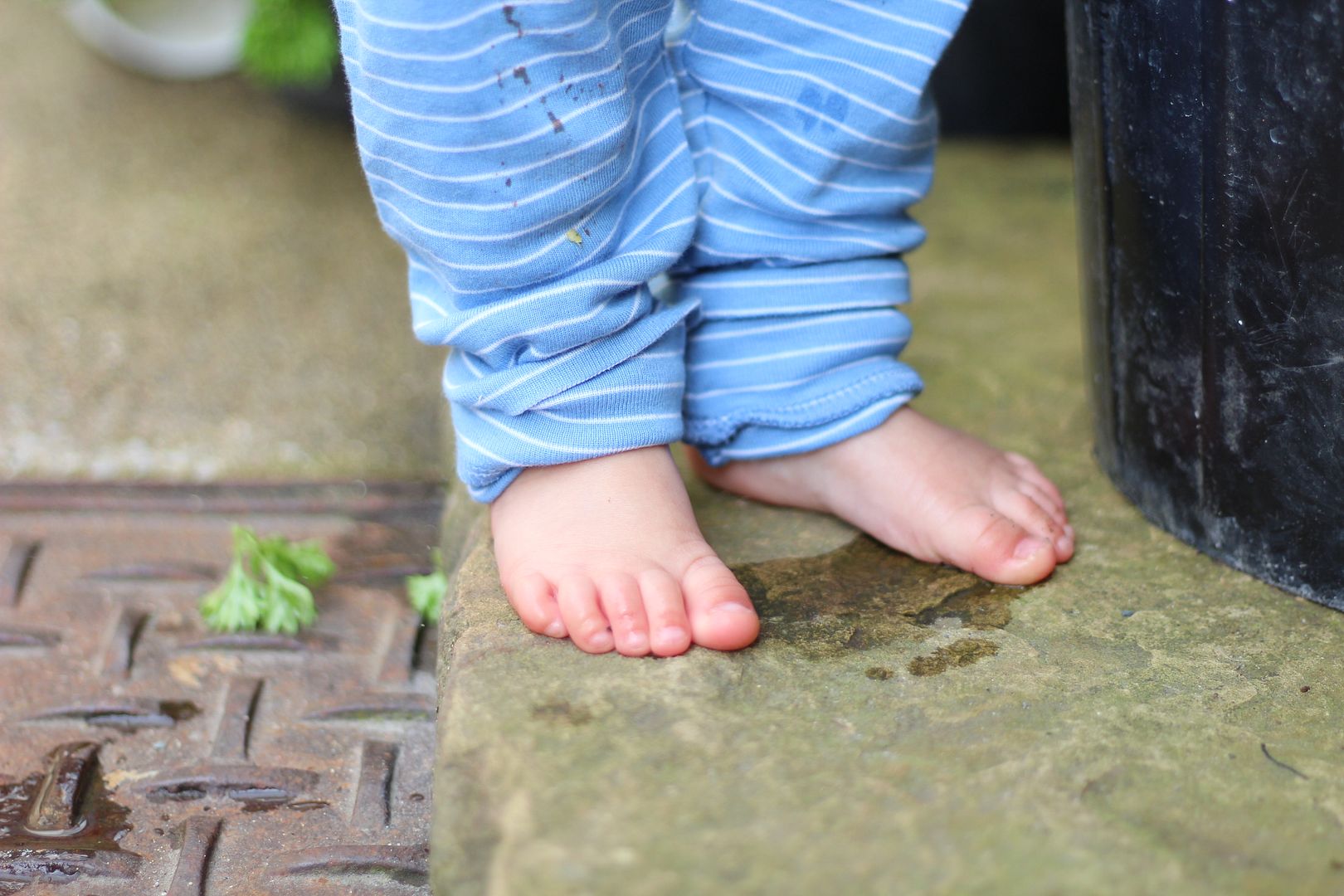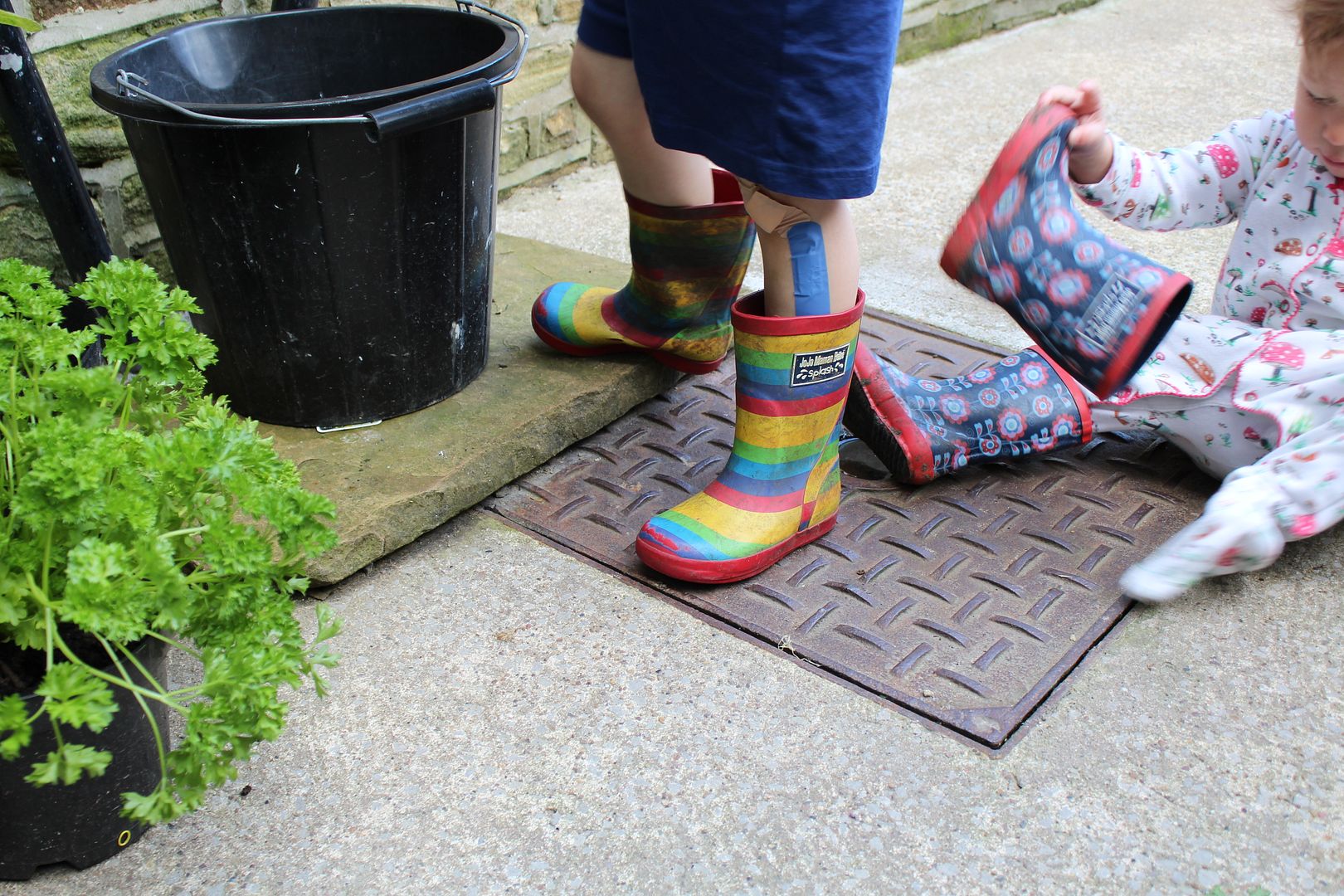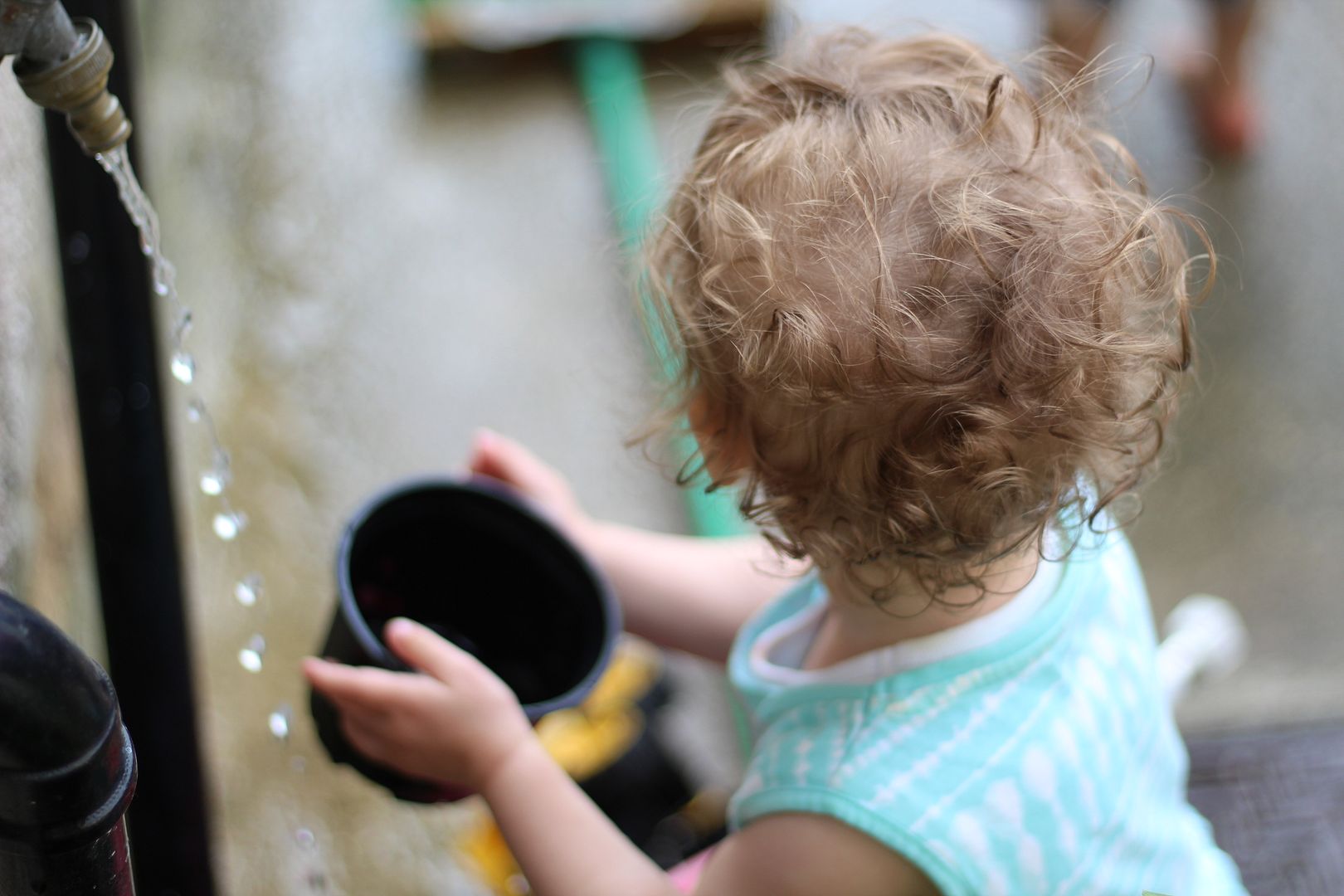 TTB has always been very interested in water, especially running water, and this summer he's able to turn on our outside tap. I thought about buying a water table for them to play with but they've both had no end of fun just with a bucket and various plastic trucks, flower pots, spoons and scoops. TTG is equally fascinated by the water and they both go through several outfit changes a day when we play out there.
I like them being outside because there's very little they can destroy out there and there's very little cleaning up for me to do afterwards!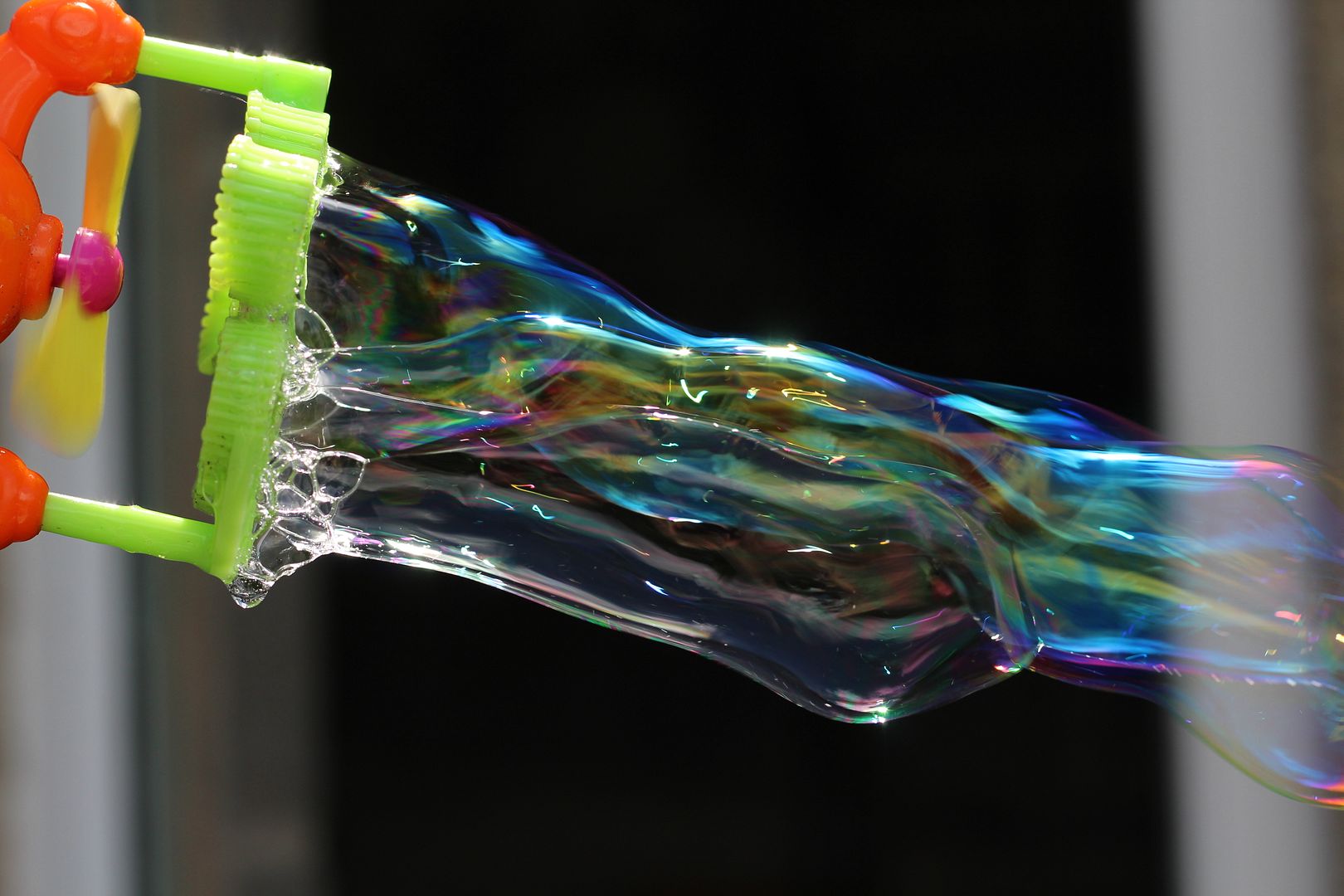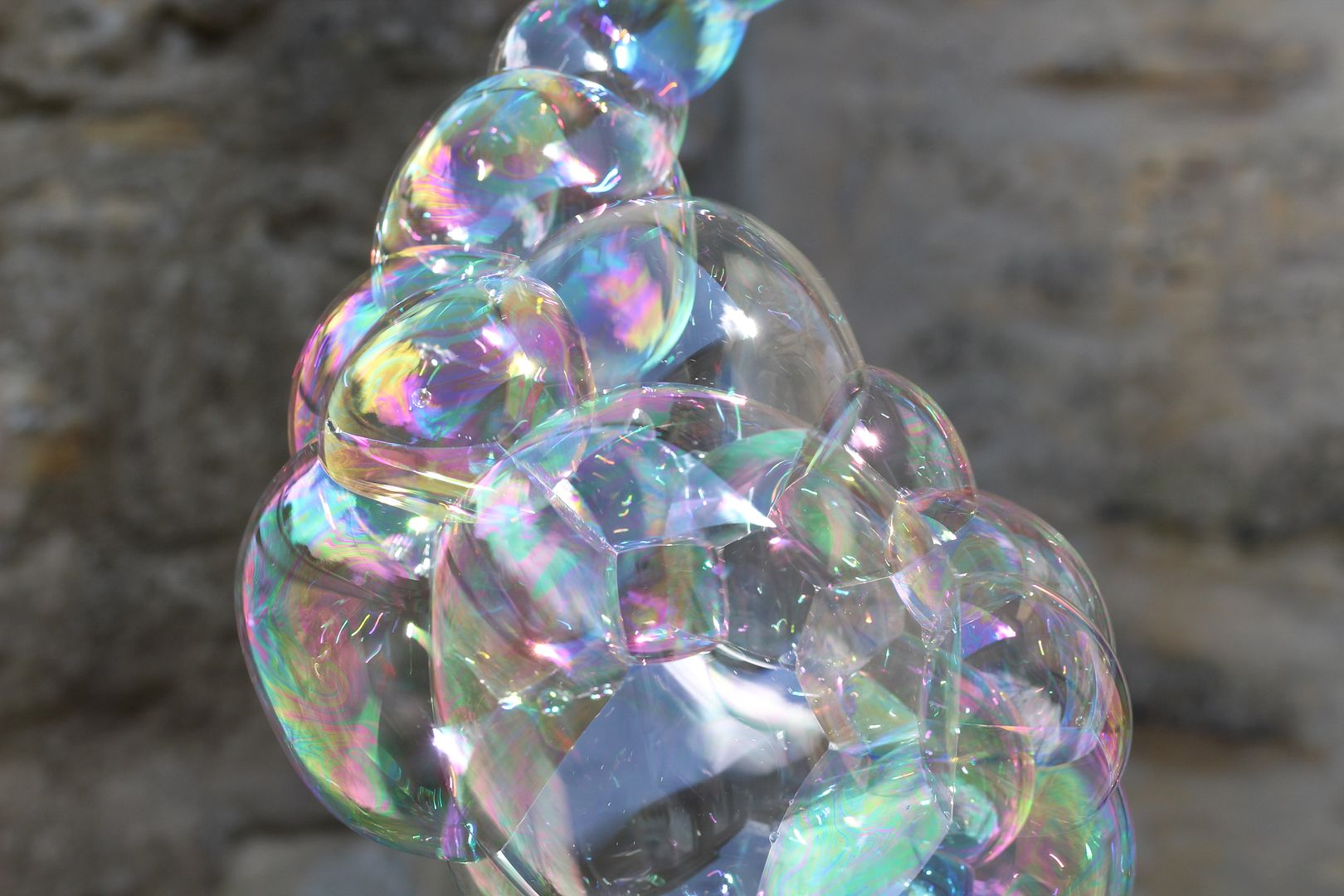 On Friday morning we went outside in our pyjamas right after breakfast time and had the most wonderful half an hour being silly and blowing hundreds of big, shiny bubbles. Our little bubble machine thingy was a couple of quid from Morrisons last year and its loads of fun. It's got a bit gunked up lately which makes most of the bubbles stick together and create multifaceted mega bubbles. They're pretty heavy and don't float very high which makes them easy for tiny people to catch and pop with their hands. It took my mind off of Brexit (what a stupid name) for a bit anyway.
I'd woken up about 4 that morning to settle TTB back to sleep. I made the mistake of checking my phone and finding out that the result of the EU referendum was "leave". I couldn't get back to sleep after that! I just lay there (with TTG clinging onto me as usual) shaking and feeling very panicked about what was going to happen. I have so many thoughts about everything that's going on and everything that's followed, probably not coherent enough to write about properly though. I found this article, "The Sociology of Brexit" to be very interesting though, well worth a read. The referendum and the aftermath has made me a lot more politically aware than I was before. It's fascinating while being horrifying at the same time.
It's unsettling to say the least that everything is such a mess right now. I went on a 20 minute train journey on Sunday and during that time, half of the shadow cabinet resigned. George Osborne seems to have gone into hiding, David Cameron has resigned – but not until October, Nigel Farage is making an absolute disgrace of himself and the UK, and nobody seems to have any idea what is going to happen. Oh and everyone seems to think it's Jeremy Corbyn's fault, and Rupert Murdoch had lunch with Donald Trump. What a mess.
In the future I'm sure politics students will write dissertations on this referendum, but right now it is all just a bit shit!
P.S Please don't say "it's democracy and you're just whinging because you didn't get your way!" or something like that, because it's not particularly helpful, or true. I'd like to hear your views on it, but please be polite about it.